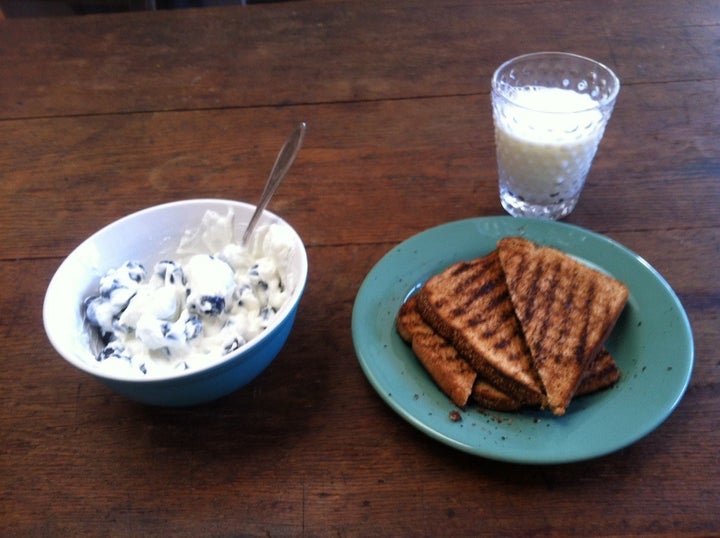 Like many food writers, I get invited to a lot of culinary events and parties with plenty of free passed hors d'oeuvres. Like many twenty-something New Yorkers, I love meaty Asian food and drink to excess many weekend nights -- and even the occasional weekday night. I love good food, I have a hearty appetite and I do not refrain from chowing down when I'm presented with a delicious meal.
I have a naturally thin, 6'1" frame, and I exercise regularly, so I've avoided getting really fat. Still, in my time writing for HuffPost Food, I've gained a bit of weight. Maybe 10 pounds. After the holidays, I was heavier than I've ever been before. I'm not overweight by any standards except those of my old jeans, but it's still disconcerting. I was an extremely pudgy little kid before I leaned out in middle school, so I'm eager to avoid going down the delicious road to corpulence again.
I wanted to change, subtly, but my situation wasn't so dire that I felt compelled to sign up for any fad diets or fasts. I just thought it made sense to try eating healthily for a spell. So I decided to try spending one week eating exactly according to one of the most conservative, reasonable diets out there: the federal government's 2010 Dietary Guidelines for Americans.
Most people associate these guidlines with the MyPlate graphic that serves a model meal for the country. Half of one's plate, according to the graphic, should be occupied by fruits and vegetables. The USDA also has a website, ChooseMyPlate.gov, that generates exhaustive daily recommendations for each individual's exact specifications -- height, weight, exercise level -- according to the guidelines.
I signed on, inputted my data, and was told that I should eat 2600 calories, 9 ounces of grains, 3 1/2 cups of vegetables, 2 cups of fruit, 3 cups of dairy, 6 1/2 ounces of "protein foods" and less than 8 teaspoons of oil a day. That's plenty of nutrition, so I knew I wasn't going to starve, but it was also a far cry, in terms of distribution, from my normal diet.
A typical day for me was last Thursday. For breakfast, I ate a Greek yogurt with jam -- healthy. For lunch, though, I had a meeting at Mile End Sandwich and chowed down on poutine with smoked meat, a half a grilled salami sandwich and a half a fried green tomato sandwich. It was happy hour at the office, so I had a couple beers at the end of the day. Then I met some colleagues at a farewell party for a friend and guzzled a few mojitos. I wrapped up the day with a gluttonous sandwich from a bodega in the East Village called Sunny & Annie's.
According to the USDA's SuperTracker, that added up to 0 percent of my Whole Grains,12 percent of my fruit, 57 percent of my vegetables, 71 percent of my dairy, 164 percent of my protein and 107 percent of my calories for the day. Plus I was way over my guidelines for saturated fat and sodium.
But I'm a pretty analytical guy, and I can be determined when I want to be. So for the next week, I'm going to try my hardest to eat exactly in accordance with the Dietary Guidelines for Americans.
My MyPlate experiment began Monday morning, when I got up and ate a substantial breakfast of Greek yogurt with blueberries, two pieces of wheat toast and a cup of 1 percent-fat milk. Here's a picture: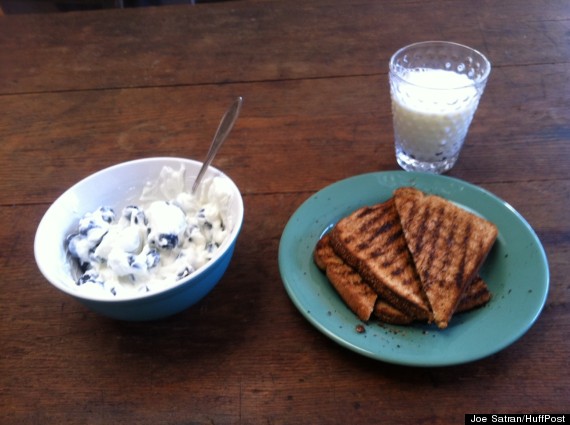 UPDATE: 2/6/13 10:30 a.m. -- I'm now two days into this project. You can read about my experiences on day one and day two, and click through this slideshow to see what I've eaten so far, and how that matched up with the guidelines:
PHOTO GALLERY
A Week Of MyPlate
Every day for the rest of the week, I'll blog about my progress on HuffPost Healthy Living. You can also follow my quest in real time by following me on Twitter. Let me know if you have any tips for USDA-approved eating by @-replying me at @joe_satran on Twitter of emailing me at joe.satran@huffingtonpost.com.