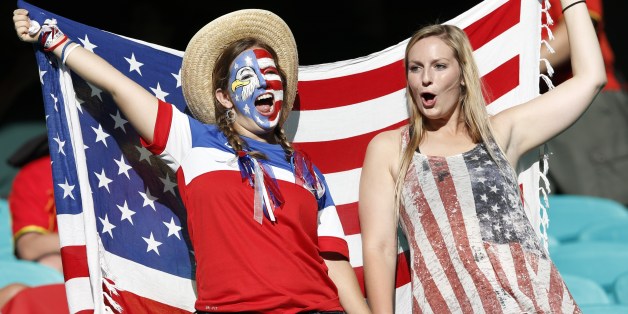 As was surely her intention, Ann Coulter made indignant waves ripple across the Internet with her recent tirade about the flaws and un-American-ness of soccer. Unfortunately, the outpourings of rage are exactly what feeds hatemongers like Coulter: She was trending on most social sites, and no press is bad press.
I'd rather not do her the favor of writing a point-by-point reaction. Mostly because I think stooping to her level is a waste of anyone's time, but also because it's been very well done already.
And in any case, the evidence is against her. Eighteen million people watched the U.S. play Portugal. And after watching the entire country embrace the United States' Men's National Team in the wake of their heroic loss to Belgium, everyone can see that loving soccer can be proudly American.
I do think there's a diamond in the rough to be mined from Coulter's diatribe, however, especially in a broader context.
Soccer, as it's played by Europeans, is not exactly an American sport. In contrast to sports with strictly regimented intervals like the NBA's shot clock or the MLB's three-out inning, soccer is fluid. There are no commercial breaks, the personnel don't change apart from the three substitutions a team is allowed in a full match, and the clock never stops.
It's a team game that can turn on one play, one run, one mistake. It's a game that can be gripping and intense and scoreless, all at once. It's a game of attack and counterattack; its fluidity is its greatest asset. Soccer, when watched patiently, is an unbroken string of moments where every single play influences the next. A soccer match isn't about the individual waves. It's about the tide.
The great matches are the ones where the scoreboard is a secondary consideration. The great matches are the ones where teams fly up and down the pitch, where the ball whips from one player to the next, where every player defends maniacally and attacks desperately, where the unbroken moments build into something else entirely.
Soccer is one of the only sports that can develop the feel of an avalanche.
Resistance to soccer has never been as vigorous as Coulter would have us believe. Soccer never caught on for much the same reason American interest in tennis went into a free-fall once Andre Agassi, the last of America's golden generation, hung up his racquets. Why bother watching something when Americans aren't good at it? Why would a newspaper or TV station broadcast or report on a sport with no American contenders?
But as I have said before, the Internet has changed a great many things. Among them is the death of mass media. It is no longer the case that the lowest common denominator is the only segment of the population that gets what they want. ESPN can attest to this; the U.S.-Germany tilt had more viewers watching on streaming media than the Super Bowl.
Major League Soccer, a league that I suspect Coulter fervently loathes, understood this. They didn't market to the masses, trying to steal the spotlight. They instead marketed themselves to soccer fans. MLS officials understood that this country is inundated with immigrants, and more keep coming. There was no need to convert Americans like Coulter when a generation of American children was already making soccer the second-most played recreational sport in the country.
It worked: MLS will be up to 24 teams by 2020, its teams play in soccer-specific stadiums, and it is the third-most watched sport in the country. It is on the upswing, a sport riding a wave of young and immigrant viewers with little to no regard for how older, entrenched Americans. That, I suspect, is precisely what Ann Coulter fears: irrelevance.
My favorite World Cup moment didn't even happen during a match. It came on a weekday when I stood in line to pick up lunch with my supervisor. It was 11:45 a.m., and I was marveling at how packed the place was while he kept checking his watch like everyone else in the room.
The reason? Because everyone wanted to grab lunch and get back to their offices before the U.S.-Germany match started at noon. I glanced out of a window during that match at 15th Street Northwest, one of the busiest in Washington, D.C. I saw something I had not seen since I started my internship in early June: the street was empty. Not a soul was out there.
Everyone was inside, watching soccer.
American exceptionalism is the flag waved high by conservatives throughout the country. Among the issues on which Americans considered themselves 'exceptional' was soccer -- if the French played it, no blue-collar salt of the earth American was going to.
But Coulter (who probably believes about 2 percent of the drivel she's spewing anyway) has one thing terribly, terribly wrong. Embracing soccer isn't a sign of decay in America's moral fabric.
Psychological studies have shown that self-described conservatives can be more motivated by fear and uncertainty than self-described liberals. Beneath the bluster and bravado, refusing to embrace soccer for so many decades was a symbol of the grip that this fear of the unknown had on American minds.
And that's what I love about seeing soccer matter to Americans. In embracing the Beautiful Game, a generation of young Americans are showing that the fabric is stronger than ever. These young Americans are humble enough, secure enough in their identity, to finally relax and just play along. In openly embracing soccer, Americans are leaving fear -- and the bravado and bluster used to mask it -- behind.
It seems like America's moral fabric features new threads of humility and sportsmanship. And as the American team bows out of the World Cup having won hearts the world over with its fighting spirit and boundless heart, perhaps nowhere better encapsulated than Tim Howard's record-setting sixteen saves, I think America's soccer fever isn't going to break anytime soon.