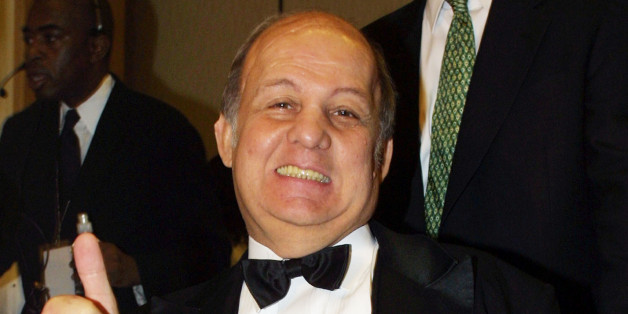 In April 1994 I started working at an organization called Handgun Control, Inc., which was chaired by Sarah Brady. Because I did state legislation, one of my key roles was as traveling companion to Jim Brady, who was one of our organization's most important spokespeople.
At first I was a bit nervous. This was the guy who had been Press Secretary to President Ronald Reagan, and I was a gay liberal. But it didn't take long for me to realize that Jim was on my side -- on everything. We were sitting in an airport in Madison, Wisconsin, in early 1995 when I may have noticed a guy walking by. Jim turned to me and said, "I'm going to tell your boyfriend you've been window shopping." I knew we were OK.
Over the years Jim, his nurse, Mary Dickerson, and I traveled across the country. He was usually the first person to be seated on a plane and considered himself the official greeter of every other passenger. At events people weren't sure what to expect from Jim. After all, he'd had a very serious brain injury. But the guy was quick and had a killer sense of humor and could zing anyone with a one-liner. (I often bore the brunt of it.) I marveled at how Jim could work the media. We often did events at State House, which usually had its own corp of crusty reporters They'd throw Jim a few questions, and he'd swat them back. He'd have them eating out of his hand.
On one of our many trips to Florida, our colleague Mimi Sutherland asked if Jim wanted to go sailing. Before he was hurt, Jim loved to sail, but he hadn't done much of it since then. But a program called Shake-a-Leg had sailboats equipped to get people with disabilities on the water. We weren't sure how we were going to get Jim on the boat until Mimi's partner, Joey Glickman, picked him up and dropped him in his seat. That was that, and the smile never left his face while we were on the water.
In 1999 the National Rifle Association (NRA) placed a measure on the ballot in Missouri to allow the carrying of concealed handguns in public. Missouri Gov. Mel Carnahan led the opposition, and Jim went to Missouri several times to campaign against the measure. He was a powerful spokesperson to counter the NRA's argument that more guns make us safer. As he often pointed out, when he and President Reagan were shot, they were surrounded by the best-trained law-enforcement professionals in the world.
On one of our trips, we drove across the state doing press events in St. Louis, Jefferson City, Columbia and eventually Kansas City. Throughout the trip, besides stopping the NRA, Jim had one thing on his mind: getting to Arthur Bryant's rib joint in Kansas City. When we got to there, Jim got his ribs, but the campaign manager, Robin Carnahan, called to ask why Jim was giving the finger to a reporter. Apparently, during an interview in Columbia, while ranting about the NRA, Jim had flipped the bird for emphasis. Jim sort of denied it, but when Sarah called to find out what had happened, she said, "Oh, Jim did it."
Another time we ended up in the Kansas State House, where Jim testified against the NRA's concealed-carry bill. At a House hearing an NRA-backed state legislator, Candy Ruff, tried to confront Jim by asking why someone so important would show up in Topeka. She wanted to figure out who had invited Jim to testify. "Mr. Brady, how did you get here?" she asked. Jim deadpanned, "U.S. Airways." And that was the end of that.
One thing I knew too was that wherever we went, Jim would always know the best place to eat. We often ventured to Chicago, which he considered a hometown, where Gene and Georgetti Steakhouse was a mandatory stop. When we were on traveling, Jim wasn't supposed to eat red meat. It wasn't part of his approved diet. And I maintain to this day that he never cheated. Road rules, as we said.
I have so many Jim Brady stories -- mostly because he was a consummate storyteller. Jim inspired so many people around the country, including me. I learned so much from him about never giving up and never giving in. It will forever be one of the great honors of my life that I worked for this American hero. I really loved the guy.