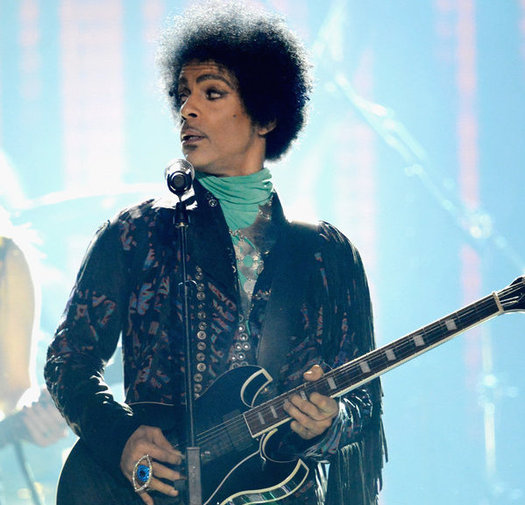 Getty Images
Nearly three years ago, I stood about fifty feet away from Prince. I was at the Myth, a mid-sized nightclub in St. Paul, Minnesota. Like everyone else in attendance, I was phone-less. Prince didn't want people taking pictures and video -- he wanted people to live the moment, to experience the music without distraction. The fans mostly accepted these terms -- why not? It was Prince. The artist was touring with his young, all-female band, 3rdEyeGirl, which seemed to have given him new energy and direction. "They are like my kids," he told vita.mn. "And I'm learning from them. Young people have the new ideas."
The crowd at the Myth was diverse -- as Prince sings in "Uptown": "Good times were rolling/ White, Black, Puerto Rican/ Everybody just a-freakin'." The anticipation was already palpable waiting outside in line, but in the club the intensity grew.
Watching him emerge from the smoke on stage was probably the most electric live music experience of my life.
I had purchased the tickets impulsively on a Friday, and began driving that afternoon. Fifteen hours, and about ten or twelve Prince albums later, I was in Minneapolis.
I can't remember the entire set list. There was a moody, slowed-down version of the 80s B-side "She's Always in My Hair"; a fierce delivery of the more recent message-driven rock single, "Fixurlifeup"; a brilliant guitar cover of Pearl Jam's "Even Flow"; and a moving rendition of "Purple Rain" featuring former Revolution member Bobby Z (who Prince hadn't played with since 1987) on drums.
It was a relatively short gig for Prince at about 90 minutes, but it was no nostalgia act. Prince had the place rocking from start to finish.
The highlight for me was the opener, "Let's Go Crazy." On the drive to Minneapolis I'd determined a case could be made that it is the best album-opener of all time.
"Dearly beloved," Prince begins in the famous gospel intro, "we are gathered here today to get through this thing called life." Prince's words are enveloped by a luminous distortion-drenched electric organ. It sounds like what one might hear at a funeral, yet paradoxically charges his sermon with energy. "Electric word life," he continues, "It means forever/ And that's a mighty long time/ But I'm here to tell you..." He pauses. "There's something else!" The music briefly stops, leaving his captive audience in anticipation. "The afterworld." A dramatic organ flourish punctuates the sentence, allowing his millennial vision to unfold in the imagination. "A world of never-ending happiness/ You can always see the sun/ Day or night."
The sermon now reaches a kind of utopian ecstasy. In just twenty seconds he has taken his listener out of the dreary, mundane world into a radiant, Technicolor paradise.
Then the distinctive Linn drums kick in, bringing us back down to earth. "In this life," Prince tells us, "things are much harder than the afterworld/ In this life, you're on your own!" The signature electric guitar riff breaks in. "And if the elevator tries to bring you down...Go crazy! Punch a higher floor." And with that, the song lifts off, exploding with sound: Prince yelps, drums pulse, keyboards bounce, guitars roar. If it didn't make the hair stand up on your arms, you probably weren't alive.
Prince's take on the song that Saturday in May 2013 had an almost early-nineties, grunge feel. Somehow it worked. In typical Prince fashion, his "new sound" was pushing against the grain of the current music scene, where EDM and synth pop dominated the charts.
I can still see Prince on that stage, bathed in purple light and smoke, playing the passionate guitar solo to its climax. For Prince, it was clear: music truly was salvation.
"It's Saturday night," he yelled out near the end of the show. "We could do this all night." It seemed possible.
But eventually, of course, it had to end. Along with hundreds of others in attendance, I filed out, still buzzed from the music, and drove home with the memory.
In the wake of Bowie, Whitney, and Michael Jackson, it's hard to believe we've now lost the Purple One. I always assumed he had somehow cracked the code--that he could avoid the tragic fate of so many other great artists. Like millions of others around the world, it is deeply painful for me to accept there will be no new music or performances or appearances from one of the most talented and visionary artists of my generation. Prince revolutionized the 80s as much as Bob Dylan revolutionized the 60s. He deserves his place on the Mount Rushmore of popular music.
The song I keep hearing in my head as I type comes from the 1986 album, Parade, which hangs on the wall in my office, just above my computer. It's the final track of the album, a ballad called "Sometimes it Snows in April." In the chorus, Prince sings,
Sometimes it snows in April
Sometimes I feel so bad, so bad
Sometimes I wish life was never ending,
And all good things, they say, never last