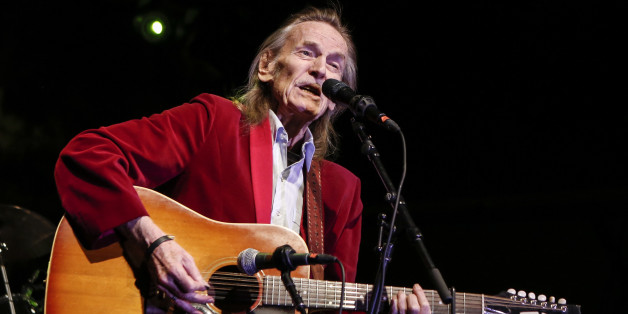 At age 75, the legendary songwriter and beloved recording artist Gordon Lightfoot is still working hard and enjoying it more than ever. The creator of such standards as If You Could Read My Mind, Early Morning Rain, Carefree Highway and Sundown still performs upwards of eighty concerts a year in North America.
"We love the work" is the joyful mantra his associates hear him say all the time. Even after waking up from a six-week coma following a burst abdominal artery in 2002, Gordon worked from his hospital bed and polished the final tracks for his twentieth album. It would take exactly two and a half years before he would take the stage again, overcoming temporary hearing loss, vocal strain and diminished motor skills from the illness. "I could hardly play when I started getting into recovery. I practiced and practiced and kept practicing the guitar," Gordon recalled. "I think actually my guitar playing improved during that time." His voice alone took six months to hone back into performance quality.
These days, a schedule of mostly one-nighters that would grind down artists half his age is energizing for Gordon thanks to a fine tuned approach to living that he has perfected during the fifty plus years he has performed. The end result is a well-oiled, streamlined and virtually problem-free machine where neither resources nor time are wasted. The intention behind it all is to ensure the highest quality experience for every concertgoer.
Gordon's carefree highway is due to the fact that each concert is planned months in advance with a Swiss watchmaker's precision and punctuality. "I was always very punctual since the time I sang in a choir as a child. It became part of my nature. I always show up on time. It is still of equal importance to me as it was back then forty or fifty years ago when I first started getting time recording. Being dependable and, of course, doing a good job have been a big part of my success in many ways. We are always well prepared. It is in the forefront of our thoughts."
When a slate of concerts is set, the clock begins ticking down calibrated to the 8 pm concert start happening in each city. The first step is to inform his long-standing band members of the dates well in advance so they can plan their own schedules accordingly. In the days prior to leaving for the road, Gordon conducts a four hour long rehearsal and performs a preventative maintenance overhaul of all four of his guitars in his at home workshop. "Intonation in my orchestra is critical. It is everything. We play all acoustic music in the folk style of the early 60s and we get into some pretty strange keys. We actually get better tuning for a concert that we do preparing for a recording session."
Other important logistics are set into motion. An 18-wheeler packed with all the band equipment, sound and lighting systems takes off to ensure an arrival 24 hours before the first concert. (Some performers might rent a lot of this equipment at each separate venue -- a risk for malfunction and misfortune Gordon does not want to take). The crew bus also departs its home base in Florida to arrive at the same time as the truck. A private jet is chartered to ferry the band members -- an essential component to greatly reduce the stress and cumulative wear and tear of life on the road. "We run a really a tight ship. We don't waste any time at all on the road. We don't lie about. We don't hang out. We're very tightly spaced in the number of shows we do. We may do 10 shows in 8 days. Sometimes we'll run 5 days in succession. "
The routine on the day of the concert is equally unbreakable. Sound check is at 2:30 pm. Rehearsals and meal times are also set in stone. Gordon might spend up to three hours tuning his guitars, a necessity due to the constantly changing environments. "We go from salt water to Laramie, from 0 to 7,000 feet in altitude. It can be summertime and hot or it can be damp with rain showers during the day. We might also be outdoors in an amphitheater and hopefully it's covered."
Gordon's system is something the band members clearly appreciate as well, as witnessed by the fact that most have been with him for a decades-long, if not lifetime gig. "The reason why they stay is that they really enjoy the work and they're really good at it. They really play it well, and they have no reason to want to leave because I don't give them any reason to want to leave." Among the current band members, bassist Rick Haynes has been with Gordon since 1969; drummer Barry Keane came on board in the late 1970s; keyboardist Mike Heffernan joined in 1981; and lead guitarist Carter Lancaster was added in 2011. What Gordon appreciates about his band is the intonation: "The accuracy we achieve does have to be precise. It really does. I enjoy that."
Equally special care and meticulous planning are put into the play list. "There's a lot of material, but if I'm up there for three hours, I am afraid people would get bored." The play list for each concert is carefully planned to insure that Gordon plays the twelve or so standards he is best known for within the forty-song concert. Some songs are shortened to stay within the two-hour time limit. Tunes from the repertory that are not performed on one evening are rotated into the next to keep the material fresh and interesting for both audience and band.
Life at home when he is off the road is a separate world with its own rules, more relaxed and dedicated to family life, Gordon assured. He goes into his office every day to oversee his business and keep all the wheels in motion, assisted by his key staff person Anne Leibold. He also makes it into the gym about two hundred days a year, which roughly corresponds to the days he is not on the road performing. He credits the fitness regime he began in 1980 as probably the key to his survival and recovery from his near fatal illness.
"I'm kind of a loose guy," Gordon set the record straight with a laugh. "I try to look after my family well, but I like to go about things in a precise way. I love working. It's a great privilege to still be able to do it. I consider myself very lucky to go this long. I feel like I don't really want to stop yet."
That is truly music to all of Gordon Lightfoot's millions of fans around the world.