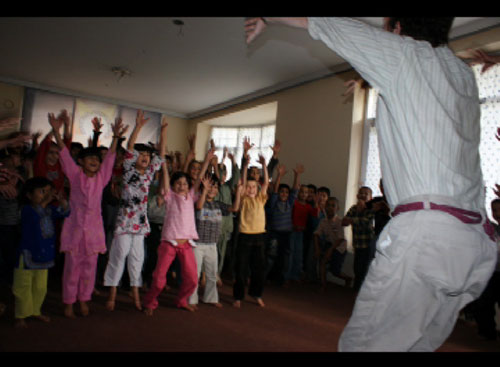 The seeds planted when educating for democracy can take root in many unexpected places such as an orphanage in a war-torn country. I would like to devote this column to the writing of someone who has had such an experience with the hopes that his story will give readers greater understanding of the positive effects education can have on people very much different from us in many ways, but with which we can also find connections.

Ian Pounds recently returned from Kabul, Afghanistan, where for five months he lived as a volunteer teacher in Mehan Orphanage run by AFCECO (Afghan Children Education and Care Organization) (www.afceco.org) which supervises three orphanages in Kabul. They also have one in Jalalabad and four in Pakistan. In March Ian will return to Kabul to continue his volunteer work for another two years. His background includes a Semester at Sea on a shipboard campus, a BA in creative writing from Evergreen State College, study in literature at Oxford University, and three years as a practitioner of Vipassana meditation. He has recently completed a memoir: The Hippie and the Marine: an American Journal. Following is an excerpt of his experience in Afghanistan.
My first week in Kabul I was invited to lunch in a walled-off guarded corner of the city by a woman from New Hampshire working for a U.N. agency. It intrigued her that a man would or even could reside in an orphanage with sixty Afghan girls, many of marrying age between twelve and sixteen. She would have liked to visit me at Mehan (a Dari word meaning homeland), but its location in West Kabul was off limits to U.N. employees. I remember a strange feeling coming over me as I looked across the table at her tilted eyes. It was something akin to "otherness"; maybe, as one Afghan later observed, I too was orphaned. As things turned out I wasn't to visit with another westerner the whole time I was there.


I lived in the orphanage almost five months. I taught English, poetry, drama, photography and computer skills to over 180 children, boys and girls from Mehan and two nearby orphanages, Sitara I and II, run by an Afghan couple, Andeisha and Jamshid, who themselves grew up homeless during the Soviet years. I was no doubt in danger every day and night. Kidnappings, rockets, car bombs littered the news from the streets, and even though I would stagger my schedule visiting the other orphanages, wrap a scarf around my head, duck in the back of the car, I never actually felt endangered. It was my Afghan hosts who kept their finger on that pulse, shielding me from knowing what it would do no good to know. I was there, after all, to focus on the children.


See Omid, whose father was stabbed in the back by a Taliban fighter. See Fahima, who lost her family in a NATO bombing of her village during the initial invasion eight years ago, and who now bears the story across 65% of her body in burns, including all of her face. See Ali, who clung to his mother as smugglers cut her open, stashed drugs in her body, and walked her into Iran. And then see Farzana, who witnessed at the age of five Mullah Omar's soldiers behead her father along with 300 other Hezara men.


These and so many more are the shadows across the backdrop of the orphanage, while the children crystallize in the eyes of their American teacher. By all accounts these children should be damaged. Specialists, thick files and pharmaceuticals ought to be the norm. And yet ... Every act of character defies that logic. The children's transcending the misery of poverty and horror takes on a naturalistic, classically Eastern form, but there is something purely Western about their countenance and approach to life. This and other East/West motifs are constant reminders of the historical struggle between the two, even as teacher and students desperately try to understand and even heal one another. Meanwhile, standing alone outside the gates of the orphanage is a third character, one that hardly needs mentioning and yet drives this story as steadfast and bellicose as the giant rifle-green helicopters flying over the orphanage twice, three times a day: the war...


The depth to which orphans bond is a secret. It is rarely uttered or written or even sung. If only the world could know. I look around and I wonder who it is that really wears the veil. I close my eyes and try desperately to hang onto the girls, their braided hair, their hands. They already are slipping away. The veil is descending upon me. Then, just as I am about to open my eyes, to concede to this world I have not the strength to face, Farzana appears beside me. "Ian-jan," she seems to say, a crooked smile on her face, her eyes squinting in half-laughter. "What is the matter? Why you cry? Come. Look. There you are. And here are we. And this? This is Afghanistan. You see?"

Yes. Now I see.
Ian Pounds exemplifies what teaching for democracy can mean, especially if it is at great risk. He doesn't necessarily believe that democracy as we know it can be practiced the same way in Afghanistan, but that his teaching example can open up the eyes of these young Afghanis that there is another way of life besides their own.

In a presentation he recently gave at the Brooklyn Society for Ethical Culture (www.bsec.org) he described the hungry willingness that these Afghan orphans have for learning, especially learning English. If more Americans had his dedication, and more programs like the one for which Ian has volunteered were established in which, as he explains, "it is possible to educate children to love democracy," the presence of the United States in Afghanistan would be far more effective in bringing peace to that country than 100,000 soldiers.
You can contact Ian Pounds at: http://omprakash.org/phpBB/viewforum.php?f=15.