I opened my eyes early Wednesday morning, stretched the sleep out of my body and immediately realized that I'm not going to be able to sleep in past 6am until October! Do you have any idea what that feels like? It's not pretty. We got out of bed anyway and took comfort in the fact that we only had two more days left which in the bigger scheme of things is not that long at all.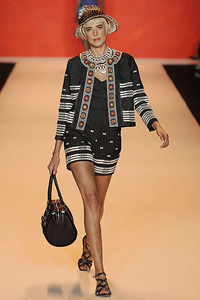 Wednesday brought with it the showing of one of my favorite designers, Anna Sui, who this season took her collection into international waters evoking images of Mexican folklore, Spanish matador and gladiator chic (don't ask) via her intricate embroidery and applique work. As I told you the other day, I was invited back to the American Express Skybox to view the show, and you know that I would have shown up banging on that door even without an invitation!
When I got there, my heart skipped a fashion beat because my favorite goddess, Style.com editor, Candy Pratts Price, was sitting at the bar waiting for a show to end in order to participate in a Q&A. If you guys haven't seen her CandyCasts on Style.com, I suggest you click the link ASAP to be transported into a world full of rainbows and unicorns! Yes. It's that magical, and episode two, found in the archives, is our all time favorite.
Unfortunately, Candy quickly dashed off before she had a chance to do her Q&A due to a fashion emergency. That happens all the time and I totally understood, but I wasn't down for long because as I watched her run out the door, I saw Ivan Bart, IMG's Senior VP, and Lisa Benson, his most valuable asset on the women's board, stroll through the door with Kyle Hagler, also from the women's division. When I asked Ivan what he was doing up in the Skybox, he quickly shot back, "This is the ONLY way to do Fashion Week!" He didn't have to say another word.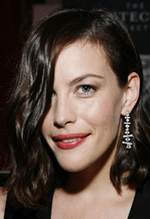 After Anna Sui, I rushed out of the tents and hightailed it back downtown to the Rose Bar at The Gramercy Park Hotel where I was meeting some friends for the Hearts on Fire party hosted by our lady of the week, Liv Tyler. Hearts on Fire is more famously known as "the world's most perfectly cut diamond" and that night they were celebrating their architectural collection which I was informed is a selection of 17 different designs inspired by eight different structures from all over the world. The pieces were gorgeous and all, but we hadn't had a meal since Sunday, so we ran over to the waiter passing out mini hamburgers. (I had three! Shhh!)
Anyway, everyone had showed up to celebrate including guest DJs Theodora and Alexandra Richards, Mena Suvari, Adrian Grenier, Sean Avery, Mickey Rourke, Dave Navarro, Rolling Stone Keith Richards and Emma Roberts. We ended up sandwiched at a table between Liv and Alan Cumming, who, when I complimented him on the Calvin Klein purple suit he wore a few nights previously, corrected me and said, "The people at Calvin insisted that the suit was NOT purple but RAISIN!" Well, in that case, I was clearly wearing an apricot tee-shirt coupled with blueberry pants (as opposed to the orange and navy I thought I had put on that morning!) Leave it to the fashion folk... I had to leave because it was getting late, and just as I got up, Liv blurted out, "I can't believe how many people have never heard of Tom Waits! I mean, I totally grew up listening to his music!" I didn't want to tell her that I wouldn't recognize Tom even if he came up to me and slapped in the face with a Tom Ford driving shoe. It didn't matter. There were four goose down pillows with my name on them waiting for me back at home.
Thursday brought with it the most pleasant little surprise. When you're drowning at work, it's always nice to receive a package full of goodies, and for me, that package came from Shop Style who had sent me a box of pink fashion fridge poetry magnets which contain words like Runway, Anna Wintour, Rockstar, Versace and Collection! They're way fun, and actually, I've wasted about 3 hours of my day already just creating precious prose on my desk and daydreaming of sunny tropic beaches. Email me, and maybe I'll reply with one of my short poetic masterpieces.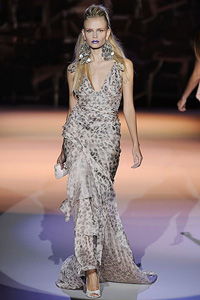 Once I was finally able to pull myself away from those damn magnets, I ran up to the tents for the Zac Posen show which was going to be my last show of the week (FINALLY!!!!!!). Zac has always been a favorite of mine, and about a year ago, I had the opportunity to go on a whirlwind weekend tour of Istanbul with him for the capsule collection he created exclusively for Turkish luxury retailer, Vakko. I can't go into detail about it because what happens in Turkey, stays in Turkey. What? You've never heard that saying before?
In any case, Zac pulled an incredible front row, as always, which had Claire Danes, Joy Bryant, Jada Pinkett Smith, Serena and Venus Williams, Lauren Hutton, Bernadette Peters, artist Julian Schnabel, Veronica Webb and Marisa Tomei sitting front and center. When I asked her favorite Zac moment, Marisa said "When Zac first started out, I called and called about a dress to no response. So I showed up at the studio and Susan [Zac's mother] called me a stalker! I love it!" I would totally pay Marisa to stalk me, but that's beside the point.
The collection was strong and there were definite red carpet numbers interspersed between the overtly girly leopard print and heavily beaded dresses which are definitely going to be a hit with young Hollywood.
After Zac's final bow in front of a massive wall of roughly stacked transparent lucite chairs, I breathed a sigh of relief. I was done. No more shows for 5 months. No more skinny models for 5 months. No more parties for 5 months. Okay. Maybe there'll be a party or 10. I can't turn down a good party.
The end of Fashion Week is always bittersweet. It's sort of like when you go out to the country for the weekend with friends and you have fun with them, but then by the second day you want to kill them and when you finally say good bye to them on the third day, you sort of miss them and you're stuck at home alone feeling sad. That's what it's like when Fashion Week ends. All the editors flock across the Atlantic for the European shows. The models desert the streets to go do their thing in Paris and Milan, and you're left in the big city wondering how did I end up here like this?
This time around, I'm not sad because I have you, my lone reader. HA! You were the one who stuck by me through this week, following my every move, keeping me strong, knowing I'll get through it when I thought I never would. I dedicate this posting to you.