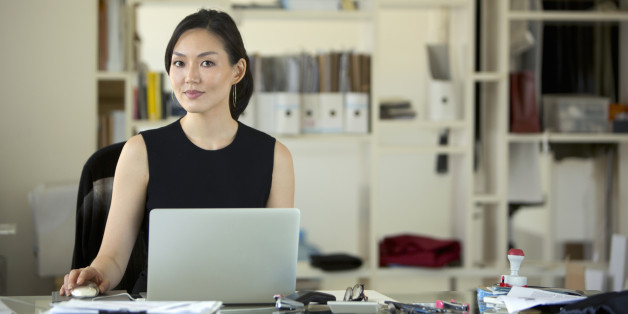 Today many claim there are not enough women working in tech companies. According to an article published by Alison Griswold at Moneybox.com, data from well-known companies such as Google, Facebook, Yahoo and Microsoft, show us there is a huge gender gap: Men represent 84 percent of the working employees in these companies, while women only represent 16 percent of their total workforce-- even though they have the same level of qualifications and education. This prompted me to do some investigating on my own, and over the past month, I collected stories from women in the tech industry that I met while I was at Dreamforce 2014, a Salesforce.com a user and developer conference held yearly in San Francisco. Obviously this is a small sample, but it provides additional insight into some of the challenges women face in this industry.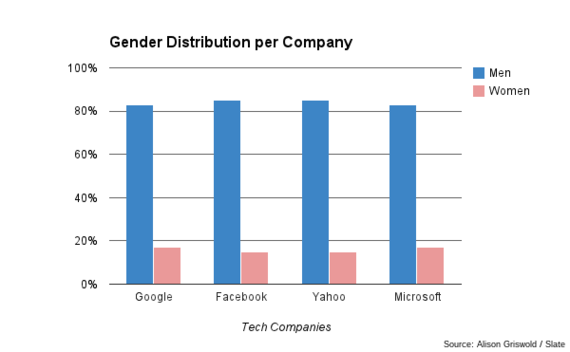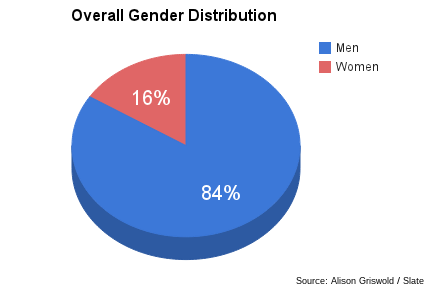 Work Culture
Eighty percent of women I spoke to named work culture as a major concern in their tech jobs. For instance, Catherine Blackmore, Chief Customer Officer at Bluenose Analytics, with over 20 years of experience holding different senior leadership positions, said the following:
I've had to chat with male leaders about scheduling large meetings on Halloween or the first week of school. As a female executive, I pay extra close attention to these situations and educate male counterparts as these acts can be culture killers.
Her advice for women entering this field:
Don't feel guilty about telling your boss what you need. I coach women on understanding their worth in the workplace. For example, I know that I am a mission critical member of the executive team, and work tirelessly to help build the company... which means many late nights and even weekends. I do not feel guilty or concerned about telling my CEO what I need.
Perception
Deepa Patel, President at Halak Consulting LLC, a leader with over 15 years of experience in consulting, talks about her experience with how women are perceived in the tech world:
There is a perception that women are good just for marketing jobs. That is not true at all. The reality is women are interested in technology jobs, and do work for technology companies, but are not perceived as leaders. We need to do a lot more to change that perception.
Her advice for women entering into this field:
For all the women who have dreams of building a career in technology, I will say, 'dream big and shoot for the stars.' Together, with each other's support and encouragement, we can make it and hold leadership positions. I was recently asked a question about salary differences and how to get around that. The advice: 'Ask for what you want.' If you don't ask, you don't get it. Don't be afraid. If you get a 'NO,' ask again. If you still get a 'no,' after about three times, find another job where you do get a 'yes.' Don't ever take 'no' for an answer and don't let anyone discourage you or squash your dreams.
Family vs. Work
Like many of the women I met, Neeracha Taychakhoonavudh is highly educated; she holds a B.A and M.B.A from Stanford University. She is the Senior Vice President of partner programs at the Worldwide Alliances & Channels division at Salesforce.com. She is one of many that cite work and family obligations as a major challenge in building her career:
It seems a little harder for women to find that right balance point between work and family obligations. When my children were young, it was definitely harder as they were more demanding of my time. Now my kids are teens and they are still demanding, albeit in different ways.
Her advice for women entering into this field:
I think it's a great field for women -- fast-moving, good pace of change and the overall growth means there is ample opportunity for career advancement and mobility. There are more openings so the pool for advancement or trying new things is pretty wide
Being Confident
Just over a quarter of the women I spoke to mentioned lack of confidence as their main challenge starting their tech career. Jessica O'Steen, a Cloud Computing Consultant with over 10 years of technology experience and five Salesforce.com certifications, mentioned:
The biggest challenges I faced early on were due to a lack of confidence in my abilities and the ridiculous expectations I set for myself. I felt constant pressure to prove myself and that in order to be a successful consultant I had to immediately provide the right answer to any and every question. Even though it is impossible to know everything about salesforce.com and all industries, I felt I had failed myself and my clients if I had to research something or reach out to other resources to get an answer. I studied hard for my five salesforce.com certifications and through that and the support of my long time male mentor I now have the confidence to say 'no but I will get the answer.' Lack of confidence and unrealistic expectations are no longer issues for me now.
Her advice for women entering into this field:
Women considering a tech career should really just go for it and dive in headfirst. It is challenging, exhilarating, scary, rewarding and amazing all at the same time. It is important to find or found a company that has the same ideals and priorities as you do. Never try to be something that you are not just to fit in. Create a professional support network for yourself, get certified in the technology you are working in and always remember how valuable you are.
Are a woman? Are you ready to work in the tech industry? Comment below.