They say it's the little things in life that are most important, and for Sireen Jadallah that couldn't be more true.
She is a Program Supervisor for Right To Play in Jordan's Za'atari Refugee Camp, home to more than 150,000 refugees of the Syrian crisis. For her, hope lives in the smallest of moments -- like when she saw a child in the camp help a young, crying girl up off the ground, and encourage her to rejoin a game they were playing.
In the face of a war so brutal it has seen violence and cruelty as extreme as chemical weapons, it seems exaggerated to call the moment "overwhelming," but for Sireen any sign of peace is a positive step -- and through play, she is seeing small steps accumulate into a bigger impact.
Saturday, September 21 marks the International Day of Peace. As the world searches for a solution to the fighting in Syria, we must remember that peace is not only measured by the absence of war. For child refugees, who are among the most vulnerable bystanders of conflict, peace is about having the opportunity to be a kid again.
Over half of the more than two million people that have fled Syria as refugees are children, most under the age of 11. Some three million more children are now displaced within Syria's borders. Torn from their homes, schools and communities, these young people are at risk of becoming what UN High Commissioner for Refugees António Guterres has called a "lost generation."
They are losing their childhoods, their dreams and their right to an education. Nearly two million Syrian children between the ages of six- and 15-years-old have had to drop out of school due to their displacement.
In Za'atari, many children and youth are staying out of the classrooms that do exist, because schools have become overrun by violence and intimidation. Reports coming out of the camp warn of a young population that is aggressive and volatile. Traumatized and accustomed to living in survival mode, these children feel like they have nothing to lose, and without attention to their psychological scars, have long days to simmer in their anger and thoughts of revenge. The camp has become extremely dangerous for girls and women, and is fertile ground for gang activity and the recruitment of young men back to the fighting.
These are children who have been forced to adapt to a life of perpetual violence and fear. As a result, they risk not developing the skills they need to live in peace time.
We need a way to reintegrate them into childhood. These children need an alternative; a safe and controlled arena where they can engage with each other in a purposeful way, feel mentally and physically stimulated, regain a sense of routine and belonging, and feel like kids again.
In refugee camps like Za'atari, play is an effective -- and sometimes the only -- vehicle through which we can achieve this.
Consider your own experience, or your children's: In the same way that recess offers reprieve to students in North American schools, regular play opportunities help give children a break from the stresses of everyday life in the camp, and offers them something to look forward to. Beyond that, guided, purposeful play helps to teach children the necessary life skills they need to cope with their experiences and adapt to their new surroundings.
Right To Play field staff and trained volunteer Coaches in Za'atari lead weekly sport and play activities that focus on peace-building and help develop skills like cooperation, empathy, self-control, respect and inclusion.
Today, nearly 300 children are participating in weekly Right To Play activities in the camp. While the number seems small, Sireen reminds us of the little things.
She says that every week the children are playing together peacefully, shedding some of the anger and hostility war has embedded in them.
Outside the borders of the camp, that impact is being multiplied by the thousands in schools and communities throughout Jordan and Lebanon, where our existing programs are adapting to meet the needs of the region's ever-growing refugee population.
In the same way that hate and anger can be learned, peace can be taught, and for a child, play is the vehicle to teach that lesson.
While war in Syria itself may be a matter of politics, the price paid by the people living within -- and now forced beyond its borders -- is not. Any time children are driven from their homes by conflict and are deprived of the childhood they so rightly deserve, it is a humanitarian crisis.
Our response to these crises must ensure that children's basic needs are met, but also that their physical, psychological and social development is cared for.
So we will leave it to the politicians and diplomats to barter and debate; to silence weapons, disengage armies and end today's conflicts, because play cannot end a war. It does, however, have the power to win small battles -- like when a young child stops to help a fallen peer and encourages them to get back in the game.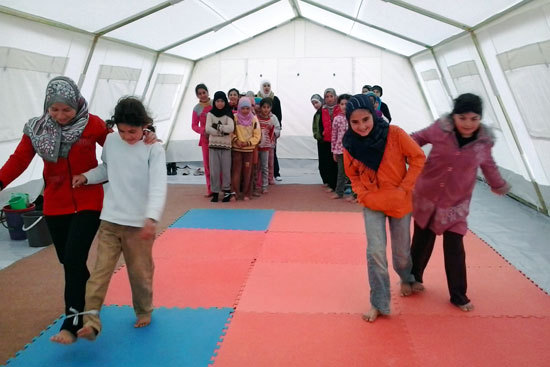 Children in Jordan's Za'atari camp participate in Right To Play activities.
Johann Koss is Founder, President and CEO of Right To Play, a global organization that uses the transformative power of play to educate and empower children facing adversity. Right To Play reaches one million children across more than 20 countries through regular weekly sport and play activities that help build essential life skills and better futures, while driving lasting social change. Visit http://www.righttoplay.com
Follow Johann Koss and Right To Play on Twitter:
@JohannKoss
@RightToPlayIntl
Facebook: https://www.facebook.com/righttoplay