Once again, baseball writers are about to discriminate against a talented player for merely being the best at his position. If the sport was more about being a meritocracy, we would have a few more votes for Atlanta Braves relief pitcher Craig Kimbrel for the Cy Young Award, and maybe the Most Valuable Player (MVP) award in Major League Baseball.
The headlines have been dominated by Los Angeles Dodgers hurler Clayton Kershaw, expected to be a finalist for the MVP and Cy Young Award. An Associated Press article touting Kershaw's candidacy reported:
Los Angeles Dodgers pitcher Clayton Kershaw became the first pitcher to lead the major leagues in earned run average in four straight years, and Houston's Jose Altuve and Colorado's Justin Morneau won their first batting titles. Kershaw's 1.77 ERA was the lowest in the National League since Greg Maddux's 1.63 for Atlanta in 1995.
Actually, that's not quite true. Kershaw may have been the first starting pitcher to lead the major leagues in ERA and had the lowest ERA for a starting pitcher since Greg Maddux. But he would have to give up fewer earned runs in a nine-inning game to top Kimbrel.
Craig Kimbrel's ERA for 2014 was 1.61, lower than Kershaw's and Maddux's. The year before, it was 1.21. In 2012, his ERA was 1.01. In 2011, his first full year, when he was the Rookie of the Year, it was 2.10. In four full seasons from 2011-2014 (he pitched in 21 games in 2010), Kimbrel's average ERA is 1.43. His save totals are 46, 42, 50 and 47. His average strikeouts per nine innings are 14.8 (in 2014 it was 13.9), while his K-to-walk ratio is 4.41 (in 2014, it was 3.65). Regardless of how well the Atlanta Braves are doing, Kimbrel gets the job done.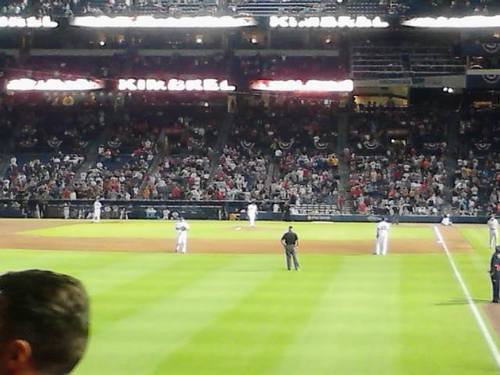 Turner Field lights up with flames as Craig Kimbrel gets a save against the Washington Nationals in September.
Now let's compare Kimbrel's record to Kershaw's. Kershaw had his second 20-win season for his career this year. His ERA has never been lower than Kimbrel's, and is 2.48 for his career (2.28, 2.53, 1.83, 1.77). His average strikeout total per nine innings was 10.8 last year, boosting his career totals to 9.4. His K-to-walk ratio was better than Kimbrel's last year (7.71), but for his career, it's 3.41.
Kershaw's statistics are good numbers, of course. And Kershaw's been rewarded with two Cy Young Awards and a second-place finish. But they aren't as good as Kimbrel's.
No doubt, Dodger fans will argue that Kershaw has to throw more innings. Braves fans could counter that Kimbrel can't afford to make a mistake, where every inning is a pressure inning. Dodger fans can talk about how Kershaw has pitched deeper for his team into the playoffs (with disappointing results for the Dodger starter in the postseason) while Kimbrel backers can point out that Kershaw often pitches with a stronger batting lineup.
We could play these games forever. But when it comes to comparable statistics, like ERA, strikeouts per nine innings and per walk, Kimbrel has the edge. And yet Kimbrel can't seem to get a top-three finish for the Cy Young Award.
How does Kimbrel compare to other relief pitchers who have won the Cy Young Award? I'll let you judge.

Bruce Sutter won the Cy Young Award in 1979. He had 37 saves, an ERA of 2.22, a strikeout per nine inning statistic of 9.8, and a K-to-walk ratio of 3.44.
Steve Bedrosian of the Philadelphia Phillies got the Cy Young Award in 1987. He had 40 saves, an ERA of 2.83, a strikeout per nine inning statistic of 7.5, and a K-to-walk ratio of 2.64.
In 1984, Willie Hernandez of the Detroit Tigers captured the Cy Young Award. He had 32 saves, an ERA of 1.92, a strikeout per nine inning statistic of 7.2, and a K-to-walk ratio of 3.11.
San Diego Padres' reliever Mark Davis took the Cy Young Award home in 1988. He had 44 saves, an ERA of 1.85, a strikeout per nine inning statistic of 8.9, and a K-to-walk ratio of 2.97.
There's Eric Gagne of the Los Angeles Dodgers, who was awarded the Cy Young honor in 2003. He had 55 saves, an ERA of 1.20, a strikeout per nine inning statistic of 15, and a K-to-walk ratio of 6.85. Only Gagne's numbers on this list are comparable to Kimbrel's. Statistics from Dennis Eckersley and Rollie Fingers are also similar to Kimbrel's and they were honored with a Cy Young Award.
So why is Kimbrel not receiving the same consideration as other pitchers? There are a few reasons. Kimbrel has had to compete with some good starting pitchers for these awards, like Kershaw and Adam Wainwright. Atlanta may be a small market team, but that didn't keep John Smoltz, Greg Maddux, Tom Glavine and Chipper Jones from getting awards.
Some might feel that evidence suggesting Eric Gagne used steroids is hurting all relievers, but they haven't stopped giving the award to starters because of Roger Clemens, have they? It's time to use comparable statistics to give relief pitchers a chance to the win the award, or create an award like the old "Rolaids Relief Award."

John A. Tures is a professor of political science at LaGrange College in LaGrange, Ga. He can be reached at jtures@lagrange.edu.