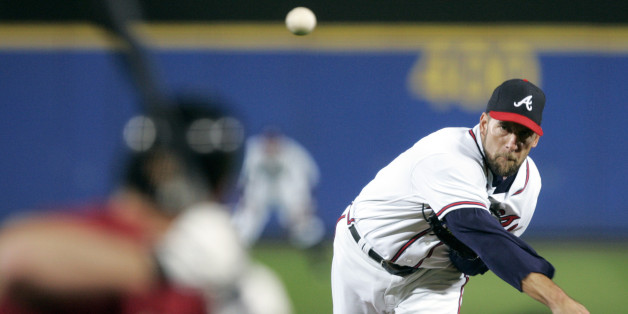 Major League Baseball seems poised to admit its largest class into the Baseball Hall of Fame since 1936. Of those candidates for Cooperstown, fewer are generating as much debate as John Smoltz of the Atlanta Braves, allegedly on the basis of some new statistics. But those WAR and JAWS statistics, biased against relief pitchers, can't overcome Smoltz's own combination of wins, saves and a better postseason record.
Smoltz has been cited as being part of the best rotation ever. Former teammates like Greg Maddux and Tom Glavine already entered the Hall of Fame last year, as did former Atlanta Braves Manager Bobby Cox. The problem is that these players work against Smoltz. As a starter, neither of these players could be on the field to help. If anything, they are hurting his case among the voters who might think, "haven't we put enough Atlanta Braves from that team into the Hall of Fame?"
The success of those Braves was based upon starting pitching. They often had to tolerate a defense, lineup and bullpen (until Smoltz joined it) that were barely good enough to make the playoffs, but not enough to go beyond that without above-average starting pitching.
Even then, Smoltz managed to excel against his distinguished fellow starters, easily winning the Cy Young Award in 1996, four other Cy Young top-10 Finishes and several All-Star appearances, and even a "Silver Slugger" (for being the best hitting pitcher). He had at least 14 wins 10 times in his career.
But with the Braves bullpen in shambles in 2001, thanks to the John Rocker fiasco, Smoltz became a relief pitcher, even though it would surely cost him the 300 wins in his career. He responded by netting 154 saves in just under 3.5 seasons, including a league-leading 55 in 2002, before returning as a starter in 2005.
Most cited by detractors is the "Wins Above Replacement," or WAR statistic, used to calculate a player's effectiveness, in wins, compared to a replacement by an average player. WAR is calculated using "runs allowed, (earned and unearned)" and innings pitched. It is clearly biased against relief pitchers, or starters like Smoltz who spent several seasons in the bullpen. It doesn't measure anything to do with saves, strikeouts (total or ratio), or even wins. Bill James also notes that WAR is biased against current players and less so against players from earlier years.
As for statistics, detractors use JAWS, or "Jaffe Wins Above Replacement Score," where a player's WAR in their seven-year peak is compared to the average WAR of other Hall of Famers at that position. The trouble is, what do you do with a player who excels at two positions, like starting and relief pitching? Detractors only apply JAWS to Smoltz as a starter, and ignore his relief years, as well as the biases of the WAR statistic.
Here's a simple statistic for baseball: WAS (Wins And Saves). John Smoltz had 213 wins and 154 saves for a combined WAS of 357 and an ERA of 3.33. There's also Smoltz's postseason record. He was an amazing 15-4 with four saves and an ERA under 3.00 for league division series, league championship series and the World Series.
Let's compare Smoltz to Pedro Martinez, who had 219 wins, three saves, a 2.93 ERA in the regular season and a 6-4 record in the postseason with a 3.46 ERA. Randy Johnson won 303 games with two saves, and a 3.29 ERA, with a postseason record of 7-9 and an ERA of 3.50. Mike Mussina won 270 games, no saves and had an ERA of 3.68. His postseason record is 7-8 with an ERA of 3.42. Curt Schilling won 216 games, saved 22 and had an ERA of 3.46. His postseason record is an incredible 11-2 (no saves) with a 2.23. As you can see, Smoltz has the most wins and saves of this group combined, a comparable ERA, the most postseason wins and saves and the second best postseason win percentage and ERA of the bunch. It's hard to make an argument against him, given these numbers.
The final argument detractors can trot out is the Dennis Eckersley comparison. Eck had 197 wins and 390 saves for an incredible WAS of 587, something even Smoltz can't top. But Eckersley pitched more seasons. It is interesting to note that Eckersley averaged 35.45 saves in 11 seasons, while Smoltz averaged 44 saves in his 3.5 years as a starter. As a starter, Eckersley's ERA was 3.92 in Boston, and 3.63 for the Chicago Cubs, higher than Smoltz's ERA as a starting pitcher. Eckersley was 1-3 in the postseason with 15 saves an ERA of 3.00 (including a forgettable 5.19 ERA in the NLCS and 5.79 (0-2) in the World Series).
Both are Hall of Famers, of course. But Smoltz also did one thing Eckersley didn't do. Eck eventually burned out as a starter, revitalizing his career in the bullpen. Smoltz led the league in wins as a starter in 1996, led the league in saves in the 2002 and then returned as a starter to lead the league again in wins as a starter in 2006. Smoltz clearly showed the mastery in both positions. He could have made the Hall of Fame at either position had he spent his career at only one spot. The same cannot be said of Eckersley.
John A. Tures is a professor of political science at LaGrange College in LaGrange, Ga. He can be reached at jtures@lagrange.edu.