Republicans no doubt cheered when the Vergara v. California decision was handed down, axing teacher tenure. And they'll no doubt be pleased by former CNN Anchor Campbell Brown's attack on teacher tenure, with her education reform group called the "Partnership for Educational Justice."
But Brown's education reform group, which uses "equality in education" as its mantra to justify getting rid of teacher tenure, may open the door for equality for educational funding, something that will surely give many Republicans a heart attack, and leave Democrats eventually smiling.
In a recent appearance on the Colbert Report, the host asked Campbell Brown,
"Is this about children getting access to an equal education?" She responded, "That's exactly right." She then went on to describe the Vergara case in California.
"Aren't you opening up a can of worms then," Colbert responded. Because if you say that everyone deserves an equal education...if that's your argument....doesn't that mean eventually you'll say 'every child in the state of New York should have the same amount of money spent on their education...rich community, poor community, pool it all in, split it all up among Bobby, Susie and Billy, everywhere, because the argument is everyone gets the same opportunity."
Brown then said, "But you're suggesting it's all about the money." The host replied, "Well, you're suggesting it's all about equality, and money is one of the equations in equality... or have I just schooled you?"
Brown pressed on, saying, "I do think there should be equality in money." She went on to talk about teacher pay, but any Republican watching the show should be very concerned with the direction of Campbell Brown's reform initiative.
Brown herself, in a column about the Vergara case, wrote "equity remains essential." She claimed that a "right to a sound education is rooted in the [California] Constitution" (even though the California Constitution says something different). She claims that "the activism is born out of the inaction of our leaders and the frustration driven by inequity in education." She also notes that the parents (who were her plaintiffs) want equity as well.
Judge Rolf Treu, loved by Republicans for his ruling in the Vergara case, actually wrote that the law violates the students' right to equality of education, especially for minority students. Those words will be used by liberals to justify future court cases requiring equal funding for schools, especially in minority districts. Either Republicans didn't read his ruling, or have softened their opposition to equal funding for education.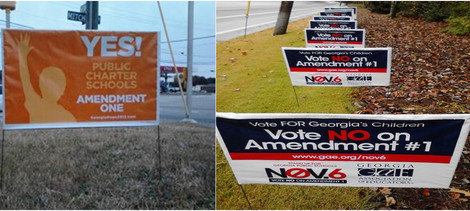 The photos were taken by the author from the 2012 Georgia Election and the Charter School Amendment battle.
Perhaps Republicans will simply assume that Brown's group will just gut tenure, and get no further, hoping there's no future plan for equality of education. But there's a reason that reform groups are attracting Democrats into their leadership ranks.
StudentsFirst, the conservative organization, just lost its most powerful player. Michelle Rhee stepped down. The group had partnered with Republicans and endorsed a number of them, but anonymous sources attributed Rhee's departure to a loss of effectiveness in the group.
Former Obama Administration aides, Robert Gibbs and Ben LaBolt, members of the firm "The Incite Agency" are now key backers of Brown's Partnership for Education Justice and their battle with teacher tenure.
Another key supporter of Brown's movement is Bruce Reed, the president of the Broad Foundation and an ex-Democratic strategist. He was championing the Vergara decision in the Supreme Court this summer.
"This is not partisan," Brown told a charter school convention, according to a Huffington Post article. "We don't care what side of the aisle they're on."
While pro-Republican partisans seem to be exiting the fight, former members of the media, and key Democratic strategists connecting to Clinton and Obama, are leading the fight. With their support of educational equality and equal funding for students, they'll soon realize a longtime Democratic dream. Meanwhile, Republicans who support them, hoping to bust teachers unions, will be in for a rude shock.
--
John A. Tures is a professor of political science at LaGrange College in LaGrange, Ga. He can be reached at jtures@lagrange.edu.