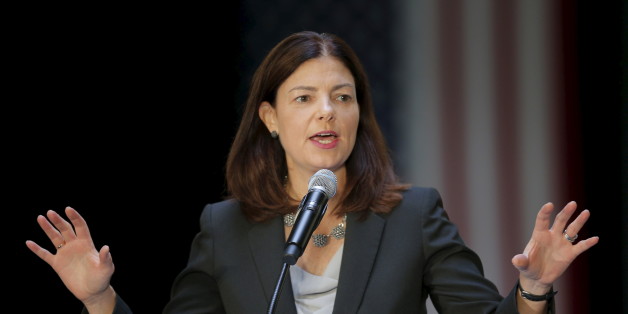 Before the RNC, the Fiscal Times declared that Trump was "not as much of a drag on the ticket as some feared." After a bad month for the GOP nominee, I decided to test that argument, to see if that was still the case. In 15 races for the U.S. Senate and governor, Democrats boosted their numbers in 10 of those cases, and held two others constant, showing "the Trump effect" was bad for the GOP.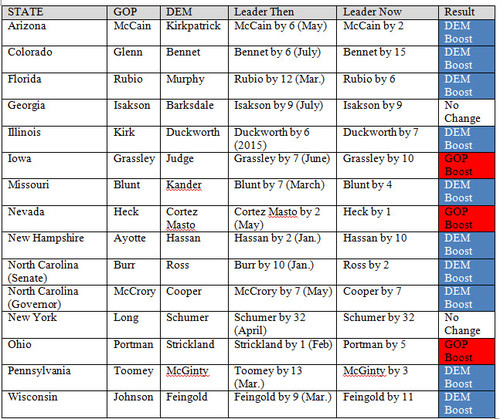 In Arizona, 2008 Presidential nominee and GOP Senator John McCain is within the margin of error, after having a more comfortable lead back in May. Democratic Senator Michael Bennet, meanwhile, has opened up a double-digit lead on his opponent in Colorado, after leading by six points a month ago. Florida GOP Senator Marco Rubio has seen his lead over Democratic Congressman Patrick Murphy cut in half.
Early polls showed Illinois Congresswoman Tammy Duckworth with a six point lead over Senator Mark Kirk, a Republican, though his own poll had it a statistical dead-heat. But now her lead is up to seven points over Kirk. Missouri GOP Senator Roy Blunt, a Republican, was supposed to win reelection, but he finds his lead over Jason Kander narrowing somewhat. And in New Hampshire, GOP Senator Kelly Ayotte's two point lead has been replaced by a ten point advantage to New Hampshire Governor Maggie Hassan, a Democrat.
The Tar Heel State represents Ground Zero in terms of trouble for Republican candidates. Governor Patrick McCrory sported a seven point lead, while Senator Richard Burr opened up a ten point lead. Both now trail their Democratic candidates, Attorney General Roy Cooper and state legislator Deborah Ross, respectively.
In March, Pennsylvania GOP Senator Pat Toomey was prevailing by 13 percentage points in his race against state environmental official Katie McGinty. Now she's pulled ahead by three points. Former Wisconsin Senator Russ Feingold, who was beating Ron Johnson (the man who ousted him six years ago) by nine points, now boasts a double-digit lead.
Data was unavailable for the Indiana Senate race, but given the late entry of former popular Democratic Governor and Senator Evan Bayh and the shifting of the race from the Republican column, one can hardly conclude that this is a positive sign for the GOP in the Hoosier State.
Three Republicans have been able to increase their lead, despite a bad post-RNC Convention for Donald Trump. Nevada Congressman Joe Heck has regained a 1 point lead over Democratic Rival Cortez Masto in the race for Harry Reid's Senate seat. Iowa Senator Chuck Grassley is now up by 10 points, instead of seven, over Democratic challenger Patty Judge. And Ohio Senator Rob Portman increased his lead to five points over former Ohio Governor Ted Strickland, who was leading by a point earlier this year.
But these boosts in popularity have hardly been the result of Trump's strong candidacy. Even though the RNC was held in Cleveland, Ohio, Portman largely stayed away. In fact, he's shied away from Trump in general, and regained his lead based on an independent streak, focusing on education, and capitalizing on Strickland's mistakes.
Two incumbents in the survey have been able to maintain their current position. New York Senator Chuck Schumer, a Democrat, maintains his 32 point lead while Georgia Senator Johnny Isakson has reestablished his nine point lead over Democratic businessman Jim Barksdale.
Critics may claim that I am counting slight deviations for Democrats as boosts for the party. I am doing the same for Republicans, however, applying the same standards, using data from realclearpolitics except for the Duckworth-Kirk race, where the site did not pull up the polls, and I had to rely on other sources.
It is important to note that these findings represent a trend for cases of Democratic incumbents, Republican incumbents, and open seats. No congressional scandal or unpopular legislation can account for these trends. And those Republicans faring better or holding serve managed to stay away from Donald Trump. The GOP would be wise to spend their money preserving their Congressional majority, rather than send it to a candidate who has been a drag on the ticket.
John A. Tures is a professor of political science at LaGrange College in LaGrange, Ga. He can be reached at jtures@lagrange.edu.