Democrats surprised pundits by opening up a seven point lead in over Republicans in the generic ballot in a Fox News poll, 46 percent to 39 percent. That's because Democrats like their member of Congress more that Republicans like their own member in the Congress.
An earlier poll by Quinnipiac University revealed that Republicans disapprove of the way Republicans in Congress are handling their job. The survey found that 56 percent of GOP voters don't like their member of Congress, while only 35 percent approve. Naturally, 87 percent of Democrats disapproved of those Congressional Republicans, while eight percent approved.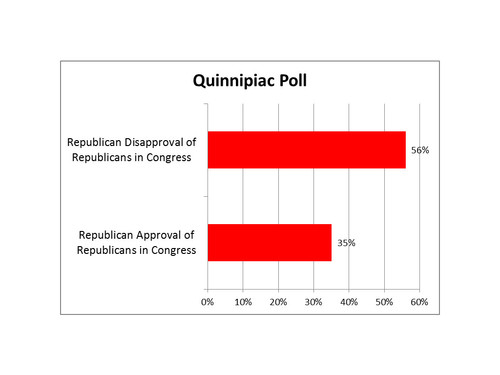 Now take a look at how Democrats felt about their own member of Congress. In that same Quinnipiac poll, 63 percent of Democrats approved of the way Democratic members of Congress, while 30 percent disapproved. As expected, 91 percent of Republicans disapproved of the Democratic Party performance in Congress, while five percent approved.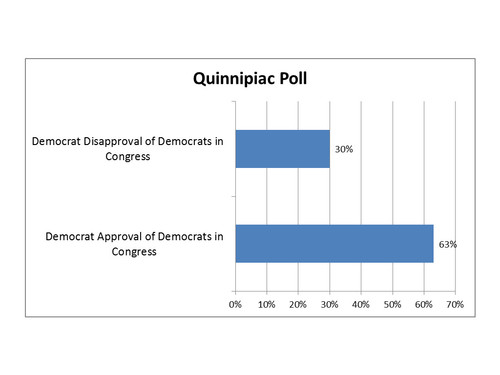 In case you are wondering, political independents like Democrats better, but only by a small margin. They like Democratic members of Congress (20 percent) more than they like Republican members of Congress (15 percent).
Women approve more of what the Democrats are doing in Congress. More than 30 percent approved of the Democrats in Congress, while only 18 percent felt that way about Republicans. But it might surprise you that men feel the same way, though by smaller margins. A quarter of all men approved of Democrats in Congress, while just 18 percent approved of Republicans in Congress.
This doesn't mean that Democrats are going to win the House of Representatives. The districts are drawn by Republicans to elect Republicans. Democrats won a million more House votes than Republicans, and yet the GOP held the lower house of Congress.
Nor does it mean that Democrats are going to keep the U.S. Senate. Most of the states with close elections voted for Mitt Romney in 2012, so they aren't necessarily going to flip suddenly to Democrats.
But long term, this isn't a positive sign for the GOP for two reasons. First, they are likely to interpret their 2014 electoral victories as a sign that they are loved by the people, and will stay the course. Second, as demographics continue to take their course, the Republicans will fall further behind. The policies, such as their hard line on immigration, will only get worse.
As members of the Tea Party knock off moderates in the Republicans, they will only slip further behind. That Fox News poll shows Americans strongly disapprove of the Tea Party. Only 29 percent have a favorable impression of these conservatives. Democrats, on the other hand, have a 47 percent to 45 percent favorable-unfavorable impression on the public (an improvement upon recent surveys). Republicans, meanwhile, have a 42 percent favorable rating, and a 50 percent unfavorable rating. That should slide toward Tea Party status as the party takes a more conservative tack, unless the party can find candidates closer to where Americans stand on the issues.

John A. Tures is a professor of political science at LaGrange College in LaGrange, Ga. He can be reached at jtures@lagrange.edu.