When Atlanta Braves' outfielder Jason Heyward was traded to the St. Louis Cardinals, writers focused primarily on his offensive numbers, either touting his potential to do better, or knocking his inability to live up to early hype.
Rarely was any mention made of his fielding abilities, except for the passing mention of a Gold Glove. But the Gold Glove awards are in such disrepute from past errors that Heyward's dazzling defensive skills were overlooked by analysts, fans, and maybe even Atlanta.
But perhaps that's about to change, thanks to the Wilson Defensive Player of the Year Award. Not only might this new award shed light on deserving winners, but it might generate more fan interest in the best fielders in baseball, rewarding those who get outs in baseball.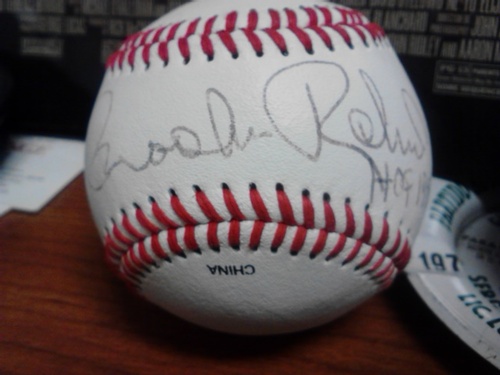 Photo of a baseball autographed by Brooks Robinson of the Baltimore Orioles, regarded as the greatest defensive player ever at his position.
"This is the first award to use advanced statistical analysis to truly determine the best defensive players and team in all of baseball," said Jim Hackett, General Manager of Baseball at Wilson Sporting Goods Co in an email communiqué. "We worked closely with MLB to revamp the award this year. The increasing awareness of the critical role of defense and defensive players in the game is remarkable. The evolution of the Wilson DPOY Awards is part of the elevated value the top minds in the game -and now fans-are placing on defensive strategy, performance and excellence. For all the excitement and joy they bring to the fan, these top defensive players and teams deserve it."
Wilson not only picks the best player at each position, but names a best team and best player. Right Fielder Jason Heyward was named the best defensive player for 2014. Joining Heyward on the list by position were Cincinnati Reds Pitcher Johnny Cueto, Catcher Russell Martin of the Pittsburgh Pirates, First Baseman Adrian Gonzalez of the Los Angeles Dodgers, Second Baseman Ian Kinsler of the Detroit Tigers, Shortstop Andrelton Simmons of the Atlanta Braves, Third Baseman Juan Uribe of the Los Angeles Dodgers, Left Fielder Alex Gordon and Center Fielder Lorenzo Cain, both of the Kansas City Royals. The Cincinnati Reds were picked by Wilson as the Defensive Team of the Year.
Wilson Defensive Player of the Year Awards are determined by the types of defensive statistics that baseball fans have come to love. They are the stuff of the baseball movie "Moneyball."
For years, the Rawlings Gold Glove Awards were chosen by votes from managers and coaches. At times, their only resemblance to "Moneyball" are the old school scouts that oppose Brad Pitt's character Billy Beane, the Oakland A's General Manager. You have to wonder whether they make votes based on muscles, physique, or how the player's girlfriend looked.
For example, Rafael Palmeiro won a Gold Glove for playing at first base, despite playing 80 percent of his games that year (1999) as a designated hitter. Players who are much liked, such as Robin Yount, Sandy Alomar Jr. and Andre Dawson pick up Gold Gloves, despite errors and limited range.
As Hardball Talk NBC Sports' Drew Silva reports
"Gold Glove Awards are voted on by the managers and coaches in each league. A sabermetric component was added in 2013, providing a statistical research guide from the Society for American Baseball Research (SABR) to the voters, but there are obviously still deep flaws. Leave some outrage in the comments if you'd like."
And this year, ESPN Insider Analyst Scott Spratt found some Gold Glove selections were good, but others, like Baltimore Orioles outfielder Nick Markakis, may not have been.
As the debate unfolds between the old school system of voting and the new "sabermetric" style votes with WAR (wins above replacement), defensive runs saved, fielding percentage, etc. there's likely to be some tension. But as fans become more accepting of the new statistics, so too are they to appreciate the new system of picking the best defenders. And the St. Louis Cardinals wound up with a player with more than just offensive potential. Heyward has proven defensive prowess, and he's being recognized for it by winning the Wilson Defensive Player of the Year Award.
John A. Tures is a professor of political science at LaGrange College in LaGrange, Ga. He can be reached at jtures@lagrange.edu.