 After the Charleston Emanuel AME church shooting by a white racist, Alabama's governor took down several Confederate banners from a monument to Civil War soldiers on the state capitol grounds. Here's why he didn't put it to the legislature or public for a vote. It's because of several recent failed attempts to get rid of Jim Crow laws by referendum in the state.
I teach at a small liberal arts college only a few miles from the Alabama border, so close that my 5-year-old daughter quipped, "I can see Alabama from my house!" in 2008 in response to the Tina Fey parody of Sarah Palin during the election. You can't really, but we're pretty close.
As a result, we get a heavy dose of Alabama politics in our news. And few stories were bigger than the 2004 referendum that would have eliminated the Jim Crow laws from Alabama law.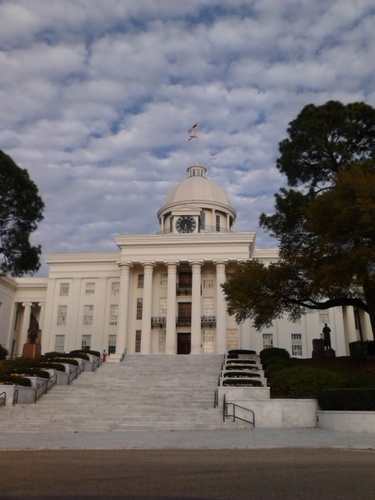 Alabama's state capitol (photo by the author)
Despite a lot of heavy pushing from Alabama politicians and activists, the effort came up short, because it was opposed by former Supreme Court Chief Justice Roy Moore, who was impeached and removed from office for defying a court ruling to remove a big Ten Commandments monument from a judicial office in Alabama's government. Moore opposed the referendum because he claimed that getting rid of Jim Crow laws would lead to a tax increase for public schools.
I wrote a column for our local paper critiquing Moore for opposing the efforts to remove the Jim Crow laws. Given that our newspaper had a lot of Alabama readers, I got a long response, handwritten on notebook paper, that was so incendiary that our paper wouldn't run it, though they did share it with me, probably so that I would be on my guard. I showed it to my wife.
"Are you going to be mad if someone burns a cross in my yard?" I asked her.
"If someone burns a cross in our yard, I'm taking pictures!"
Others told me that there was no need to get rid of the laws, because they weren't being enforced. But if a law isn't being enforced, then why have it on the books?
In 2012 there was another referendum to try to remove the Jim Crow laws. And Moore was back, winning his old office, popular again thanks to his efforts to help Rick Santorum defeat Mitt Romney earlier. And that referendum failed as well.
Shortly after the failed Alabama vote in 2004, GOP Georgia Governor Sonny Perdue and the Georgia legislature got rid of Jim Crow laws in one afternoon after a quick vote. Most Georgians approved of the measure, sparing the state a messy argument of the type that Moore made.
Like South Carolina, Alabama is also chasing international investment. It's one thing for a Confederate flag to be displayed in front of someone's house as a matter of pride for a family member who served in the Civil War, or to have it at a Confederate Cemetery or National History Site or National Military Park. It's another thing to have it at the Alabama state offices, showing that the flag represents the current opinions of the state. The flag's not much of a welcome mat for non-Alabamans, businesses and investors. GOP Governor Robert Bentley of Alabama called the flags "a distraction."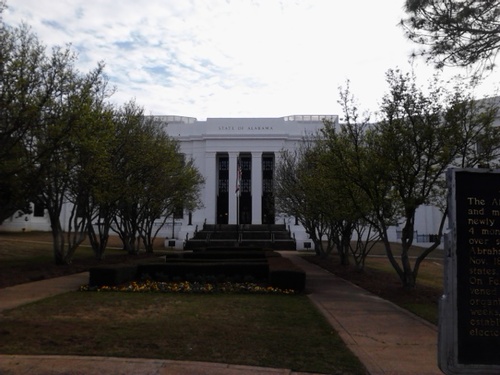 Montgomery, Alabama, the current state capital, was the first capital for the Confederate States of America (photo by the author)
Bentley, who did sign a pretty restrictive anti-immigration law, dubbed "Juan Crow" by critics, probably wanted to have a legislature vote but wouldn't get much support from the conservative politicians. Some say, "Let's vote on the Confederate flag," but given the failure of prior referendums and the angst from the state debate over that issue, Bentley reasoned that it just wasn't going to work in Alabama.
John A. Tures is a professor of political science at LaGrange College in LaGrange, Georgia. He can be reached at jtures@lagrange.edu.