The Chicago burger scene has blown up over the past year or two. Packed ground beef has gone from cheap backyard standby to haute cuisine faster than you can say "Kobe," and ChicagoBurgerBible has been helping save your souls (or at least find good burgers) all along the way.
Burger focused places like Butcher & the Burger, The Fifty/50 and one of our favorites, Lockdown Bar & Grill, have succeeded in garnering some hard-earned respect in the ever-crowded Chicago burger community, while others, like The Burger Philosophy have tried and fallen a little short.
We'd like to offer a little advice to those thinking about joining the Chicago burger circus: Eat at Rosebud Prime, and do what they do. Our top-ranked elite burger is nearly flawless, understands what it is (and what it isn't) and, despite being slung at a Loop steakhouse, doesn't break the bank.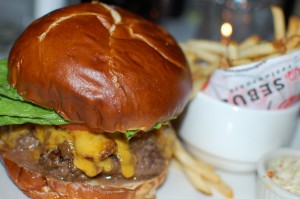 The City's Best Burger according to ChicagoBurgerBible
After 80+ burgers, we revisited our #1 rated burger to make sure it is as good as we remembered. It was even better. Below is the full review and make sure to check out ChicagoBurgerBible for more of the city's best burgers.
Rosebud Prime is an epicurean steakhouse in the heart of the Loop that knows exactly how to pander to its typical patrons (lawyers and other suits at lunch and theater-goers at dinner): tuxedoed waiters with Chicagoan personalities, brass banisters and velvet curtains. You expect to see the Rat Pack over by the bar.

Keeping with the somewhat over-indulgent theme, Prime serves a massive, 14 ounce burger that is nearing perfection. The voluptuous prime beef patty avoids the mushiness and inconsistent preparation that is common with other larger patties around Chicago. It is thick with a good char on the outside and tender, juicy and fantastically flavorful inside. The beef is lightly seasoned (perhaps just salt and pepper), and relies on its quality, juiciness and preparation for flavor. This is what meat is supposed to taste like.

The burger is served up on a mildly-flavored pretzel bun that handles the heavy load without overwhelming the flavor (some lesser joints are guilty of leaning too heavily on a pretzel bun). The toppings (pickles, tomatoes, lettuce, cheese, grilled mushrooms, grilled onions and bacon - not exactly creative, but creativity here would just spoil a good thing) are fresh and flawless, although they charge up to $2.50 extra for each of the last three mentioned. We've tried a handful of the sides (including the wonderful corn chowder and wedge salad), but always return to the small, crispy and delicious fries.

This is the best burger in the city, even without all the bells and whistles of some of its elite peers. And for 13 bucks, you can't go wrong.

ELITE
http://rosebudrestaurants.com/rest10.php
$11.95-12.95
Loop