Co-authored by John Barrett and Dan Cousino
Chicago Burger Bible continues to dominate the Chicago burger-review scene, recently clocking our 90th review! Congrats to Logan Square's Owen & Engine for becoming the eighth burger to earn the prestigious "Tier 1 - Elite" ranking (full review below).
Also, be sure to download the ChicagoBurgerBible App to locate the city's best burgers on-the-go. The free app uses GPS technology to help you find great eats no matter where in Chicago you find yourself. Download it for free on your iPad or iPhone. (Thanks to Great Time Apps!)
Owen & Engine Review:
Thanks to suggestions from our ChicagoBurgerBible.com followers (keep them coming!), we visited Owen & Engine in Logan Square to feast on their reputable burger. The price was a little steep at $14, but it proved well worth it as Owen & Engine became just the ninth restaurant to earn our "Tier 1 - Elite" status (although Small Bar has since fallen out of the big leagues). As our server described it, Owen & Engine's burger is the antithesis of neighboring burger maximalists Kuma's. O&E sticks to a basic burger blueprint. The short rib and chuck (ground in-house) patty yields such a rich, meaty flavor needing nothing more than a little salt and pepper. The burger drips to the point that the plate becomes a pool of juice, which sometimes would be a knock against a burger, but in this case we accept it as just coming with the territory. In fact, we're not sure what prevented us from drinking the burger juice straight off the plates. The burger comes with delicious caramelized onions, and you can add a terrific sharp cheddar, fried egg and lean bacon, each for an upcharge. We highly recommend springing for the cheese and the bacon. This bad boy is enclosed in a potato "bap," which is somehow very moist and airy, but also perfectly toasted, adding some needed contrast to the texture of the sandwich without introducing too much flavor.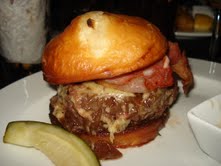 The "chips" that come with the burger (somewhat misleading -- just french fries) are worth a mention -- they come highly recommend by us -- as is the vinegar aioli sauce (great with the fries and also on the burger).
The burger is one of many tempting meaty options at this old-fashioned, homey gastropub. They offer great house cocktails, a wide selection of quality beers, and many delicious appetizers, entrees, and deserts on a menu capable of pleasing just about anybody.
2700 N. Western Ave - Logan Square
Tier 1 - Elite
$14 (On Tuesdays, the burger is offered with a featured beer (selected by the bartender from a myriad of options) and a shot of bourbon for $15).
http://www.owenandengine.com