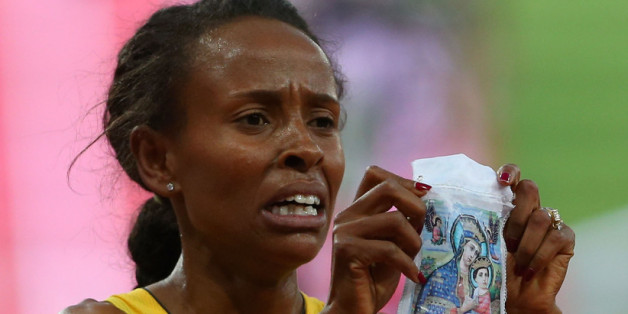 Earlier this month I wrote that instead of punishing Russia for its draconian crackdown on the human rights of LGBT people, the International Olympic Committee (IOC) may decide to punish pro-equality athletes who make public declarations of support for the LGBT community at the upcoming Winter Olympics in Sochi. Then, last week, after the Russian Interior Ministry -- which controls the police force -- confirmed that Russia's new law banning so-called "gay propaganda" would be enforced during the Games, despite earlier reports to the contrary, the IOC told Gay Star News that, just as I and others suspected, pro-equality athletes may be disciplined for violating Rule 50 of the Olympic Charter, which prohibits "demonstration[s] or political, religious, or racial propaganda" in any Olympic site, venue, or area.
In my blog post I wondered why the IOC views human rights advocacy as a "political statement," and whether they enforced Rule 50 consistently or only when LGBT rights entered into the equation. After a little digging, I've found that the truth seems to lie closer to the latter option, and that Rule 50 is selectively enforced at best.
Consider the example of Ethiopian distance runner Meseret Defar. Ms. Defar competed in the 5,000-meter race in the 2012 Summer Olympics in London, sprinting her way to a gold medal. After she crossed the finish line, a visibly emotional Defar pulled out a picture of the Virgin Mary from inside her uniform, showed it to the cameras, and then put her face against it in a gesture of "deep prayer." This public display of Ms. Defar's Orthodox Christian faith was a blatant violation of Rule 50's prohibition of religious demonstrations in an Olympic venue, yet she was not punished or sanctioned by the IOC in any way; her name is still listed on the official Olympics website as the winner of the race. I wonder whether the IOC would have responded similarly if instead of a religious icon, Ms. Defar had pulled out a rainbow flag.
The committee has also given similar latitude to athletes who practice Islam. The kingdom of Saudi Arabia has competed in the Summer Olympics since 1972, but it refused to send female athletes to the Games for 40 years. The IOC worked hard to persuade the country to send women to the 2012 London Olympics. Saudi Arabia agreed, making history by sending two female athletes. But trouble arose when one of the two women, a judo fighter named Wojdan Ali Seraj Abdulrahim Shaherkani, refused to compete unless she was allowed to wear an Islamic headscarf, known as a hijab. Saudi Arabia threatened to pull her from competition unless her demands were met, despite the International Judo Federation's prohibition against the wearing of headgear in judo matches. But the IOC and the IJF relented, approving a specially designed hijab for Shaherkani's use and allowing her to publicly display her Islamic faith in an Olympic venue. Would the IOC have bent over backwards to accommodate Shaherkani if instead of demanding to wear a hijab, she ha asked to wear an LGBT pride pin? Sadly, I very much doubt it.
Now, am I suggesting that Shaherkani's hijab or Defar's picture of the Virgin Mary distracted other athletes, detracted from their performances, or tarnished the Olympic Games? Of course not. But what I am saying is that if these conspicuous displays of religiosity don't violate Rule 50 of the Olympic Charter, then there's absolutely no way that wearing a rainbow flag pin, painting one's fingernails in rainbow colors, or holding hands with another athlete of the same sex in support of LGBT equality can plausibly be viewed as a violation either.
As I've said before, if the IOC continues enforcing this flagrantly hypocritical double standard -- looking the other way when it comes to religious "propaganda" but punishing and silencing athletes who take a stand for LGBT equality under the guise of "political propaganda" -- it will be complicit in Russia's egregious human rights violations and send a message of tacit approval to other draconian anti-LGBT regimes all across the world. I can't think of a greater perversion of the Olympic spirit.
This blog post was originally posted at The Bilerico Project.