Building a great organization is hard work. Reaching your goals as an entrepreneur requires a strong framework, an engaged team and a strategy to measure your success. For many entrepreneurs, any one of these can be a major challenge.
Fortunately, there are experts such as Stefan Wissenbach who are devoted to helping entrepreneurs confront and overcome their roadblocks. Wissenbach is an entrepreneur, author and speaker whose firm, The Wissenbach Group, helps wealthy individuals pursue their goals. The work he's done with these clients helped Wissenbach hone his strategies for success. In the process, he's developed powerful tools to help both individuals and organizations clarify their aspirations and turn those goals into achievements.

Wissenbach recently shared with AES Nation his three best strategies for maximizing your potential as an entrepreneur.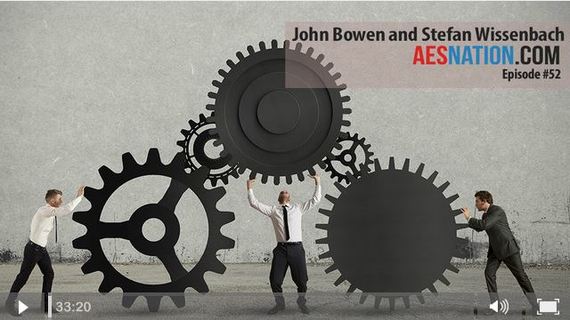 1. Build a framework for personal and professional success. Wissenbach recognized that many entrepreneurs are challenged by problems that are, in reality, easy to solve -- if they just applied some structure. "Entrepreneurs can achieve so much more when they have a robust structure," he says.
A truly robust structure serves as a framework that helps us set and achieve our goals. For some, the goals might include reaching a certain sales target or signing up a certain number of new clients in a quarter. For others, the goals may be more personal: While some entrepreneurs are great at setting goals at work, they might not have the same skills in other parts of their lives. For instance, maybe they haven't articulated their goals for such things as planning for retirement or improving their health. "These people wouldn't dream of running their business without a business plan," says Wissenbach. "But they don't have a plan for themselves."
The good news is that there are many tools available to help us build and implement strategic plans. One example is Wissenbach's MagicFuture tool, which he developed to help individuals and groups figure out how to get from A to B -- from conceiving a goal to realizing it.
2. Get engaged! An engaged company is a more successful company. Productivity rises, turnover falls and an organization gets healthier as its team becomes more engaged.
Unfortunately, there are a lot of disengaged team members out there. A recent study by Gallup said that most employees around the world -- an astonishing 68.5 percent -- aren't engaged in their work. These workers lack motivation and don't invest their energy in moving their organizations forward. Just 31.5 percent of workers are actually engaged by their jobs.
What do companies have to do to spread the culture of engagement? Lots of companies try, but most of their efforts are unnecessarily complicated and focus on the wrong thing: how to get customers engaged. Wissenbach says companies need to first get a company's employees engaged. And that means starting at the top. "Engagement begins with the entrepreneur," he says.
Our job as entrepreneurs is to inspire people to action. But if we're not clear on where we want to send them, we can't harness their full energy. We need to have vision and clarity of purpose. When entrepreneurs focus on getting their vision right, they start to engage other company leaders and employees. And once the whole team is engaged, customers often follow.
3. Keep score to win the game. Here's a saying every entrepreneur should know: What gets measured gets done. Building an engaged organization is a process that needs to be measured to get accomplished. Wissenbach's solution? Use a scorecard to measure the engagement levels of different people who are involved with your company--from yourself to your employees and, eventually, your customers.
Have your organization's team members up and down the ladder fill out scorecards, too. You may find that the score you give yourself in one area may be very different from the score others give you. "Knowing that is incredibly valuable because you can see instantly where the gaps are," says Wissenbach.
The goal for any entrepreneur, of course, is to produce measurements that are off the charts. But that can't happen overnight--nor should it. Don't try to do too much too soon. Instead, look to achieve incremental growth, and build on those successes. Wissenbach recommends taking a few minutes every three months or so to measure engagement. "The goal is to move the score up a little bit each quarter," he says.
Looking for ways to accelerate your success as a business owner and live life "on purpose?" Check out the insights, tactics and actionable strategies from today's top entrepreneurs at AES Nation.