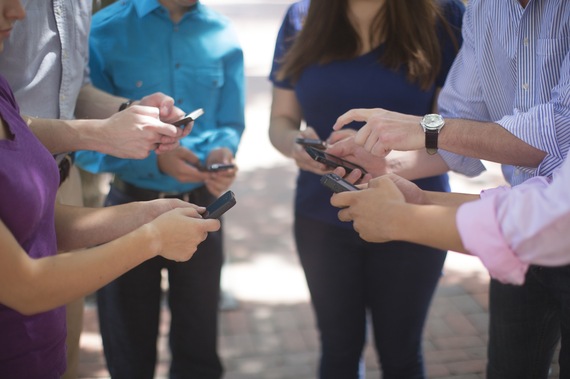 Do you ever feel lonely online?
You know, you're flipping through page after page of your so-called "friends" on Facebook or some other social media platform, but you realize you are actually quite lonely?
It may seem strange, but even though the world has become more connected via the internet and social media, studies are showing that more people consider themselves unhappy, even as we're becoming more connected.
Why More People Are Unhappy
A University of Michigan psychologist conducted a study last year which found that when users consumed online social media, it made those users more lonely and reduced overall life satisfaction.
Almost 100 participants in the study were sent questions five times a day over a two-week period with a link to a survey about their Facebook use, their feelings of well being and the amount of face-to-face social interaction they had engaged in.
According to the study, the more time participants had spent on Facebook, the less happy they felt over time.
"The more people used Facebook at one time point, the worse they felt the next time we text-messaged them," the study reported. "The more they used Facebook over two weeks, the more their life satisfaction levels declined over time."
A few years ago, I was just like the participants in that study. I was active on all the major platforms, like Facebook, Twitter and LinkedIn, but I felt lonely. I didn't feel like I had a community where I belonged.
Part of the problem was my business. Like most lawyers, I was too dependent on the service-based billable hour. I was chained to my desk. If I wasn't at my desk, I wasn't making money.
I decided that I didn't want to be 100% dependent on the billable hour. I also knew I needed a community to help me transition my business by expanding my online presence, including using blogging and podcasting.
There's a saying "when the student is ready, the teacher will appear." That's what happened for me.
Enter Fizzle
Around that time, a new training program and community of small entrepreneurs, small business owners and wannabe business owners was forming. It was called Fizzle.co, and it was created in about September 2012 by three guys named Corbett Barr, Caleb Wojcik and Chase Reeves. It was just what I needed.
It's also a great case study in how to create a supportive online community.
The "3 C's" as they are known put together an incredible community of like-minded entrepreneurs. People who wanted to grow themselves, but also to help others to grow.
Through Fizzle, I have forged some amazing relationships with other solopreneurs like me who aspire to make a bigger dent in the universe in an ethical way.
These supportive Fizzlers have included people such as:
Darlene Hildebrandt, a great photographer and writer, who took the time to photoshop my headshot and critique my videos
Tony Rulli, who responded to my desperate call for help when I needed help with Facebook ads one early morning. I have since hired him to run Facebook ads for me and he's amazing.
Omar Zenhom, co-founder of The $100 MBA, who I've collaborated with on numerous projects.
Kevin Johns, a novelist and writing coach who helped me to create an ebook version of my Connect with Influencers course.
John Muldoon, who has helped critique my website and always makes me laugh when I'm feeling stressed
Julia Tunstall, who runs MastermindFinder to help people find mastermind groups, who has been a constant source of support
Bree Brouwer, who has given me tons of feedback on my progress log.
That's literally just the tip of the iceberg. There are many, many more.
How did it work? Why were other supportive entrepreneurs drawn to it?
I think it's because the 3 C's were authentic about who they were for, and who they were not for. They were not afraid to turn away people who they thought were not a good fit. They also created a popular podcast where they talked openly about these sorts of ideas -- who they wanted to attract, and who they didn't want to attract.
They also made it inexpensive (it's just $1 for the first 30 days; after that, it's $35/month.), which I think attracted a diverse audience.
I recorded a new video where I show off what this community looks like. You can watch it here: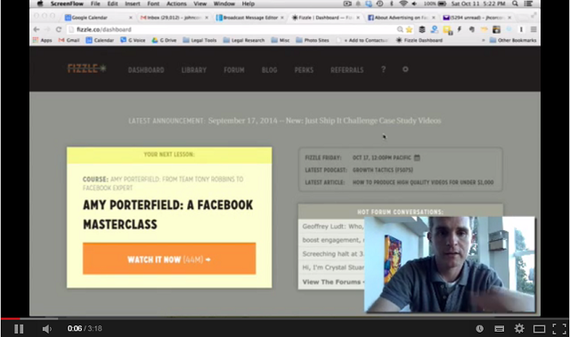 What I Got From This Community
Now, what did I get from this supportive online community? Well, I got a sense of belonging. I got a feeling of being a part of something bigger, which is missing from other platforms like Facebook or Twitter. I got a sounding board for sharing my ideas where they would be accepted, even if some of my ideas were off-the-wall.
Most importantly, I built strong relationships with others who knew what I was going through and who wanted to help. (If you want to know more about this journey, read my guest post on the Fizzle blog)
These relationships have been instrumental in the metamorphasis my business has undergone over the last two years. Here's the before and after picture, and how Fizzle has impacted my business:
Before Fizzle email subscribers: 200 subscribers
After Fizzle email subscribers: almost 7,000 (3,200% increase)
Before Fizzle website traffic: my Mom and my dog
After Fizzle website traffic: 50K pageviews/mo
Before Fizzle income from blog and digital products: $0
After Fizzle income from digital products: approx. $4,000-$5,000/month and growing
Before Fizzle guest posts: N/A
After Fizzle guest posts: today, I write or have written for Forbes, Huffington Post, Psychology Today, Art of Manliness, BoostBlogTraffic, Smart Passive Income, etc.
I've also appeared on dozens of podcasts including The Art of Charm, Entrepreneur on Fire and Listen Money Matters (co-created by another Fizzler Matt Giovanisci) as a guest on CreativeLive, and I am going to be featured in at least two books in the next year.
(I have an ongoing progress log in the Fizzle forums that chronicles how I grew this side of my business between August 2013 and today. You need to be logged in to read it.)
I am not making so much that I'm able to go buy a boat and retire. But the revenue is significant, it is growing, and the products leverage my time much greater than one-to-one service.
Thanks to everything I have learned in Fizzle, today I am not 100% dependent on the billable hour. There have been numerous occasions over the past year where I've been out to lunch, or out with friends, or spending time with my kids, or sleeping, and someone somewhere who I've never met has sent me money. And that's super cool.
How Does this Affect You?
I am sharing all of this because I know a lot of people who have those feelings of loneliness like I felt. Often they are the most active on social media, but they are also the most lonely. They yearn to belong to something.
What you may not be realizing is you need to find a community and connect. You need to begin developing relationships, like I did. You need to find a community that is invested in seeing you succeed.
Now imagine what it would be like if you found that community. Imagine if you had friends who wouldn't let you fail?
Imagine if you were surrounded by people who are completely, 100% supportive of what you are trying to do. The business you want to create. The future you want to inhabit.
How would that make you feel?
I write on my blog about how to build relationships in our inter-connected world, and so I hear all the time about people who are struggling with their current relationships. They ask me what they should do.
And I can honestly say if you find you are not surrounded by a group of people who support you, then find a new community who does support you. That's what Fizzle is for me.
If Fizzle sounds like a community for you, then you can learn more about Fizzle here. (Full disclosure: If you do sign up through my link, I also get a modest affiliate commission, but that seriously is a very minor consideration. I would just want more cool people inside.)
But more importantly, find yourself a community and go build relationships and build connections. That's what really matters.
John Corcoran is an attorney and former Clinton White House Writer. He writes about business networking and social skills for SmartBusinessRevolution.com. He has a free, 52+ page guide which you can download, called How to Increase Your Income Today by Building Relationships with Influencers, Even if you Hate Networking.