We sometimes take our waterways for granted. We know that they run through our cities and neighborhoods, but because we don't all directly rely on them every day for our livelihoods, it is easy to forget about how important they are.
Surely, early New York settler Jonas Bronck appreciated the river that bisected his land when he purchased it in 1639. What became known as Bronck's (later "the Bronx") River supplied his family with water for irrigation, fish for food, and beaver for pelts.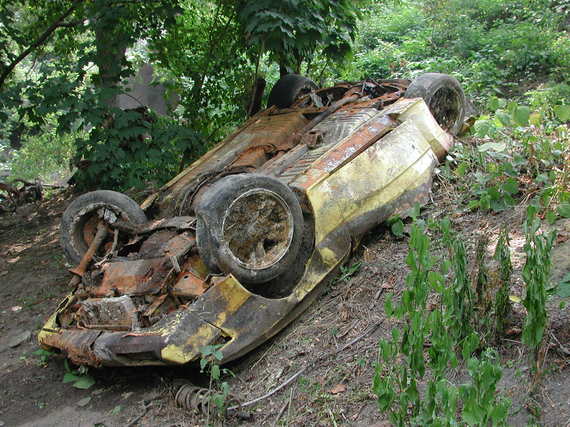 Before river restoration efforts began in the late 1990s and early 2000s, cars and other garbage clogged the Bronx River. Photo used with permission from the South Bronx Waterfront Partnership.
Today, the Bronx River is still the only freshwater river in New York City. But somewhere in the 375 years between Jonas Bronck's settlement and the very recent past, New Yorkers became disconnected from this fantastic natural resource. The river was polluted by industrial waste, urban runoff, and sewage overflow. In some places it began resembling a trash dump. Wildlife all but vanished from its waters and shores.
Near the end of the 20th century, however, residents of the Bronx began to envision the possibilities and benefits that could come with the restoration of the Bronx River to a more pristine state. Congressman José E. Serrano championed a push to secure funding for cleanup of the river. Local non-profit organizations came together to start restoring the blighted waterway and regulations were put in place to prevent some of the most egregious pollution issues.
These actions led to a joint venture between the Wildlife Conservation Society (whose Bronx Zoo headquarters sits alongside a segment of the river) and the National Oceanic and Atmospheric Administration to create the South Bronx Waterfront Partnership. Under the leadership of Rep. Serrano, the Partnership invested more than $15 million in the environmentally stressed and traditionally underfunded South Bronx.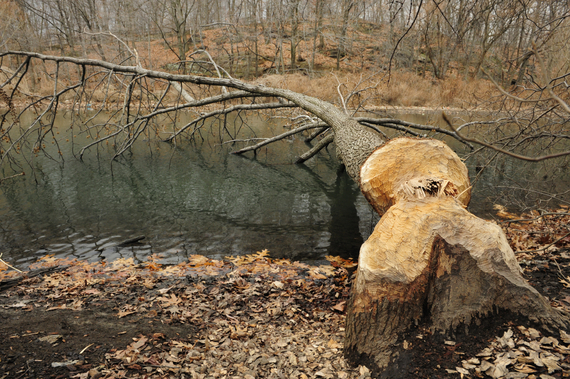 A tree felled by one of the beavers once again making their home on the lower Bronx River where it flows through the Bronx Zoo. Photo by Julie Larsen Maher © WCS.

Since 2001, the Partnership has funded 75 projects to restore the Bronx and Harlem rivers, to educate local communities about their rivers, and to increase public access to the waterfront. The ideas that emanated from this community based approach ranged from the purchase and remediation of a riverside brownfield that is now used as a community space to the establishment of innovative green jobs initiatives that focus on river restoration.
Other successful initiatives include the creation and implementation of river-focused educational curricula that have reached more than 14,000 youth in the South Bronx and the reintroduction of alewife (a species of river herring) to the Bronx River after their elimination more than 300 years ago.
NOAA's funding is ending this year, but its impacts will endure. It leaves both a markedly cleaner and more vibrant waterway and important resource management lessons that can be applied in other contexts and places.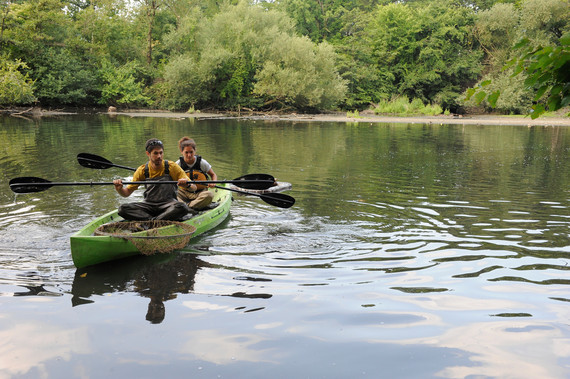 Some 3,000 people canoe on the river annually today, while thousands more come to enjoy the new riverside parks, bike paths and green spaces. Photo by Julie Larsen Maher © WCS.
That is the thinking behind Reclaiming a River: Conservation and Community, a symposium on urban river restoration taking place on October 23rd in the Bronx, NY. The event is essentially a conversation on the impact of healthy river habitats for urban communities. Experts from New York and around the country are coming together to discuss the value of urban river restoration, best practices in planning and restoration, how restoration can promote public stewardship of natural resources, and how to increase public recognition and engagement in these projects.
WCS and its community partners have learned a tremendous amount about how to practice restoration and community outreach in a densely populated and highly developed urban area. The goal is that communities nationwide can benefit from these experiences and use the Partnership as a model for river restoration and community engagement.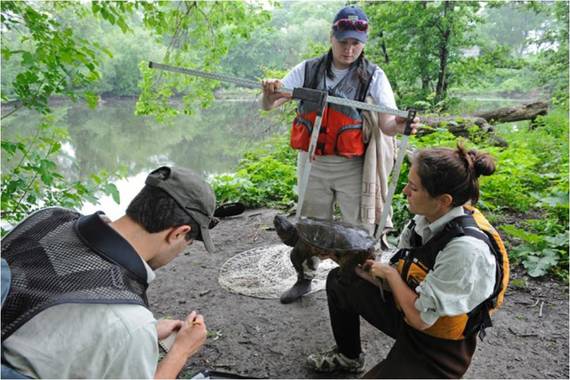 WCS research team members release a turtle into the Bronx River. Photo by Julie Larsen Maher © WCS.
The beautiful thing is that if we take care of our waterways, they will take care of us. A cleaner river and more vibrant ecosystem are powerful resources. They provide numerous education opportunities and drive community well-being and engagement. Citizens can take pride in a beautiful urban waterway while participating in recreational activities along its shores. At the same time we can appreciate its ecological functions, including as a flyway for birds migrating to and from wintering grounds.
In all of these ways, it is fair to say that Jonas Bronck's river three centuries ago has truly become our Bronx River today: a cherished resource to be appreciated, used, and -- most importantly -- protected for future generations.