If you ask almost anyone involved in the conservation movement for the main reason why they fight to save endangered wildlife, they will often mention their children or the need to save threatened species for future generations.
Chelsea Clinton spoke of this at September's annual meeting of the Clinton Global Initiative, at which African heads of state, world leaders, and conservation groups reaffirmed their pledge to stop the ivory trade. She worried that her newborn child "could grow up on a planet without elephants."
In many ways, children are the bedrock of a conservation movement. A love of animals is one thing that unites almost all kids, and their voices can be very effective. They are the ones most impacted by a future without these iconic species. They also have an undeniable ability to speak with a genuine and heartfelt sincerity that is difficult to dismiss.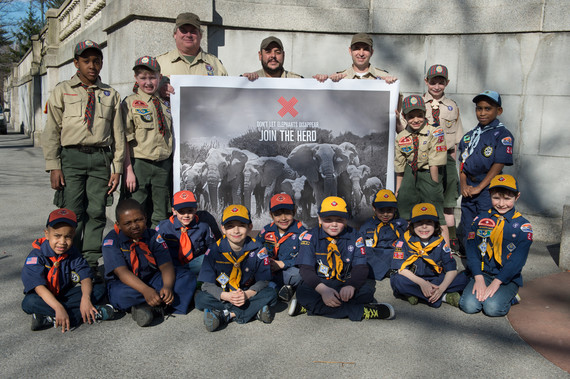 The Boy Scouts of America New York Council collaborates with 96 Elephants through a letter writing campaign and other advocacy efforts. Photo by Julie Larsen Maher © WCS.
More and more, thanks to the connectivity of social media and the internet, kids are making an impact, and the elephant ivory issue is a perfect example. Groups such as the Boy Scouts of America have joined the 96 Elephants Campaign coalition, raising their voices to stop the illegal ivory trade.
This past spring, when the New York legislature was still debating a state ban on ivory, I hand-delivered thousands of letters and drawings from New York schoolchildren to Governor Andrew Cuomo. He told me that they were especially meaningful as he considered the issue. Later that summer, Gov. Cuomo signed the ivory ban into law on World Elephant Day.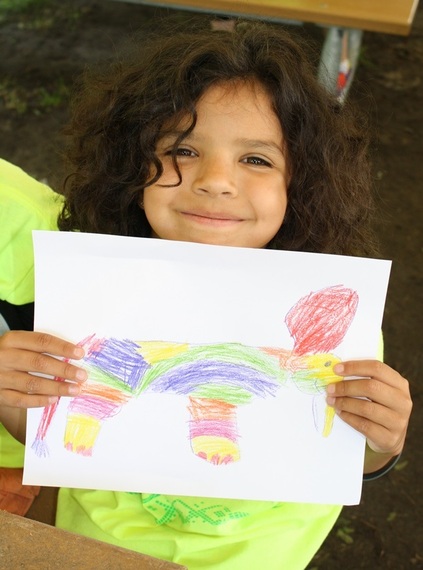 The elephant poaching crisis gives us an incredible opportunity for a teachable moment across generational lines. Photo ©Detroit Zoo.
Educating the next generation of leaders is the key to the future of conservation. Zoos and aquariums are a big part of exposing kids to animals and conservation. While they love to see their favorite animals up close and personal, kids are also learning about the ways those animals live in the wild, including what they eat, where they range, and how they fit into the food web and the larger ecosystem.
They are also learning about threats to those animals, such as deforestation and habitat loss, climate change, and poaching. Children take these lessons home from the zoo or aquarium and end up passing that information on to their family and friends. As a parent, I can remember fondly many visits to the zoo with my son to work on science projects. I know many of you have similar stories; for me personally, it is gratifying to learn a bit more about our natural world thanks to our children.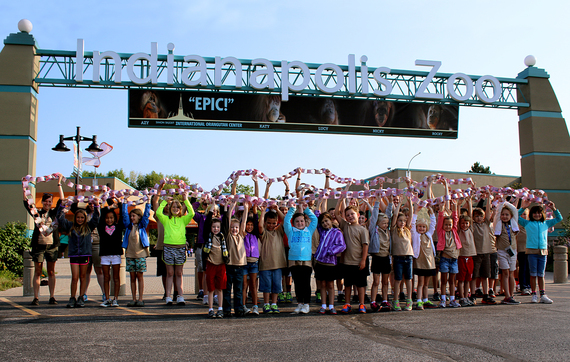 Children at the Indianapolis Zoo created a 96-foot chain with more than 1,000 messages. Photo by © Carla Knapp
The elephant poaching crisis gives us an incredible opportunity for a teachable moment across generational lines. Now that school is back in session, teachers can incorporate the crisis into the curriculum. Educators can plan lessons around ivory to get students interested in current events, economics, international affairs, geography and science, using online resources.
National Geographic Education provides videos and maps with which to plan a lesson around the National Geographic film, Battle for the Elephants. Time for Kids outlines discussion questions, writing tasks, printables and Common Core teaching tips around its article "The Price of Ivory." And Discovery Education's Ivory Wars lesson plan goes in-depth on the history and current status of the ivory trade through two class periods with assignments, discussion questions, and vocabulary.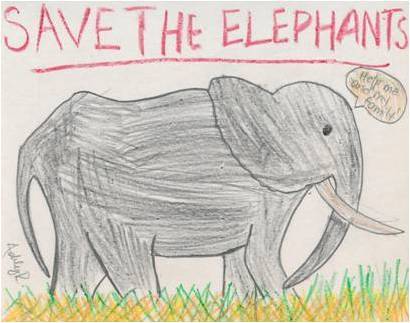 The drawing pictured here is one of thousands created by New York schoolchildren asking elected leaders to save elephants and vote for an ivory ban.
A family trip to your local zoo can also provide a chance to see these animals up close or learn about the crisis through an exhibit developed by the 96 Elephants Campaign. You can also visit the 96 Elephants website to learn about the elephant poaching crisis and work on some age appropriate projects with your children.
We are saving elephants now so they will be here for future generations. The beneficiaries, besides elephants and other endangered wildlife, will be our children and grandchildren. It seems right that their voices are among the most powerful in this fight. Along the way, we may learn just how important it is for all of us to make sure we live on a planet with elephants.