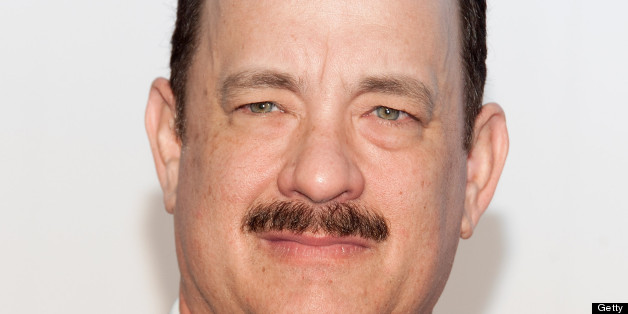 With nary a ripple, Tom Hanks turned 57 this past week.
And though he hasn't made a truly great film other than Toy Story 3 in quite a few years (we can debate Cloud Atlas), he is still eminently bankable and his star shines bright.
Did I say bankable? Let me amend that. He is in fact ranked the top star in terms of all-time box office revenue. Few early on would have predicted he'd attain this heady distinction, Hanks least of all.
He has been described as today's Jimmy Stewart. I think that's apt. He shares Stewart's everyman folksiness and approachability, a quality that's harder to project effectively than one might think. You can't deny there's something powerfully familiar -- and reassuring-about both actors on-screen.
They are us.
Reportedly, both Stewart and Hanks were painfully shy and awkward as children, but unlike his predecessor, Tom did not get the chance to go to Princeton and contemplate a career in architecture.
His was a decidedly middle-class, somewhat confused upbringing, with his parents, a cook and hospital worker, divorcing early and dividing up their children between them.
Tom studied theatre in college, but never went on to study formally at say, the Actor's Studio. Instead he participated in community theatre, developing his skills through watching and doing and in the process, learning all the rope of stage production.
Landing in New York City, he distinguished himself in some Off-Broadway work before breaking through in a short-lived 1980 TV series called Bosom Buddies, playing a young man forced to cross-dress to live in an affordable all-female hotel.
I still remember my first sight of Tom Hanks on that show, in a dress, wig and make-up. Though Buddies was admired by some critics, I turned the channel...and the show itself lasted two seasons.
Then a 1982 guest spot on Happy Days brought him to the attention of Ron Howard, who was casting his third film, Splash (1984), about a young man who falls for a mermaid. The film was a hit, and so was Tom.
But could he do serious parts? The '90s gave us the answer. In 1995, Hanks became the first (and only) actor since Spencer Tracy to win two consecutive Best Actor Oscars -- both for non-comedic roles.
(A quick note here on 1994's Forrest Gump, Hanks's second Oscar, and for many his signature role. Many will be outraged to find this title not on my favorites list below. This movie seems to polarize people -- either you adore it, or you don't. I thought it was pure whimsy -- sometimes charming, other times forced. That said, no one else could have played the character so well).
When his many legions of fans consider his success, I'm certain there's a consistent thought running through their heads: it couldn't have happened to a nicer guy.
Happy Birthday, Tom.
Now, here's my personal Hanks list:
Big (1988)- Tom plays a boy trapped in a young man's body who makes good in a grown-up world. Hanks is wonderful in this enduring charmer from Penny Marshall, co-starring Elizabeth Perkins and Rober Loggia. Indelible image: Tom spits out the caviar.
A League Of Their Own (1992)- Tom and Penny Marshall reunite in this colorful tale of an all-women baseball league that earned particular prominence during World War 2. Tom is the drunken manager of one team, and he brings both humor and pathos to what was an unusual role for him. Also look for Madonna as a member of the team. Batter up!
Philadelphia (1993)- Tom cemented his ability to do drama as well as comedy, playing a gay man dying of AIDS who gets fired because of his disease and decides to sue. An astonishing and highly demanding performance, this won Tom his first Oscar. Directed by Jonathan Demme, the film co-stars Denzel Washington as the lawyer who pleads his case.
Apollo 13 (1995)- Hanks's assured portrayal of astronaut Jim Lovell anchors Ron Howard's rousing tribute to the Apollo space program and the courageous and resourceful efforts -- both on-board and on the ground -- to get the Apollo 13 crew back safely from the moon after an equipment malfunction.
Toy Story 1, 2, 3 (1995, 1999, 2010)- This smart, colorful and imaginative Pixar series detailing the adventures of a group of talking toys who worry their owner will grow up and discard them remains hugely popular for a good reason: it transports us all back to our own childhood, when we all had toys we cared about. It's hard to imagine these ageless features would be anywhere near as good without the voice of Hanks as cowboy doll protagonist Woody.
Saving Private Ryan (1998)- Steven Spielberg's triumphant World War 2 film -- by turns touching and intense -- features Hanks as an officer assigned to find and return home an enlisted man on the front lines whose brothers have all been killed in combat. His Captain Miller is no John Wayne character: he does his duty, all the while suppressing the persistent tremor in his hands. A stunning achievement.
Return With Honor (1998)- Hanks narrates this fascinating and insightful doc about the harrowing experience of U.S prisoners of war who endured years of torture and confinement in North Vietnam prisons. A real eye-opener, and watch for former POW Senator John McCain.
Looking for good movies to watch? Top movie recommendations? For over 2,500 of the best movies on DVD, visit Best Movies by Farr
See John's videos for WNET/Reel 13
Follow John on Facebook
Follow John Farr on Twitter