Jiggly kicked off this season of Drag Race with a charismatic streetwise NYC attitude. When she landed in the bottom two on the very first episode we assumed it was due to lack of sewing skills and that she'd more than make up for it in so many other ways. We cheered for her as she tore it up during a brilliant lip-synch of Britney's Toxic. Unfortunately lack of focus and mis-directed anger surfaced in the weeks following, eventually sending her home. In the end her new drag sisters rallied around her in support and Jiggly seemed to sashay away with newfound confidence.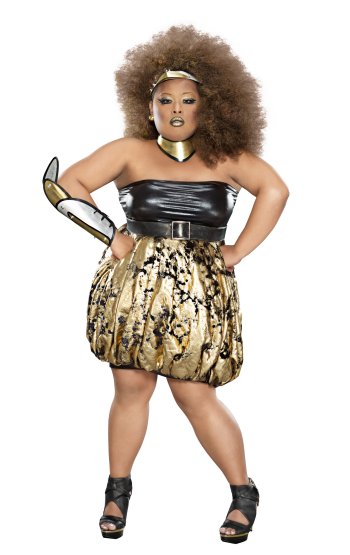 JG: What is most charismatic about Jiggly?
JC: I am a humble down to earth person. I'm your homegirl type. The type of girl you go to the mall with and kick it with ... and apparently I'm a funny person to be around.
JG: What makes you unique in this competition?
JC: The only Asian they ever had on the show with swag. I still get messages about "What mix are you, Jiggly?" (laughs) I find it so funny but I'm full Filipino and I think it's amazing that I can be "biracial" in my drag look ... be racially ambiguous (laughs). Hell, I just got swag pourin' all over me.
JG: Can you tell us about an instance where your "nerve" saved the day?
JC: I think as far as the show goes, I would have to go with the first episode with the topsy-turvy human lazy Susan. I fell off ... and honestly I love photo shoots but I couldn't let the fact that I fell down be my downfall and I really wanted to win the photo challenge and show everyone that big girls can be models and be sexy.

JG: Does Jiggly have any hidden talents?
JC: Ummmm (laughs) none that I can post on here. Maybe on an adult site. Just kidding! I don't think people will know that I can draw and I design pretty much every outfit I wear. I'm a multi-faceted person. That, I don't think I got to showcase as much in the competition.
JG: You're the self-professed "Asian plus-sized Barbie." What accessories would a Jiggly fashion doll come with?
JC: A lollipop and an array of optional thugged out Ken dolls to pair up with (laughs) ... and all the clothes would be Baby Phat!
JG: What has been the most unexpected part of this competition?
JC: That I ended up with good close relationships with some of the girls. I went in the competition to fight and make sure I could win and nothing would get in my way -- but I got in my own way. At least I can walk away with friendships that would last me a lifetime and the first plus girl to win the photo challenge ... and share my story to other kids out there who've been or going through the same thing I did. Honestly, that means the world to me.
JG: What would you say to the millions of queens out there wishing they were in your pumps as a Drag Race contestant?
JC: To expect the unexpected and that Dr. Scholls could be your best friend. That if you're able to clear your mind and focus and keep your eye on the prize you can surely win and be the next drag superstar. But if you don't win you're still a star ... just without the 100 thousand dollar prize. (laughs)
Follow Jiggly on facebook and Twitter: @JigglyCaliente
Watch Rupaul's Drag Race 4 Monday nights 9/8C on Logo.