If Lil' Kim and Nicki Minaj had a love child, the progeny would be Kenya. Barely five feet tall, this pint-sized diva is serving plenty of fish and fierceness. So what if English isn't her first language? Kenya lets her body do the talking. Her challenge and runway efforts did not earn her this crown, but but her charms stole the hearts of plenty a Drag Race fan.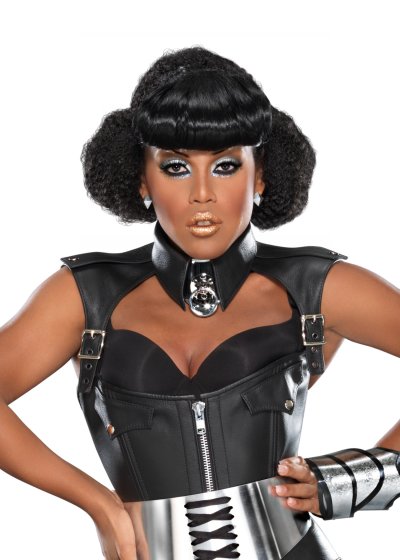 JG: What is most charismatic about Kenya?
KM: The most charismatic thing about me is when I laugh. Everyone loves how it sounds and it's contagious!
JG: What makes you unique in this competition?
KM: Being so small, my runway and my girly style of drag.

JG: Can you tell us about an instance where your "nerve" saved the day?
KM: I think everyday that I wake up my nerve save my days. When I need to make decisions it takes nerve to choose things even those decisions that hurts to make. Life isn't easy and we have to fight for what we want to accomplish and people need a lot of nerve and compromise to survive in our everyday life.
JG: Does Kenya have any hidden talents?
KM: Yes, I do! My hidden talents are singing and also that I'm a ballet dancer.
JG: Tell us about your commitment to HIV prevention in Puerto Rico and the importance of rebuilding your community.
KM: Well the AIDS problem in Puerto Rico is a problem like it is in the rest of the world. I always try to be a spokesperson since we don't have charities in PR. That's why I said if I had the money I will start working with AIDS. We have centers where people can go and get tested or oriented but not charities. The importance of rebuilding my community is to send a message that we have to be united and help each other.
JG: What has been the most unexpected part of this competition?
KM: The unexpected parts of this competition is that when you get there you never thought that you were going to make such a wonderful friends (since its a competition) and now I have 11 new sisters.
Definitely all the challenges. You never knew what to expect every time you saw RU coming into the workroom.

JG: What would you say to the millions of queens out there wishing they were in your pumps as a Drag Race contestant?
KM: Well I will tell them to go for it because RuPaul's Drag Race will be one of the best experiences ever. Also this amazing opportunity will change your life drastically.
Follow Kenya on Facebook and Twitter: @Kenya_Michaels
Watch RuPaul's Drag Race Monday nights 9/8c on Logo.