Dwayne Milan (aka Milan) is an accomplished actor, dancer, singer/songwriter, producer and drag performer who has worked alongside a bevy of legendary NYC artists including Lady Kier of Deee-Lite fame, Jody Watley, Ultra Nate and Amanda Lepore, to name a few. He has also charted on the Top Ten of Billboard Dance charts as a songwriter and performed on the Broadway stage in the hit musical Hairspray. All of these accomplishments might easily lead one to think Milan would be the one to beat for the title of America's Next Drag Superstar, but after three consecutive weeks in the bottom two, this funky diva found herself shantay-ing home.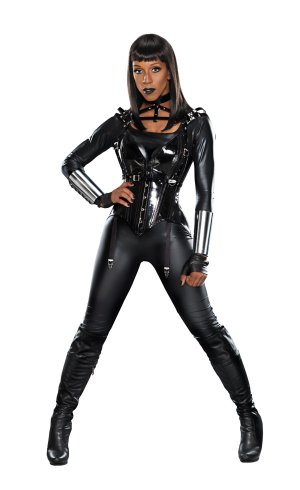 JG: What is most charismatic about Milan?
Milan: The most charismatic thing about me is my true compassion for others. I GENUINELY love people and strive to not only be a good person but show others that I love them and that I genuinely care.
JG: What makes you unique in this competition?
Milan: What makes me the most unique in this competition is my versatility and that I'm a fighter in more ways than one.
JG: Can you tell us about an instance where your "nerve" saved the day?
Milan: My nerve saved the day for me spiritually when I defended myself regarding my Janelle Monae look. I IDOLIZE both Ru and Michelle. They represent the creme de la creme and I fully respect their opinions. I just feel sometimes it is PERFECTLY OK to have a difference of opinion regarding drag.
JG: Does Milan have any hidden talents?
Milan: My hidden talents are that I am a writer and producer and that I write drag-related sketches, songs, parodies, and stage works that illustrate the spectrum of drag as well as the lifestyle(s) of drag performers.
JG: How has being a Broadway performer prepared you for Drag Race?
Milan: Getting to Broadway requires tremendous talent, discipline, professionalism, strong work ethic, strong backbone when dealing with rejection and the ability to be a team player so I try my best to apply those skills to my drag performances and in my dealing with the public while in drag.
JG: What has been the most unexpected part of this competition?
Milan: The most unexpected part of the competition was discovering the love and support between us. We grew to care for each other despite our disagreements at times. Going against Kenya was mentally devastating for me because we became friends and shared so much with each other.
JG: What would you say to the millions of queens out there wishing they were in your pumps as a Drag Race contestant?
Milan: Fight to achieve your dreams, make sure your pumps FIT WELL, don't take yo wig off UNLESS you're at your hometown bar, treat every challenge like it is your last and be true to who you are!
Follow Milan on Facebook and Twitter: @DwayneMilan
Watch RuPaul's Drag Race Monday nights 9 p.m. Eastern/8 p.m. Central on Logo.