Award-winning artist MG Stout has spent the last few months collaborating with combat veteran, Jason Conner, to shed some light on the inherent difficulties families and vets experience after the jubilant homecoming. Her upcoming exhibit, After the Parade, illustrates a soldier's transition back into civilian life: a long, hard road that has been traveled for generations. This exhibit opens the door for hope and healing, and features original paintings based on Conner's photographs.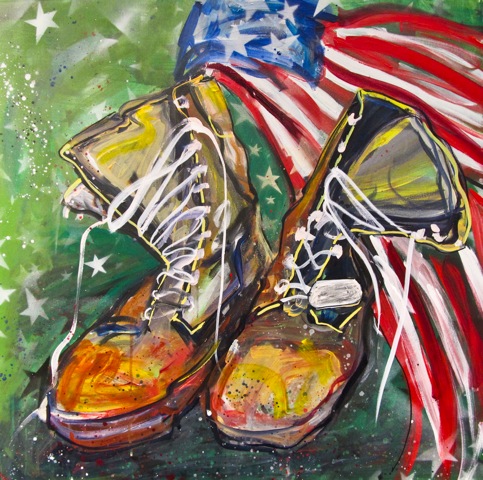 The exhibit, which is free and open to the public at Studio 4 in Old Town, VA, runs from August 1 until September 9. An opening reception, also free and open to the public, is planned for August 10. 30 percent of all exhibition sales will be donated by the artist to the Wounded Warrior Project. This organization is dedicated to raise awareness and enlist the public's aid for the needs of injured service members.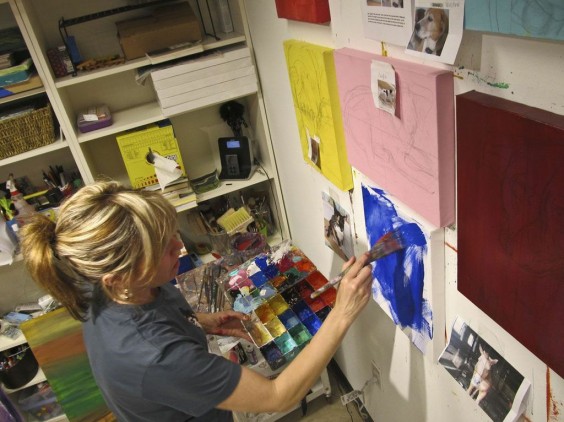 John Gascot: How did the idea for this exhibit come about?
MG Stout: Personal experience. Dealing with the vets in my life. People I love who have spent considerable time in the war zone. Trying to deal with the disconnect that occurs when someone is away and experiences terrible things only to return to a society where they're expected to go on as if nothing happened. Feelings are real and should be dealt with, openly. I find it far more disturbing to experience the worst in humanity and return unfazed.
JG: So you're from a military background?
MG: Yes, my father served in Vietnam and later Iraq. My husband spent 9 months in Afghanistan.
JG: How did that affect you and your family?
MG: As a kid, I remember an over-masculine attitude that it might be a weakness to speak about feelings. I remember my dad being either super happy or very angry. There wasn't a healthy open conversation about the effect of what he'd experienced. I also felt a sense of being an outsider. He and my brothers had experienced something they weren't talking about and I had no possible way of relating to it.
JG: What do you hope to accomplish with this project?
MG: I hope to connect families. Make people aware that it's completely normal and necessary to deal with feelings. I want these men and women know that they are not alone. I also wish to start a conversation about mental health. There is a great deal of unnecessary stigma involved. If you have, say cancer, you don't second-guess seeking help in the same way people do about mental health issues.
JG: What has been the most challenging part of executing this series of paintings?
MG: The most difficult part has been dealing with the sadness. These people's stories are my story. I understand their journey and I am in awe of their bravery.
JG: What's next?
MG: Exploring other mental health issues and personal demons I've been hesitant to tackle. Jason Conner and his family's openness have truly inspired me.