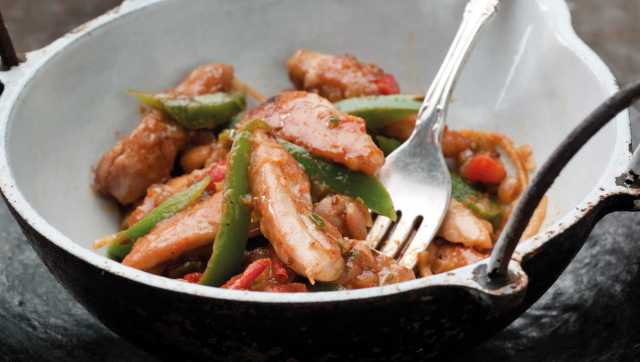 I love Indian food and being a spice geek it is a complete inspiration to me. I have even taken to carrying my own spice tin with me at all times. My round spice tin has seven smaller tins inside, which stores my everyday spices -- ground cumin, ground coriander, turmeric, chilli powder, salt, garam masla and cumin seeds. I can effectively whip up a curry anywhere.
Indian food can be subtle as it is fiery and as simple to make as any other cuisine. My Kadahi chicken is a North Indian inspired curry that is made with the simplest of spices: cumin seeds, fresh chillies, root ginger, garam masla and turmeric. The cumin seeds are added to the hot oil at the start of cooking process to impart their big flavor. The sauce is brought together with fresh tomatoes and a squeeze of lemon juice, which accentuates the flavors of the spices even more.
This is delicious curry is a great introduction to cooking Indian food. Have a go and let me know what you think.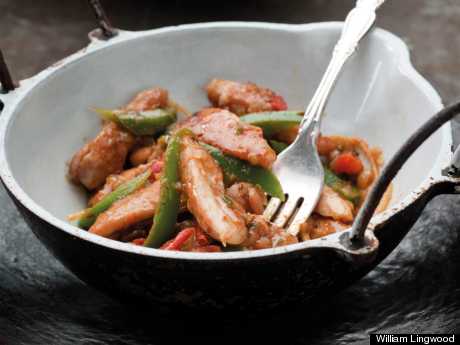 Kadahi Chicken
Serves 4
2 tablespoons vegetable oil
2 teaspoons cumin seeds
1 large onion, finely chopped
1 green chili, seeded and finely chopped
1-inch piece gingerroot, peeled and finely chopped
4 tomatoes, roughly chopped
1 teaspoon garam masala
1/2 teaspoon turmeric
1 1/2 teaspoons salt
1 pound 2 ounces boneless, skinless chicken thighs, cut into thin strips
1 green bell pepper, seeded and cut into thin strips
juice of 1/2 lemon
rice, to serve
1. Heat a wok over medium heat and add the oil. Chuck in the cumin seeds, allow them to crackle 10 seconds, then add the onion. Stir-fry 3 to 4 minutes until the onion starts turning golden, then add the green chili, ginger, tomatoes, garam masala, turmeric and salt. Mix well and stir-fry 5 to 6 minutes until the tomatoes are breaking down and form a sauce.
2. Add the chicken and green pepper, reduce the heat to low and simmer, stirring occasionally, 12 to 15 minutes until the chicken is cooked through and tender. Add the lemon juice and give it one last mix. Serve immediately with rice, if liked.
From Mighty Spice Cookbook by John Gregory-Smith © Duncan Baird Publishers 2011