 Spices are my favourite ingredients to use in the kitchen. They add so much flavour to a dish and they help to reduce the amount of salt and fat you need to use - this is a good thing guys!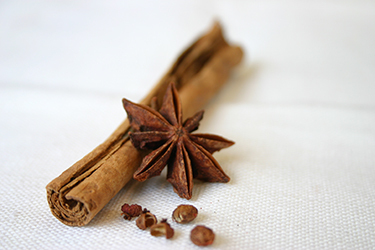 Spices add a real depth of flavour, and can help to make even the blandest of meals tasty. Quite often individual spices are used along side pre-spice mixes to add more layers of flavour to a meal. In India for example, whole spices would be thrown into hot oil at the start of the cooking process, while ground spices and spice mixes would be blended in later and sometimes a garam masla added at the end.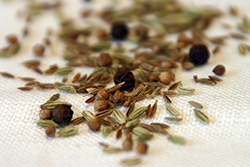 In recognition of the mightiness of the spice, here are my top store cupboard spice mixes. For delicious recipes with any of these spice mixes do check out my site.
Garam Masala - a North Indian mix of spices including cumin, cloves, cinnamon and chilli. This spice mix has a really big flavour and is superb when cooking any curry, or making a marinade. There are loads of different types and each one has a different recipe. It's worth trying a few out to find the best. I love this in a paneer kadai curry, yummy!
Zaatar - this is a Lebanese mix of sumac (a very sour ground red berry), dry herbs, sesame seeds and salt. Generally the herbs are a mix of thyme and oregano. Traditionally this fabulous spice mix would be slathered over bread or served with olive oil for dunking. It goes well with everything - my favourite chef Yotam Ottelengi does the best - do check it out
Cajun - this handy spice mix is a must for every home cook. A dusting of this tasty mix on pork chops, salmon fillets or baby courgettes is just delicious. The paprika gives a wonderful red colour, the fennel a little aniseed flavour and the black pepper and chilli a lively kick.
Jerk - A Caribbean favourite. This is hot hot hot and fabulous on everything from chicken wings to burgers. It is spice heavy, full of allspice, chilli, black pepper and cumin. This spice mix always reminds me of the summer and I always seem to make wonderful colourful food with it.
All photos by John Gregory-Smith.