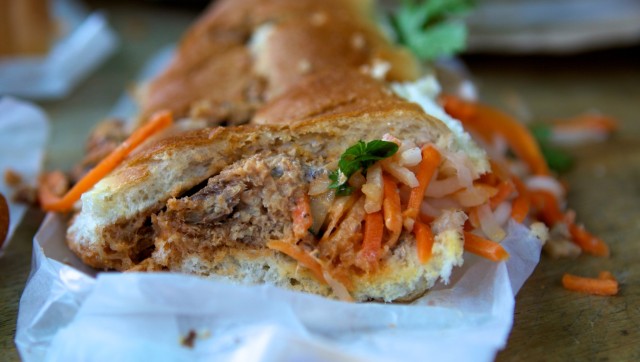 What do you do with your delicious leftover turkey from Thanksgiving or Christmas?
Well, I would suggest a spicy Turkey Banh Mi -- this is a Vietnamese style sandwich, with delicious warm, spiced turkey, crunchy carrots, fragrant cilantro and lots of sweet chili sauce. I know it is not traditional, but I have added mayonnaise to my sandwich -- come on, we all love it!
Do let me know how you make your Banh Mi sandwiches on twitter, at @mightyspice.
HAPPY HOLIDAYS EVERYONE!
Sweet & Spicy Turkey Banh Mi Sandwich
Serves 4
2 stalks lemongrass
1 clove garlic
2 cups cooked turkey, shredded
1/4 teaspoon turmeric
1 tablespoon fish sauce
2 tablespoons lime juice
1 tablespoon peanut oil
1 large French baguette
1/4 cup mayonnaise
1/3 cup grated carrots
1 bunch cilantro leaves, stems discarded
2 tablespoons sweet chili sauce
1.Cut and discard the tough root end of the lemongrass. Coarsely chop the light yellow part only, discard the remaining lemongrass. Add lemongrass and garlic into a food processor and pulse until finely chopped.
2.In a bowl, combine the lemongrass/garlic mixture with the turkey, turmeric, fish sauce and lime juice. Heat a large skillet with oil over medium heat. When the pan is hot add the turkey mixture and sauté for 5-6 minutes.
3.While the turkey mixture cooks, cut the baguette in half lengthwise and place in a warm oven to heat through. Remove the baguette from the oven and spread mayonnaise evenly over both sides. Fill baguette with the turkey mixture, grated carrots, cilantro leaves, and sweet chili sauce. Cut into 4 equal pieces and serve.