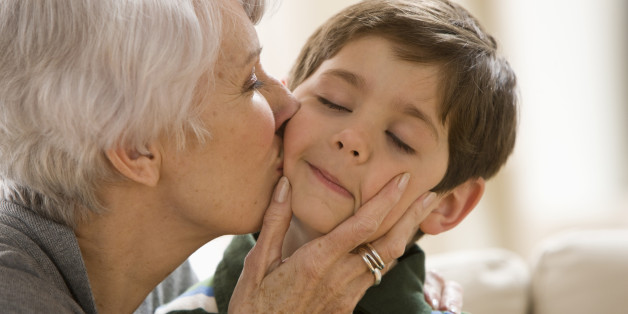 A year ago, in celebration of #GivingTuesday 2013, I wrote an article for the Huffington Post about my grandparents' unique "Club 21" birthday club. I shared the story about how my grandparents offered each of their 24 grandchildren, on their respective 21st birthdays, a birthday cheque which was to be donated to charities. This was their way to teach our generation about philanthropy and to be caring for those who need a helping hand. You can read more about Club 21 here. This year I want to share another story from my grandmother. This is the story of one of my granny's efforts (tricks!) to influence her grandchildren's values.
The story takes place when I was about 10 years old. My granny reserved a Sunday afternoon to come by my home, to pick me up in her car, to drive to the "old folks home" (her words!). This is where she volunteered her time. She told me she needed my muscles to help move a table in one of the ladies' rooms. I naively believed her, and was flattered that she needed my, admittedly small, muscles. So, off we went that Sunday afternoon. With the benefit of hindsight and maturity, I realize now that she had two objectives on her hidden agenda: the first was quite straightforward. Granny wanted to show me off to all of the old ladies in the old folks' home. I was a little uncomfortable, but her constant flattery did the trick. Her second objective was to teach me about the importance of giving time, and helping lift the comfort and spirits of others. I soon discovered that there were several male orderlies/nurses who were there to lift some of the ladies from bed to wheel chair and back again. Why could they not lift a small side table across a room? Clearly, no one needed the muscles of a young boy. That was when the penny dropped! Even I could not fail to get my granny's intended message that Sunday afternoon. It was a message she gave me and the other 23 cousins, one by one, as she introduced us to volunteerism (all part of her master plan along with Club 21 charity checks).
I tell this story, today, with the hopes it impresses upon (or reminds) us all of the importance of teaching, mentoring and demonstrating volunteerism and charity to the next generation of family. Research shows that those who were brought up to be giving turn out to be more charitable in their adult lives. Through real, tangible examples my grandparents (and parents) taught me well. And this has led to my very satisfying and fulfilling life of giving back. I hope you can inspire others, young or old, to be more charitable.
This post is part of a series produced in celebration of #GivingTuesday, which will take place this year (2014) on December 2. The idea behind #GivingTuesday is to kickoff the holiday-giving season, in the same way that Black Friday and Cyber Monday kickoff the holiday-shopping season. The Huffington Post will feature posts on #GivingTuesday all month in November. To see all the posts in the series, visit here; follow the conversation via #GivingTuesday and learn more here.
And if you'd like to share your own #GivingTuesday story, please send us your 500-850-word post to impactblogs@huffingtonpost.com.