"I'm not telling you who to vote for; I'm telling you who I'm voting for: Barack Obama!"
So said Jay-Z near the beginning of the first of two "Last Chance for Change" concerts here at Miami's Bayfront Park Amphitheatre. And if there was one person amid the crowd of 8000+ who didn't concur, they sure weren't telling.
Not that anybody could've missed figuring out just who Hova would be voting for, mind you, what with a clip of the senator opening the proceedings and the Obama campaign's signature horizon emblem serving as a stage-size backdrop at the start of the concert.
And it's highly unlikely a McCain fan could be found amid the throng of "Yes We Can" card-carrying acolytes either. This was Obama country, to every man, woman and child.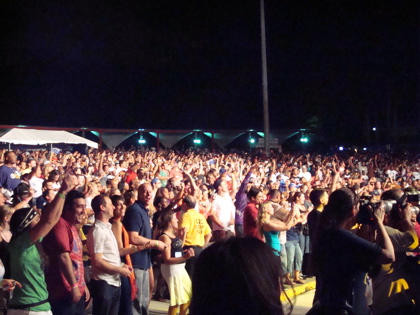 The concert was billed as a Voter Registration rally, but it was more like an early "Thank You" from Jay-Z and Wyclef Jean (who opened the show) to the Florida chapter of Generation Obama -- that tireless legion of volunteers who are directly responsible for the greatest surge of new voter registration in the state's history.
And if the GO Team could be considered tireless -- they continued to sign-up and enlist people even as Jay-Z staged -- the star himself came off like the hardest working man in the game, spiritedly bouncing out hit after hit and constantly reminding the crowd of the coming election's importance.
"Get registered, get focused, and get out to vote," implored the 7-time Grammy winner, and if the cheers were any indication, almost everybody in the amphitheatre already was well under way.
Last night's show came on the heel of a similar rally up in Detroit's Cobo Hall that, from all reports, was equally vociferous, despite (or perhaps because) McCain's abandoning not just the Motor City but the whole state of Michigan. And though Jay-Z didn't get into specifics at either concert, Florida, with all its sordid voter stories, must be of some concern to the rapper, not to mention everybody else who intends to cast a ballot on November 4th.
The Sunshine State remains in the dark ages, election-wise, and with Governor Charlie Crist recently reenacting the controversial "No Match/No Vote" law, it looks as if it will remain so at least throughout this election cycle. The law, which requires a data match between driver's licenses and voter registration cards, was originally passed back in 2005. But after the NAACP and New York University School of Law's Brennan Center for Justice filed suit, a judge issued a temporary injunction.
That injunction was lifted in July, yet Secretary of State Kurt Browning waited until Sept. 8 to notify Florida's 67 election supervisors. Since the law will disproportionally affect minority voters, this is an alarming development.
But no state house trickery, dirty or otherwise, could put a damper on the fervor let loose at last night's rally. Wyclef Jean's pleaded in three languages for the crowd to vote and Jay-Z insisted all 8,000 attendees sway in unison in a great mass political hug, and they did. In fact, with clouds parting after a near two-week deluge, it seemed even the weather was for Obama.
Most telling though was that the crowd here truly represented what America is beginning more and more to look like --a mixture of every race imaginable. It's a blend that may not look like a certain person's idea of the Heartland, but in Miami, as elsewhere increasingly around the nation, it's just a matter of fact.