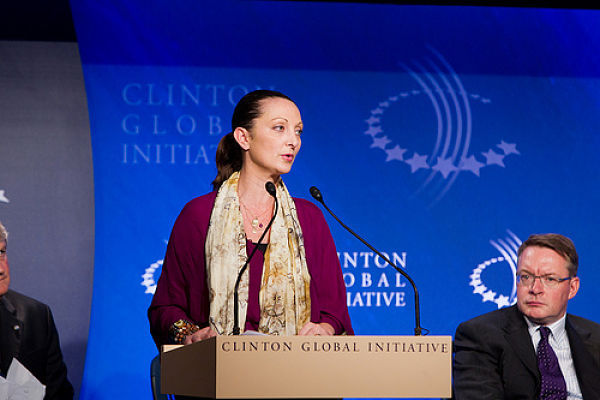 How Dare Kimberly Green Invite Castro to AIJ's Dinner? How Dare She Not.
When Green Family Foundation President Kimberly Green somewhat jokingly suggested getting San Antonio Mayor Julian Castro to keynote Americans for Immigrant Justice's annual dinner, even she thought the idea a tad far-fetched. Castro, of course, is the man who stepped up to the Democratic Convention's prime-time podium and proved he could stand and deliver with the best of 'em, including Obama himself, who'd been given the same chance to show he was worthy of anointing.
Better yet, like the president, His Honor exhibited the kind of rock star cool which becomes most evident when the heat is on. And upon convention's end there wasn't a household in the nation that didn't somehow get hot at the prospect of having the Stanford/Harvard-educated chico from San Antone be the Dems next best shot at the White House.
But Kimberly Green, Ph.d. didn't build GFF into the sorta place which saves lives, rescues archives, and guides the light by being near-sighted. And she sure didn't come to establish a program that's the "core component" of what's projected to make the state an annual $78 million and create an estimated eight to 11,000 new jobs in Miami-Dade without fielding some good old-fashioned far-fetched. So with the theme of this year's AIJ dinner in her head, and a little extra skip in her step, Green did indeed "dare to dream." The rest, as we'll see, proves the best and the biggest and the brightest of dreams all begin with a dare.
What makes Mayor Castro such a good fit to host the 2013 Annual AIJ Dinner?
Well, besides his delivering an inspiring and, dare I say, hip Democratic Convention keynote speech, and him being one of the party's most rapidly rising stars, Mayor Castro also presides over the country's seventh most populous city, in the second most populous state. Equally important is that his story's so rooted in immigrant advocacy, which, as the name states, has always been the primary objective of Americans for Immigrant Justice. Oh yeah, and His Honor just so happens to be a member of the fastest growing voting bloc of the American populace. Just ask Obama.
Does the mayor have any prior direct or indirect connection to AIJ?
Not that I'm aware of, but the mayor surely must've at least seen some of the national reports about how much AIJ helped to shape the Dream Act he so staunchly supports. The mayor also must've heard about AIJ's Children's Legal Project, because when it was mentioned he agreed to be the keynote speaker at this year's annual dinner before Executive Director Cheryl Little could even complete her pitch.
Whose big idea was it to bring him in to host the dinner anyway?
Cheryl Little and the AIJ Board asked me and my mother Dorothea Green to chair this year's event right around the close of the Democratic Convention. Mayor Castro was already the talk of the nation, so his name came immediately to mind. When we learned the theme of the evening would be DREAMers, I couldn't help thinking about the part of the mayor's keynote speech which concerned his mother's fight for civil rights, and how she did what she did so that instead of a mop her son could hold that microphone. I mean, you don't fight that kind of fight, or have that kind of drive, without a dream. Still, I was almost joking when I suggested we ask Mayor Castro to be our keynote speaker, because honestly, I thought there was no way we could get him. I even said as much to my dad, who turned around, looked me in the eye and said "Why not?"
So it was your dad who helped you land the most in-demand man in the land?
Yes, my father, former Ambassador to Singapore Steven Green, called his good friend Jason Lutin, then senior deputy finance director for Obama's Florida campaign, who took all of one second to concur that Mayor Castro would be the perfect fit. Not two days later my father, Cheryl and I were all on a conference call with the mayor, who at the time was in England to deliver a speech at the London School of Economics, and who couldn't have been more gracious.
How else does the Green Family tie in to AIJ?
Well, let's see... I've been on the Board for 10 years now, and the Green Family Foundation has backed a variety of initiatives over the entire last decade. Most recently we joined The Batchelor Foundation in supporting the Children's Legal Project I mentioned. It's a wonderful program, which represents unaccompanied immigrant minors who are in custody, and who fall under the reforms AIJ helped shape within the Trafficking Victims Protection Reauthorization Act of 2008.
How did GFF initially become involved with AIJ anyway?
I guess you could say that was another one of those "Why not?" moments my dad favors so much, only in this case it was me doin' the asking, and the question concerned the director Jonathan Demme. It was at a reception following an early screening of his movie The Agronomist, which is based on the life of Haitian activist Jean Dominique. I'd just returned from Haiti, where I'd been shooting my own documentary, Once There Was a Country, and I was rather desperate to meet Demme. Fortunately for me, Demme's the kind of down-to-earth demigod who likes to connect like minds, and shortly after introducing myself, he introduced me to Cheryl, who was the like mind I wanted to be like. It was Cheryl who would help me find focus on the immigration issues in my film. And frankly, once I witnessed such unflinching commitment to improve the lives and defend the rights of immigrants and refugees of all nationalities, it was Cheryl who impressed me as kind of a down-to-earth demigod herself. GFF and I have been on the side of AIJ and Cheryl ever since.
Haven't you also just added FIU to the GFF/AIJ equation?
We have, through the Green Family Foundation's NeighborhoodHELP Program, which is the cornerstone of FIU's Herbert Wertheim College of Medicine. The program partners students with families in the most underserved communities in Miami, this way the doctors-to-be not only develop a relationship based around preventative health care, but they do so with all the social determinants that encompass the health of a family. Some of these issues include legal situations, so we've recently added a team of students from FIU's College of Law, which, by the way, The Princeton Review said has the third most diverse faculty in the nation. Now we have med students and law students working in tandem to aid and represent those who are in need of, but can't afford, medical and legal aid. Like the med students, the law students' real world experience includes internships, many of them at AIJ, who also remain on hand should we need to call in the big guns. Between the FIU students' field experience, and AIJ's expertise, we can cover pretty much any situation
What makes AIJ such an important organization -- to you, to GFF, to Florida, and to the U.S. as a whole?
Personally, Cheryl has been somewhat of a mentor to me, and, among other things, she's taught me how to temper my passion into policy-effecting activism. In giving GFF the opportunity to help AIJ give voice to the voiceless, AIJ helps GFF remember what it means to be a good neighbor. In Florida, where it all began, and across America, where it now proudly stands, AIJ is, as David Lawrence Jr. so eloquently summarized, "fighting to ensure that [we as a people] do not shrink from [our] commitment to human rights and individual liberty." It doesn't get much more important than that.