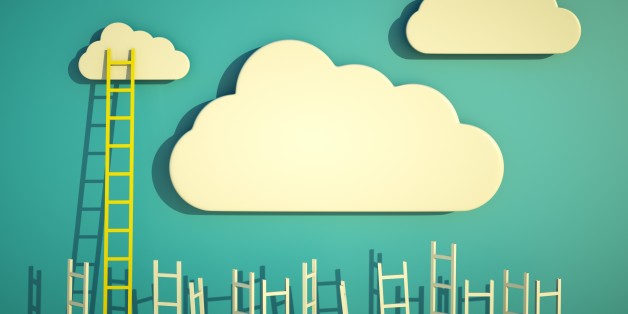 Fear is the ultimate prosperity killer. This was the basic premise of my bestselling business book, LOVE LEADERSHIP: The New Way to Lead In A Fear-Based World (Jossey-Bass).
I went on to say there were two things in the world, "love and fear... and what you don't love, you feared." I concluded by suggesting that "most of our so-called leaders today were actually leading by fear."
What I didn't consider when I wrote this in the book was the possibility that the internal threats of fear, far outweighed the external threats of fear (bosses, government, private sector, societal leaders, etc). What we fear most, is actually ourselves.
Getting over our own sometimes paralyzing fear and insecurities, is key to finding success and long-term stability in our lives. I remember as a child, all my friends just wanted to get rich, but I wanted to become wealthy. At an early age, I knew the difference, but that didn't just 'happen' to me either. It was intentional. My mother told me she loved me every day of my young life, and over time I began to believe it. Today I may have problems and challenges, but basic self esteem is not one of them. I believe in myself, and this along with a vision for myself has proven to be my ultimate strategic advantage in life.
I believed in myself because my mother told me so, and I believed in what I could do and who I could become because my father showed me so. My dad has owned a business for more than 50 years now, and my earliest memory of him was meeting a payroll out of the front door of our home in South Central Los Angeles.
My dad wore a suit two to three times a week growing up. A banker showed up in my inner-city classroom and taught us financial literacy, or what I now call 'the global language of money.' He wore a suit too. And so, of course when I was ten years old, I wanted to wear a suit.
All of this was intentional in my life, so I have a great deal of compassion today for those who did not have the benefit of a loving and supportive mother and father growing up. Half of success in life today I believe is simply self-esteem and self-confidence.
One incredible example of this power of self-belief is my friend Kevin "Hollywood" Holsome, a California Highway Patrol Officer working in Southern California. A few years back, Hollywood, as his friends refer to him, was on motor (two-wheel motorcycle) patrol and he and his bike were hit while aiding a motorist in distress on the freeway. In a flash, Hollywood lost his leg, and almost everyone told him he would never ride a motorcycle again, and without question, his career as an officer was over. That lens was not the way Hollywood saw things.
Within a year's time Hollywood was not only re-certified as a CHP officer, passing all tests with flying colors (wearing of course a custom-fitted prosthesis on his lower leg), but he was also re-certified as a motor officer! This was a first in CHP history, and maybe a first nationwide in law enforcement. Hollywood today is a role model law enforcement officer, complete with service commendations.
Hollywood is one of my heroes in life, but his story is really basic at its core. Hollywood believed in himself, and he exercised the form of courage I repeatedly speak about in Love Leadership: "Courage is nothing more than your faith reaching through your fear, displaying itself as action in your life." Kevin "Hollywood" Holsome's life is literally courage in action.
Today, Hollywood tells another story of inspiration, and one that the rest of us can learn from. One that holds the potential to banish fear even in the hearts and minds of those who didn't have the personal-confidence-in-life lessons as a child that we both enjoyed.
Borrow My Ladder
Often when Hollywood is working the highways and streets of Southern California, he encounters people who are not only breaking laws of the land, but worse, they seem to be broken inside. They complain to him about this problem, or that one. Hollywood typically listens, and when they are done he asks them if they want to 'borrow his ladder.' Confused by his response, they often ask for clarification. "Why on God's earth would I need your ladder? Didn't you just hear me? I am seriously distressed here." Hollywood's response changes everything.
He typically responds that like them, he has encountered problems that he never thought he would get over, or through. About this time, he usually raises his right pants leg, displaying his beautifully tattooed prosthesis, which features a color copy of the CHP badge that adorned his CHP helmet from the accident.
He goes on, "I use to despair just like you, but then one day in the hospital I realized that I had to save me before the doctors could. I realized that I had an option to see myself and my possibilities as bigger and more important than my problems." Hollywood continued, "...so now whenever I encounter problems I simply pull out a spiritual ladder out of my pocket, and however large my problem, I raised the ladder two feet above it and simply step over my problems." Hollywood concludes the conversion, "you can borrow my ladder anytime you like."
Isn't it amazing how this just changes everything in the mind, heart, soul and spirit? It left me speechless. I told Hollywood I would actually go out and purchase a ladder of my very own, thank you very much. Now, I never leave home without it. Neither should you.
The Most Important Things I Know
The most important promise I made to myself as a young man was "to become reasonably comfortable in my own skin."
Because if I don't like me, I cannot like you.
Because if I don't respect me, I cannot respect you.
Because if I don't love me, I won't have a clue how to love you.
Because if I don't have a purpose in my life, I will make your life a living hell.
Learn how to overcome your challenges. How to overcome your obstacles. How to overcome your fears. How to overcome failure.
To quote my dear friend Fred D. Smith from Love Leadership, "The key to life is managing pain. The pain we create for ourselves, and the pain visiting on us by others." I agree totally.
What got me through when I was homeless at 18 years of age, is the same quality or set of qualities that get me through a tough day at the office today. My persistence, my ability to successfully manage pain, and my belief in myself, no matter what.
And so, here is the new first lesson of Love Leadership; go get your own new ladder, or you can borrow mine.
John Hope Bryant is a thought leader, founder, chairman and CEO of Operation HOPE and Bryant Group Companies, Inc. Magazine/CEO READ bestselling business author of LOVE LEADERSHIP: The New Way to Lead in a Fear-Based World (Jossey-Bass), the only African-American bestselling business author in America, and is chairman of the Subcommittee for the Under-Served and Community Empowerment for the U.S. President's Advisory Council on Financial Capability, for President Barack Obama. Mr. Bryant is the co-founder of the Gallup-HOPE Index, the only national research poll on youth financial dignity and youth economic energy in the U.S. He is also a co-founder of Global Dignity with HRH Crown Prince Haakon of Norway and Professor Pekka Himanen of Finland. Global Dignity is affiliated with the Forum of Young Global Leaders and the World Economic Forum. Mr. Bryant is a though leader represented by the Bright Sight Group for public speaking. Mr. Bryant serves on the board of directors of Ares Commercial Real Estate Corporation, an NYSE Euronext publicly traded company, and a division of $54 billion Ares Capital.