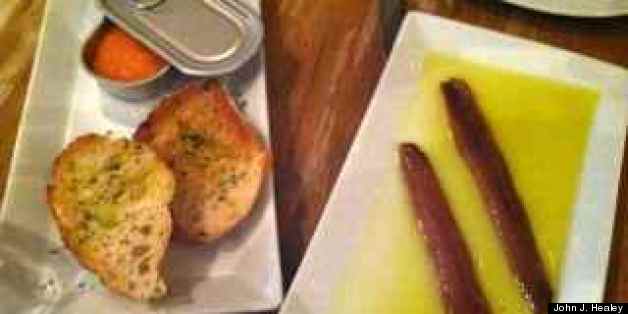 I'm an old-fashioned food and wine snob who has eaten all over Spain for 40 years. Today I'm going to highlight two Madrid restaurants I find myself going to these days at least once a week. (There is a third one on my beat as well, the Taberna Arzábal (Calle de Menéndez Pelayo, 13) but much has been written about that place already.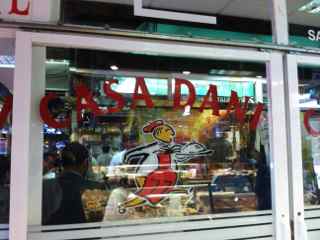 The first of the two is called Casa Dani (Calle de Ayala, 28) and it is only open for lunch. Six days a week it feeds the varied and dedicated crowds that pass through the extraordinary market it is located within, the Mercado de la Paz. The second one is a serious and lovely and true restaurant, the Vinoteca Bistro Moratín (Calle Moratín, 36). Its exquisite, limited menu only serves the freshest produce obtained each day at the Mercado Anton Martín. Though it's open for lunch and dinner, I only go to the Bistro Moratín in the evening because I don't drink wine during the day and it has an amazing wine list. Both these places are modestly priced.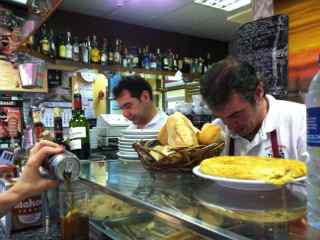 Casa Dani is hard-core. It serves food at the bar and in two contiguous dining rooms. It is ugly and fast. The people who work there under the watchful eye of Dani Jr. perform a daily ballet of manic professionalism. It is the most egalitarian place imaginable, which in Madrid is especially unusual. Rich guys in pinstripe suits with tasseled loafers and fake Tibetan bracelets on their wrists sit next to men in blue overalls who unload trucks. Pretty girls from the surrounding, fashionable Barrio Salamanca sit next to ladies from another time. They all gather there for the same reason, classic dishes served without a sliver of pretention at great prices.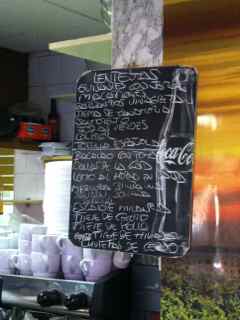 Casa Dani is not for the meek of heart, for the pace is loud and its rhythm exhausting. The waiters are kind to a fault but they are in a hurry and if you go you will see why. People are seated on a first-come-fist-serve basis but one never has to wait very long and just standing there watching it all happen in front of you is a pleasure by itself. The best way to have the Casa Dani experience is to stroll through the market first where a sterling variety of top notch goods and services are available. The people who work at the Mercado de la Paz are knowledgeable, amusing and direct.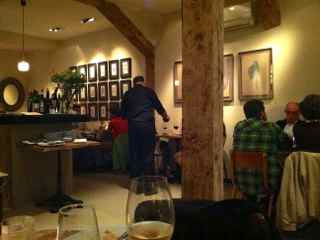 As for the Vinoteca Bistro Moratín I almost hesitate to give it publicity because I treasure it so. But the cat now seems to be out of the bag around here at least and I am going back to the States soon anyway. The locale is not large and reservations are a must. The young man who owns and runs it, Marcos Gil from Leon, is about the nicest, most dedicated restauranteur you could ever hope to do business with. The care he brings to the menu, the manner in which he explains what there is on a given evening, always interesting and never unctuous, is a model for all restaurants to follow. The decoration and lighting are ideal, attaining that most difficult thing of being simultaneously modern and traditional. Many places try and most fail because genuine good taste is perhaps the rarest commodity.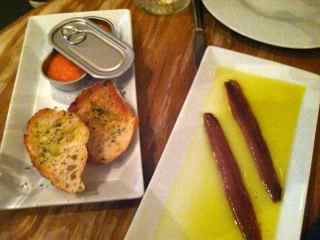 I'm not quite sure why, but Marcos Gil creates an ambiance you want to return to over and over again. For as long as you sit there you feel beau and chic. The restaurant for me is a kind of installation representing the sort of life one aspires to, which you want to try to lead every day. The wines, from Spain and France, have been chosen as carefully as the food, none of them break the bank and all of them are served with just the right amount of savoir-faire. It is also a place where one can talk and where you are left alone to do so. I cannot recommend it highly enough. It is an absolute delight.