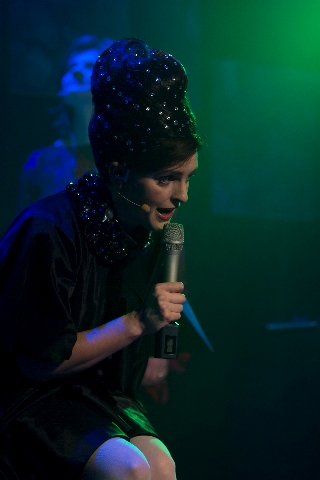 With vibrant traditional styles embraced worldwide, Irish music is a strong brand. Extending that brand in weird and wonderful ways is Julie Feeney, an innovative singer, songwriter, poet and performer who is halfway through a ten-night New York stand.
With nary a tin whistle, bagpipe, or button accordion in sight, her show only sounds overtly Irish during Feeney's brief banter between songs.
On a set decorated from the attic of memory and backed by a lush seven piece band that includes strings and brass, Feeney presents an entrancing and startling evening of poetic imagery, well crafted stories, delicate emotions, unexpected cadences, sudden silences, coy humor and tightly-wound tunes with hit-caliber hooks, sometimes delivered with cool detachment, at other times with a riveting directness.
It's high-wire performance art in a well-crafted show--blocked, lighted and rehearsed like a theater piece--that flows and eddies on shifts in tempo, mood, dynamics and instrumentation.
Feeney favors a fashion-forward look, inviting the inevitable comparisons with Lady Gaga, though I don't picture Feeney wearing meat and her music is on another plane from the pop diva. And to me her headgear was more Sun Ra than Gaga.
Vocally, she's been compared to Sinead O'Connor and Bjork (a fellow traveler in extreme fashion) and to musicians ranging from Laurie Anderson to Elvis Costello, from David Bowie to Tori Amos. Other iconic musical performers came to mind--Leonard Cohen, Paolo Conte, Tom Waits---singers and songwriters with their own original hard-to-categorize, highly original styles. I also heard echoes of French film soundtracks, Pachelbel's Canon, Nino Rota (known for his Fellini and The Godfather scores) Philip Glass and a long forgotten carousel ride. And her technique in using the microphone almost as a musical instrument reminded me of jazz legend Betty Carter.
The Galway song stylist has been a model, actress, professional choral singer, lead vocal soloist for Riverdance, radio host and plays a band's worth of instruments (though she limits herself to the recorder and drumsticks in her current show). She has master's degrees in music, music technologies and even psychoanalysis and is composing an opera. Her song "Impossibly Beautiful" was a hit in Ireland, is on her latest CD Pages and features prominently in her current stage show.
Her videos are all over YouTube, she's been featured on the NPR's Soundcheck, written up in the Wall Street Journal, she just got a rave revue in the New York Times and Irish broadcaster RTE has posted clips and interviews from her New York stand.
Julie Feeney's residency at the Irish Arts Center's Donaghy Theatre concludes this week with five more performances, Wed., May 2 through Sun., May 6 at 8 pm.
And despite the dearth of obvious Celtic references, there's still the occasional refreshing Irish breeze swirling through her signature sound.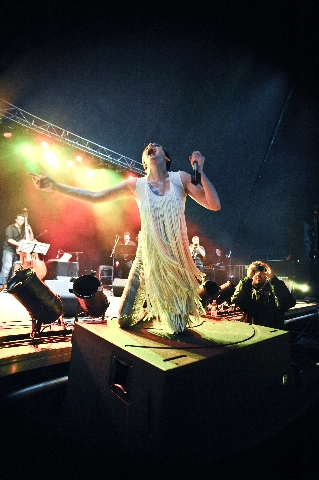 Photos provided by Irish Arts Center for publicity purposes.