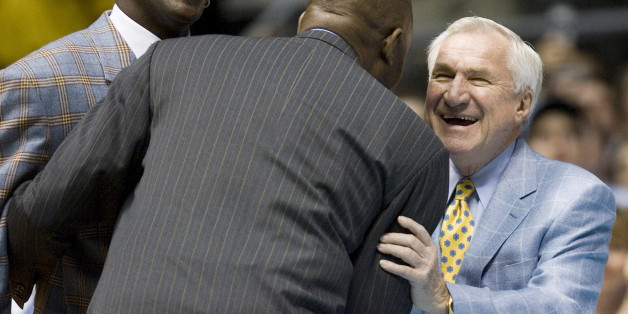 Legendary North Carolina basketball coach Dean Smith died Saturday at age 83. Tributes have poured in acknowledging his two national championships, 95 percent graduation rate, and the enduring loyalty between coach and players across the decades.
The simple explanation for the success of the "Carolina Way" is Dean Smith's ability to inspire commitment--everyone bought in and played for one another. Why did Carolina enjoy such loyalty and success? Coach Vince Lombardi, the Green Bay Packers icon, defined the central trait of great coaching and formidable teams: "Individual commitment to a group effort--that is what makes a team work, a company work, a society work, a civilization work."
So how did Smith build and sustain this commitment to teamwork? Dean Smith practiced and exemplified commitment. He had been a member of the same congregation--Binkley Baptist Church--since 1958. He was head coach at Carolina for 36 years and, when he felt he could no longer give it 100 percent, he stopped--even in October before the season was to begin. So his players and others at UNC saw that Smith practiced what he preached.
In addition to those personal behaviors, Smith built commitment and acknowledgement into the very fabric of the game. Smith introduced four practices that are now widely used--and taken for granted--in college basketball. Every one of these practices reinforced the interdependence and mutual respect of teammates. When the game is played the "Carolina way" players cooperate to create a heightened sense of common purpose.
Dean Smith was the first to start all his seniors on their final home game. Senior night is a taken-for-granted ritual now, a half-century after Smith began it. The practice players who had driven the starters to excel during all those grinding drills and scrimmages knew that they would start for Carolina at least once in their career. And they knew that the fans who valued bench players as part of the team concept would show their appreciation with thunderous applause. What if Dean had six seniors one year? He started all six, Carolina received a technical foul, and the game began with the opponent shooting free throws. That was the way he showed that everyone the team was valued and that is how he demonstrated his commitment to them.
Today, no one is surprised to see a college or professional basketball player score a basket and run up court pointing to the teammate who passed them the ball. This gesture is called "acknowledging the assist." Dean Smith created the practice and mandated it at Carolina as a recognition that basketball is a team game. The player who sets up the scorer is every bit as valuable as the one who scores.
When a Carolina player comes out of the game he is greeted by all of his teammates on the bench, standing to acknowledge his effort. His service on the court, however long or short the stint may have been, is honored by all of his teammates. Everyone's contribution matters and everyone on the team knows it.
Dean Smith had a fourth effort-reinforcing doctrine: "Always have your players go and pick up the guy who draws the charge." In taking a charge, the player gives up his body literally, allowing himself to be knocked to the floor in hopes of having a foul called on the opponent and gaining possession of the basketball. It is widely understood as a thankless but strategically powerful task. Dean Smith made sure that this sacrifice was not thankless at Carolina; thus his players were willing to take charges and their teammates and the fans celebrated them for it.
As a nation of sports fans honors the legacy of Dean Smith, it is important to appreciate how he built mutual commitment into his basketball teams. Whether it was acknowledging an assist, taking a charge, praising a teammate's effort, or celebrating a senior bench-warmer, Dean Smith's players were devoted to one another and to their coach. The depth of that commitment is evident in the generations of players who praise Coach Smith and honor his memory.