The South Summit Class of 2014 was class. This group of about a hundred students in a small mountain town knew how to treat people with special needs. I didn't know what to expect when we moved here almost eight years ago. At that time, we moved from central Michigan, where my son, Jack, was very much loved and supported by teachers and the students at his school. It was hard watching them tell him goodbye. It was difficult to let them go.
Jack started his life down a very difficult path. We know little about his birth mother, only where she lived, and that she turned 14 shortly before giving birth to that little guy. Jack had Down syndrome and a severe heart defect that would require open heart surgery when he was six months old.
My son wasn't very old when we realized that one of his greatest talents was to be able to make people feel loved and happy. When that is combined with people who like to see Jack feel loved and happy, magic happens.
A year ago, I watched the South Summit class of 2014 vote in Jack, and his friend, Autumn, who also has Down syndrome, as their Junior Prom King and Queen. Last fall, Jack was voted into the homecoming court.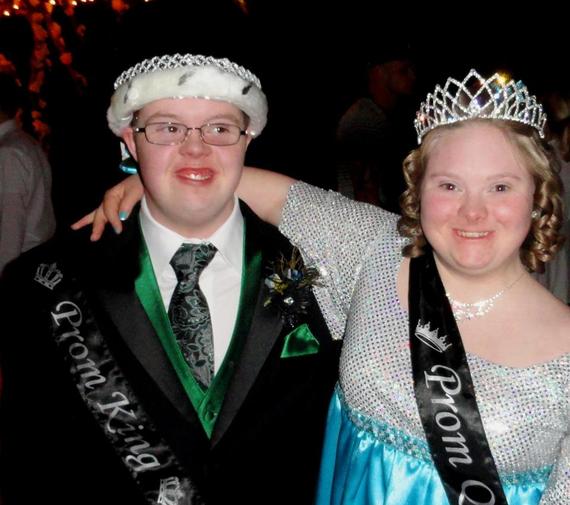 This year, the track team decided to include any students with special needs who wanted to participate. Jack was out of his mind with pride to be a participant on a real high school sports team. Coach Watkins and the team were awesome with these kids, but it wasn't just them. At one of the meets, two young men from a competing school gave up qualifying times in a race to settle for sixth and seventh place, right behind Jack, after encouraging him and running along with him for the entire race. He was so proud of himself!
Several days before graduation, Jack's senior class spent a day at a local amusement park. Four of Jack's classmates invited him and two young women with special needs to go on rides with them. One of those incredible young women, Rylee, spent the afternoon with her arm around Jack or holding his hand. Another one of them did the same thing for my daughter, who also has special needs. Later that afternoon, three young men tracked us down to present huge stuffed animals that they had won for the three kids from their school who had special needs. On that incredible day, my children didn't feel like they were different from anyone else. What a gift! As I drove home with my children and one other girl who has special needs, Jack told me he was afraid on one of the big rides. When I asked him how scary it was, he said; "Oh, it was really, really scary. I cried like a baby! But Rylee told me it would be OK, so it was."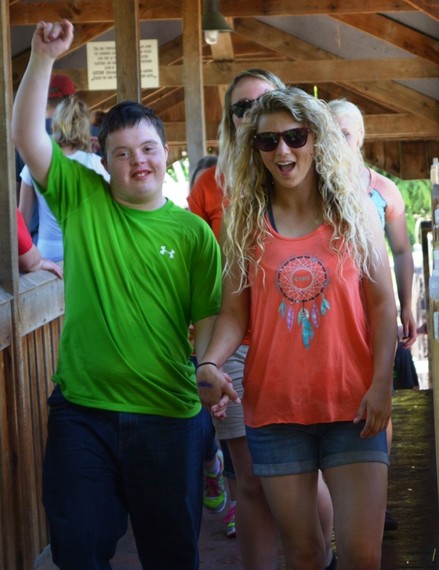 Last week, between commencement speeches at graduation, the school jazz band performed a number. Jack, who loves music, couldn't stay in his seat. He tossed his cap onto his chair and stood up to dance to the music, right there in the middle of the seated crowd of graduating seniors. His classmates only smiled while realizing that because of their many kind actions, that they would miss Jack as much as he will miss them.
As Jack was announced and walked forward, the stands and the seniors all roared out a cheer while he waved, his broad smile filling his face.
There were no colored chords around my son's neck that evening. But his high school experience was a tremendous success, thanks to the kindness and compassion of people who slowed down enough to make someone else's life better.
Thank you South Summit Class of 2014. You are class. I look forward to growing old in a world that you lead.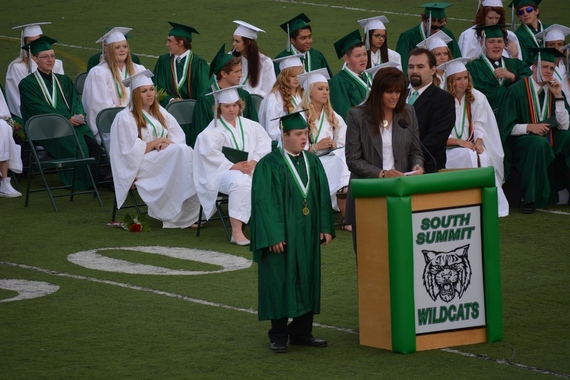 Follow John M. Simmons on his blog