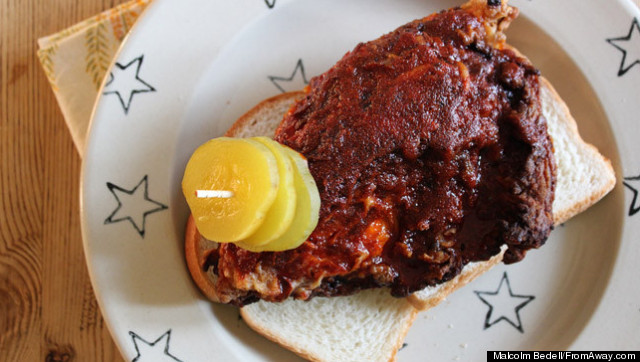 Candied hickory nuts, huckleberry and toasted chicory on the same plate? Are you kidding me? Paul Fehribach, the affable, enthusiastic chef/owner of Big Jones in Chicago, was in the tiny kitchen of one of the most quintessential Southern restaurants in the deep south, a kitchen that prizes bacon fat over olive oil, okra over asparagus, ham hocks over filet mignon. Cooking alongside Edward Lee, an Iron Chef champ and Top Chef contestant, and Jason Scholz, a gifted practitioner of Southern charcuterie, he knocked our socks off with a simple jelly roll cake.
Maybe it's my age, perhaps it's my 34-inch waist I'd like to keep or maybe it's because 25 years ago I married my favorite pastry chef, but it's getting harder for me to be impressed with dessert. If I'm going to dine on sweet calories, it had better be exciting or I'll take a pass. I'll have a few bites of an interesting bar of chocolate over an unmemorable cheesecake or crème brulee any day. At this past weekend's Euphoria food and wine festival, I had what may be the most memorable dessert since my wife beguiled me with peach leaf ice cream. As American food strives for hyper-local sustainability, chefs are vying for foragers, farmers and advocates to keep their dishes relevant. A conscientious chef must also avoid getting caught up in the "does your cauliflower have a large carbon foot print" pretentiousness of the movement because the cost of locally foraged food can be prohibitive to one's genre of cuisine. If $35 per pound locally foraged morels don't fit into your business plan, better stick with the buttons.
Paul hails from southern Indiana and in the last few years has dedicated himself to reviving the cuisine of the Buffalo Trace, a subculture of southern food and history that is often overlooked by those of us that cook near the coast. We were a little foggy on his background and influences but thirty minutes after he arrived our attitudes changed. He walked into Stella's kitchen with his own Andouille sausage, pimento cheese, hominy, giblet boudin, watermelon rind pickles, huckleberry jelly, candied hickory nuts and honeysuckle. A couple of us whispered, "This guy really cooks in Chicago?" Who needs a résumé when you're carrying this much Southern firepower?
After several wonderful hors d'oeuvre and a four course meal matched to Anthony Truchard's wines, Chef Fehribach stunned with a dessert homage to his grandmother's pioneer foraging roots. He spread his lively huckleberry jelly onto an airy layer of cake, rolled it up then rolled it again in toasted chicory. The honeysuckle was spun into a lightly floral ice cream. His plate was then garnished with crunchy candied hickory nuts and a bit more of the toasted chicory. The lowliest of ingredients turned into a delightful, memorable and provocatively Southern conclusion to a calorie laden evening. No chocolate, no vanilla beans, just a handful of unheralded Southern staples that the uninformed would be tempted to landscape right out of their yards. And that is how one revives the cuisine of the Buffalo Trace.