There is a very bright new culinary star pulsating on New York's dining scene, and, given his background, it's really not all that surprising. What is, is that Chef Ron Hsu is making his mark in a restaurant now celebrating 20 years on East 57th.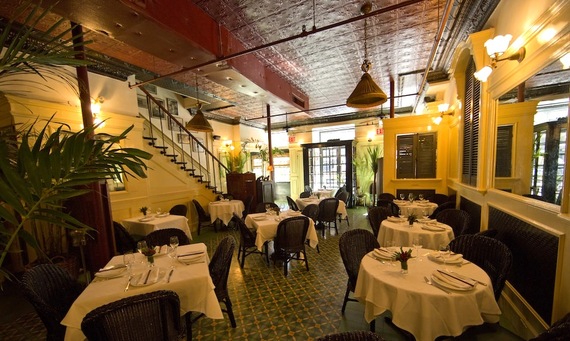 Le Colonial, owned by Jean Goutal, Jean Denoyer, François Marchand and Rick Wahlstedt, with a branch in San Francisco, has been decorously renovated this past year, and it was high time to move the Vietnamese menu forward with the kind of fresh ideas only a chef like Hsu could bring. For eight years, he had worked in the kitchen of the illustrious Le Bernardin, four of them as poissonier. Anyone who knows the exquisitely refined seafood cookery chef-partner Eric Ripert creates in his kitchen will immediately see how and why Hsu is translating all he learned onto a Vietnamese template.
Historically, Vietnamese food is a marriage of indigenous Asian cookery with French, absorbed during France's long colonial occupation of what it named Indochina. Hsu, though Chinese-American, worked for months to learn and appreciate the traditions of Vietnam's cuisine while measurably adding his own ideas, like placing foie gras into a traditional pho atop beef carpaccio on which he pours a hot broth that semi-cooks the foie gras and beef. It is a marvelous, transformative idea and tastes every as Asian as it does French or even, since beef carpaccio came from Venice, Italian.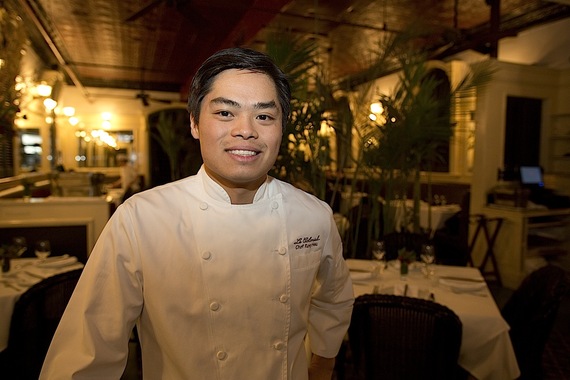 Yet never does Hsu swerve far from the essential Asian flavors or away dishes that have long been favorites at Le Colonial, which was the first upscale Vietnamese restaurant to open in New York two decades ago.
Back then, Le Colonial had something of an off-putting snob appeal that attracted a certain Upper East Side crowd for whom a Vietnamese menu could not seem too exotic. That crowd has been faithful to the restaurant, in large part because Goutal and DeNoyer have always known how to cater to their clientele; the food was always good, sometimes very good, but its luster, like some of the crowd, had grown stale; young blood was needed to refresh what has long been a very beautiful space, an evocative movie set of a restaurant--not of Vietnam War era but of 1930s Indochina, with its potted ferns, lattice woodwork, tile floors, black and white photos, and slowly turning ceiling fans. One expected actors like Sydney Greenstreet in white linen to appear, along with Anna Mae Wong in embossed satin.
Fortunately the management has not radically changed this décor, but from lighting and rattan furniture there have been updates and creature comforts added, especially in the upstairs lounge where hand-carved Lenga wood panels were created for the restaurant by the Saigon team of Nguhen Quoc Khanh and Ly Quynh Kim Trinh.
Bartender Moses Laboy has brought a new seriousness to the cocktail menu (he literally steams the essence from the fresh fruits he uses), while wine director Marie Vayron, whose family owns Château Bourgneuf in Pomerol, has completely revamped a once-tired wine list to reflect her ideas on the way modern wines match up with food that is not nearly as spicy as some people believe.
To celebrate its 20th anniversary the restaurant is featuring two six-course tasting menus ($85, $125 with wine selections) of "then" and "now" dishes, the first symbolizing dishes popular back in 1994, the latter showing off Hsu's new ideas. With a friend I sampled both, happily passing each dish back and forth. I cannot begin to describe all twelve, which is too bad since every one was impressive from both menus, because Hsu has worked his expertise on the "then" side by refining everything that needed attention.
Thus, with ca bam, monkfish is seared till just past translucence, spiced with turmeric, basil, and the crunch of roasted peanuts and sesame rice crackers -- certainly traditional but a dish with a dash of modern finesse. So, too, the texture and temperature of both canh chua tom hum lobster and preserved pineapple in a tamarind broth, and cha hap of impeccably steamed snapper with glass vermicelli, shiitakes and a warm soy vinaigrette were exemplars of Hsu's technique. This last might easily slip onto a menu at Le Bernardin.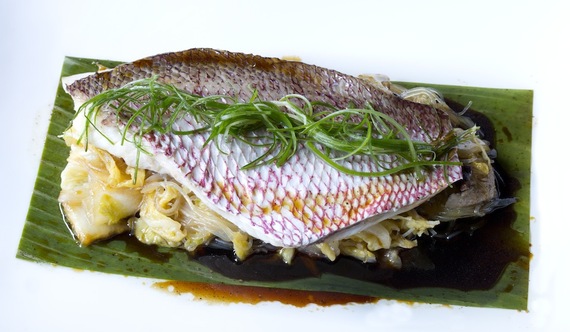 From the 'Now" side comes banh cuon, steamed pork ravioli with headcheese and cucumber salad dressed with nuòc cham sauce, and ca kho to is succulently braised sea bass in a clay pot of richly caramelized broth. Hsu gets a breed of ducks he favors for a dish called vit quay so he can render fat while keeping the skin crisp and juice, dusted with five-spice powder and served with shredded jicama and a tamarind-ginger sauce.
Desserts are every bit as impressive, from a banana tarte Tatin with Vietnamese cinnamon ice cream to a chocolate caramel tart spiked with sriracha.
This is very exciting food, far moreso than it used to be at Le Colonial, so that everything you might have loved about this now classic New York restaurant before you may fall in love with all over again.
As for Hsu, he learned everything from one of New York's great master chefs (and Eric Ripert often dines here on Sunday nights) so that he is well on his way to earn that same honor. If Le Colonial had just opened in the West Village or Williamsburg, the food media would very probably declare it one of the most tantalizing new restaurants of the year. But it would be highly unusual if such a place had the beauty, grace and polish that have been achieved at Le Colonial over the last two decades.
Le Colonial
149 East 57th Street (near Lexington Avenue).
212-752-0808
lecolonialnyc.com
Le Colonial is open for lunch Mon.-Fri. and for dinner nightly. À la carte dinner appetizers run $11-$19, main courses $24-$33).
Images via Le Colonial