At a moment when there have never been so many new steakhouses in NYC--Davio's, NYY Steak, Angus Club, Charlie Palmer's, Strip House Midtown, American Cut, and the re-opening of Gallagher's, all this year--the classic Italian restaurant Il Mulino is tossing its hat in the ring and doing so with a good bit of untraditional dash.
For one thing, Il Mulino Prime is down in SoHo and for another its décor is as far from the macho look of most other beef emporiums around town. It's a pretty small room, too, with just 50 seats and six at the bar. Neither does it look like the original Il Mulino, still going strong after 30 years in Greenwich Village, with a newer one in midtown.
During those three decades, Il Mulino was the ultimate expense account Italian restaurant, the place New York businessmen took their out-of-town clients; the place where Barack Obama and Bill Clinton chewed the rag for lunch back in 2009; the place famous for setting out complimentary dishes of Parmigiano, sausage, and other antipasti; and, not least, one of the most expensive Italian restaurants in America.
In 2001 Brian Galligan and his partner Jerry Katzoff bought Il Mulino from Abruzzese brothers Fernando and Gino Masci, and afterwards planned out an expansion of the brand, from New York to Las Vegas and Tokyo. Il Mulino Prime is their first steakhouse, which I suspect is their prototype for others to follow.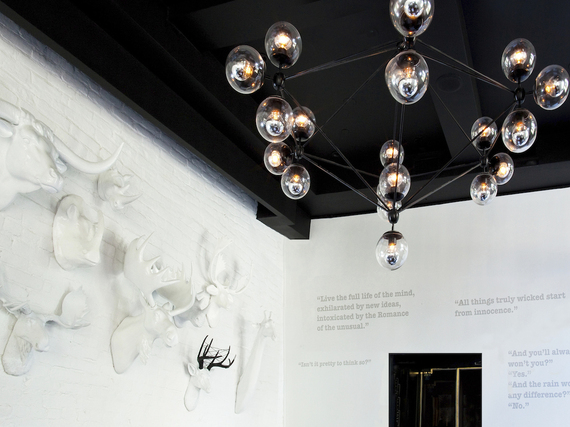 I liked the all-white look of the place and the congenial greeting. A white buffalo head and other antlers hang on brightly lighted white brick walls. The black ceiling is hung with clear glass globe lamps and a rear wall is stenciled with observations by litterateurs like Ernest Hemingway, including the last line from The Sun Also Rises: "Isn't it pretty to think so." None has much to do with eating at a steakhouse, but it's fun to try to guess the sources.
The clientele seems a mix of beefy guys from the finance sector and casually dressed locals out for a splurge.
The menu is a mix of Il Mulino favorites from the past 30 years, along with all the requisite chophouse items. Prices certainly match any of the midtown steakhouses, with chopped steak at $36, an 18-ounce ribeye at $48, and a one-kilogram--that's more than two pounds--porterhouse at $125. (A similar rendering of côte de boeuf at Minetta Tavern runs $145.)
Jumbo lump crabmeat ($24) lived up to its weight class, as did jumbo shrimp ($28), but I encourage your table to share a platter of excellent beefsteak tomatoes and buffalo mozzarella ($24), provided the kitchen can still get tomatoes at this season of a kind I had at the end of summer.
The "Modern Italian Classics" section lists a lobster mac-and-cheese, the mac in question being fusilli ($32), a pricey dish, but a very good one. Run-of-the-mill linguine with white clam sauce at $32 was not worth the money. What's not to like about ravioli with mushrooms and black truffles in cream (below)--and the white truffles are coming in right now?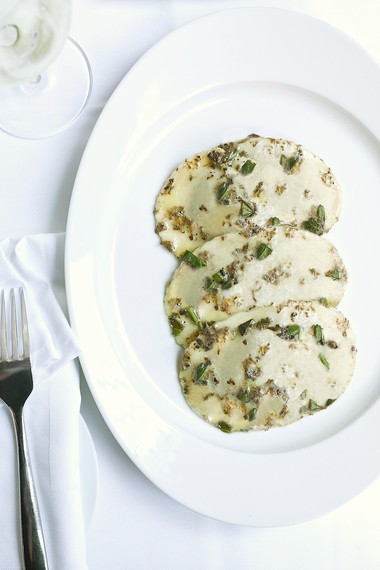 A veal chop parmigiana ($45) was easily as big and a whole lot better than the notorious $50 version at Carbone. "English Dover sole" (market price) is a redundancy, but it was a delicious, well-fatted fish with a nice tangy meunière sauce.
The beef is all dry-aged USDA Prime, some, like the American Kobe ($60) and the bison ribeye ($54), served off the bone; the fine 16-ounce New York strip ($50) is an excellent piece of beef in every respect, with a robust aged flavor and good chew. Odd then that the ribeye ($48), always a juicier part of the steer, didn't seem to hit the plate at the advertized 18 ounces and was cut in a puzzlingly thin slab. When I asked the chef about that, he said I could ask for it thicker--but how would I know until it arrived?
As the photo of the ribeye shows, the steaks get the grill marks treatment, but overall the exterior lacks a real, overall char. Next time I'll ask for it "Pittsburgh," steakhouse slang for black outside, red within.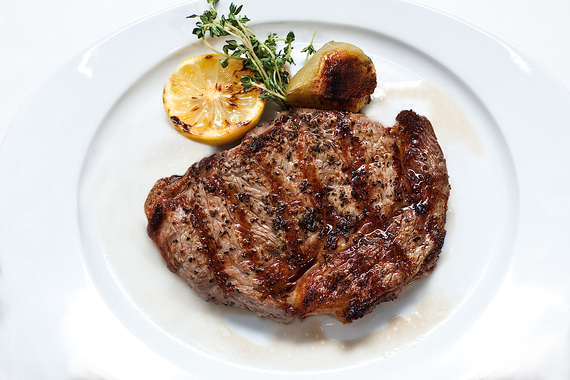 The menu lists the usual sides, like spinach with garlic or mascarpone (take the latter) and truffled French fries--all a steep $14 a piece, especially since uptown competitors like Davio's charges $10-$12, and Charlie Palmer $9-$11.
Not unlike the dated desserts at the original Il Mulino, those at Prime should be brought up to date. Lemoncello tiramisù was poor and the tartufo as horrible as it ever was.
Il Mulino Prime's wine list is amenable to the restaurant's genre of restaurant, and there are some judicious selections below $50.
It is curious that Il Mulino Prime is one of the first steakhouses to debut in this neck of the Manhattan woods, where new hipster places are opening right and left of it all the time. So, if you choose wisely--and bring a wad of money or expense account plastic--you'll satisfy your craving for Prime beef here in a room that shows you can cut across the grain.