I have known food critics who have gotten burned out and I know food critics who have become jaded after years on the job. The reasons those two maladies have not, as yet, affected me in my career of dining out is that I don't eat at restaurants seven nights a week and my travels around the world keep me constantly surprised at the diversity, novelty and sheer creative talent that goes into a meal as different as a perfect bowl of pasta in Italy, a dim sum lunch in Taiwan, and a multi-course chef's dinner in Manhattan.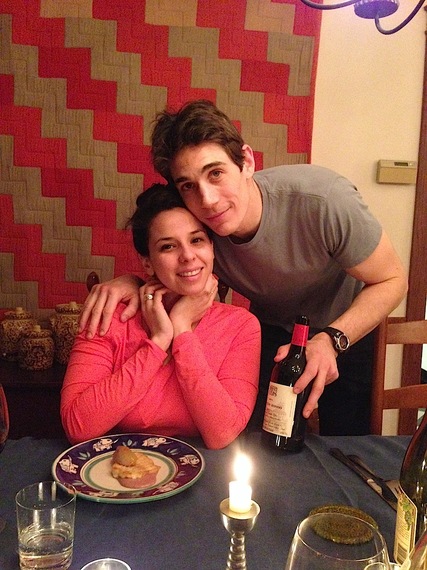 You might think I've seen and tasted it all, but I sometimes think I've only begun to learn about the world's food and the way chefs think. This was brought home -- quite literally -- to me last month when my son, Misha, and his fiancée, Priscilla (above), prepared for me a truly extraordinary meal as a delayed Christmas present. I have never experienced anything like it.
Misha is currently general manager of Lincoln Ristorante at Lincoln Center in New Yor -- one of the city's great upscale Italian restaurants -- but before that he cooked for five years under master chefs, first at The Modern under Chef Gabriel Kreuther, then at Marea under Michael White. What he learned from them, as well as the basics at the French Culinary Institute (now the International Culinary Center), was on full display at out house.
Priscilla, who is a bread and pastry chef for Daniel Boulud's Épicerie Boulud, and Misha arrived at midday and pretty much shoo-ed my wife and me out of the kitchen until dinnertime. All afternoon long I was intrigued by the clanging of pots and pans, the sounds of the kitchen equipment, and the sensuous aromas working their way around the house.
Misha had asked me to come up with a theme for the dinner, something he has done for friends on several occasions. Being a true movie buff, I said movies would be fun and I gave him ten of my favorites, cognizant that there should be some food element or scene in my choice. What the two cooks then did with my list was beyond anything I might have expected. From start to finish the project took them a week to prepare, with about eight hours of actual prep time. The menu was made up of film strips with scenes and quotations from the movies (below).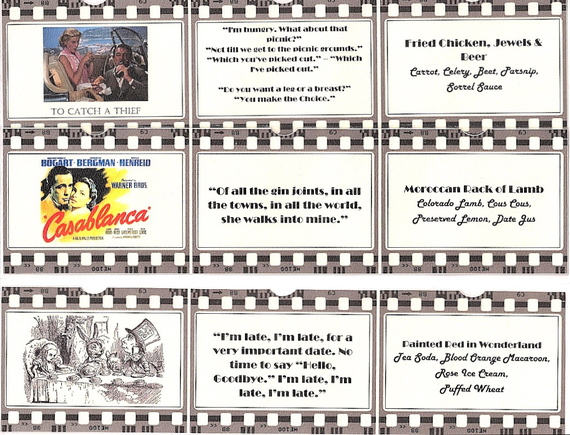 When we sat down, our first course was taken from Dr. Seuss' Green Eggs and Ham -- a poached egg dyed with green food coloring and served with pancetta and a barley risotto. It's an odd thing to gaze upon a green egg, but, as in the story, I tried them and was delighted with the dish in all its verdant ooziness, accompanied by a creamy Nickel & Nickel Stiling Vineyard Chardonnay 2010.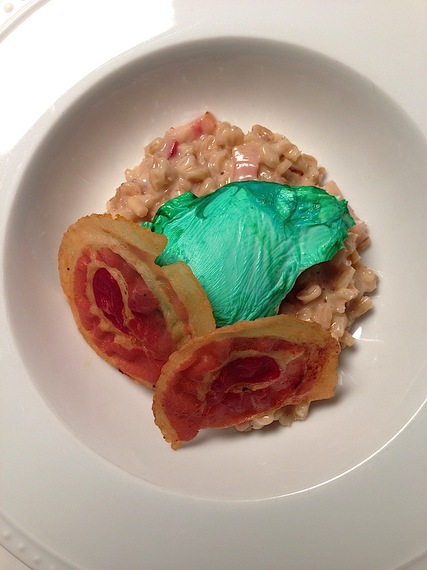 Next came "Spaghetti with Gravy," based on the scene in The Godfather where Clemenza shows Michael Corleone how to make a proper tomato sauce. Misha served perfectly cooked spaghetti with sausage meatballs and shaved Parmigiano-Reggiano, accompanied by an old-fashioned straw-covered bottle of Monteraponi Chianti Classico 2011 of a kind that would have been served back in the 1940s at an Italian-American home.
The fish course was next, based on James Bond's reflection, in From Russia with Love, that "Red wine with fish, well, that should have told me something," after having been hoodwinked by a Russian agent with a fake British accent and naïve knowledge of wine. Misha's take was to cook skate wing with roasted shallots napped with a hollandaise laced with red wine, served with a Sicilian COS 'Pithos Rosso' 2011.
One of my favorite scenes in To Catch a Thief is when Grace Kelly, ever seductive, brings Cary Grant up the corniche in Monaco and, having packed a lunch basket, asks him, "Do you want a leg or a breast?" evoked by my son as fried chicken (below) with carrot, celery, beets and parsnips in a sorrel sauce. But, since Grant was a retired cat burglar, it was sitting atop "jewels" made from cubes of jellies that sparkled like diamonds, accompanied by a Chimay Peres Trappistes Ale Speciale Cent Cinquante.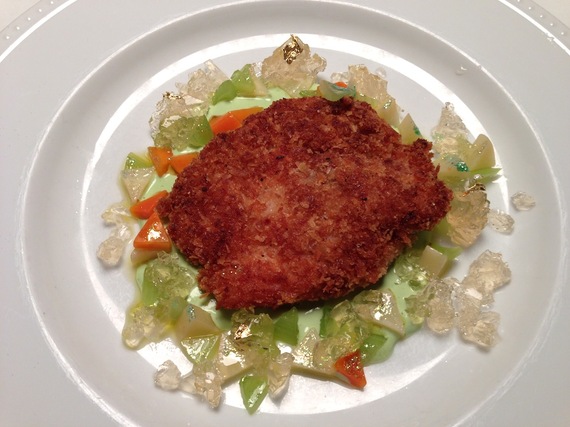 Casablanca, though filmed entirely on a Warner Bros. Hollywood set, made the title city into one of romance and intrigue, so Misha did a succulent Moroccan leg of lamb with steamy couscous, tangy preserved lemon, and date jus -- absolutely delicious, served with a Far Niente Cabernet Sauvignon.
I assumed dessert would be something fantastical and it was: from the tea party in Alice in Wonderland: Priscilla concocted a "Painted Red in Wonderland" extravagance (remember that the Queen wanted all the roses painted red) of tea soda, blood orange macaroon, rose ice cream and puffed wheat. It was a winsome ending to a wonderful and unforgettable meal. And even though there was a high degree of creativity and technique used, every dish tasted like what it was, with no masking of the real flavors, as is so often the case in so-called Modernist Cuisine.
"There's nothing more rewarding than creating and tailoring a meal so specific to someone else's passions and life's enjoyment," said my son. "And then being able to see them completely surprised by it."
For a brief moment I thought to myself, "Wow, Misha and Priscilla could make a fortune doing dinners like this!" But then I got greedy, wanting to save this moment forever and only for me.