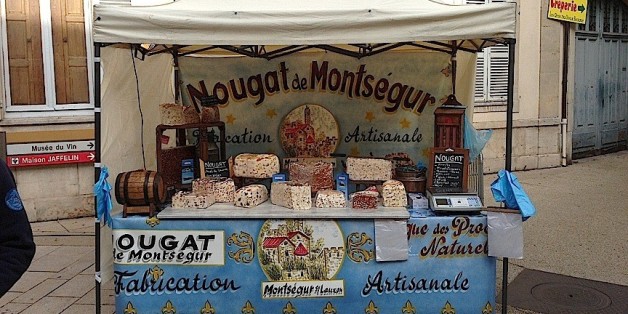 Walking around inside the walls of Beaune's old historic center, every street and byway, will take you about one hour. But its charms are such that you will probably retrace those steps time and again to take in the illustrious sites like the Hospices de Beaune where the famous annual charity wine auction is held each November. It's a beautiful building, dating to the 15th century, still set with the draped beds of patients tended here and an exquisite polyptych by Roger van der Weyden. There is a wine museum and gift shop within.
Outside those city walls, within minutes' drive, is the 60-mile Route des Grand Crus that take you along the slopes of 38 communities in the Côte de Beaune and Côte de Nuits, with dozens of the most illustrious wineries of the region open to the public for visiting and tasting. For those who prefer a trek, there are 14 footpaths that take between one-and-a half to four hours duration. (See below for guided tour information.)
Back within the walls, the main church is the 12th century Collegiale of Notre Dame, with a good collection on medieval and early Renaissance art and five tapestries depicting the life of the Virgin. The main thoroughfare of the old town, branching off in narrow diagonals, is the Rue de Faubourg Madeleine, lined with bistros, food shops, boutiques and, in good weather, outdoor vendors selling oysters and shellfish.
When I was there in November for the auction, I stayed at the Hôtel de la Paix, which was serviceable if little else, the kind of place people in the wine trade would check into, drop their bags and go off to do business in town -- either buying wine or a tractor. The better known and favored is the Hôtel de la Poste on Boulevard Georges Clemençeau.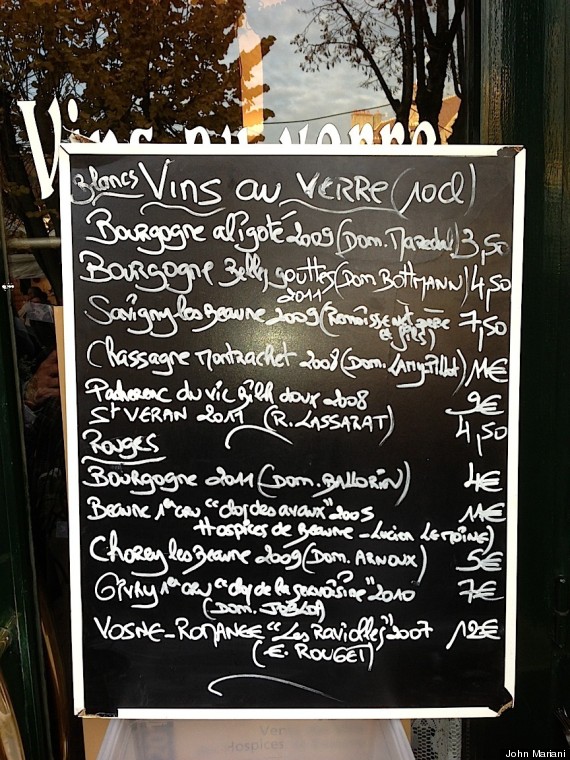 In any case, Beaune is not the sort of small city you would stay in your hotel for much time anyway, for it is designed for walking, chatting and dining well in the Burgundian manner. The highest end dining in that regard is Loiseau des Vignes, opened in 2007, on the Rue Mafoux. This is one of Bernard Loiseau's four restaurants, with two in Paris, and is said to have been the first restaurant in Europe to offer an entire list of 70 wines by the glass. Chef Mourad Haddouche has won a Michelin star for the restaurant, cooking with personal flair but well within Burgundian culinary traditions.
There are several menu options, at lunch menus at 20€, 23€ and 28€, at dinner 59€ and 79€. The commodious room has tables genially set apart from one another, and, though the lighting is too bright at night, it is a convivial place favored by wine industry people. I dined with Thibaut Marion of Séguin-Manuel (founded in 1824), who brought some superb Burgundies, beginning with a Puligny-Montrachet 1er Cru "La Garenne" 2008 that was ideal as an aperitif with an amuse of cauliflower cappuccino, followed by quenelles of pike with watercress foam (there's a lot of foam floating around French cuisine these days!). The wine also went perfectly with the beignets of langoustines. Clos des Mouches 2009, a lush, mineral-strong wine was poured with meaty squab in a classic, intensely reduced red wine sauce with whipped potatoes; Charolais beef was shredded, to be eaten "with a spoon," enjoyed with three red wines -- a Savigny-Les-Beaune 2007 made from 70-year-old vines, a Beaune 1er Cru Champimonts and a fabulously rich but impeccably balanced Pommard "Pézerolles" 2009, which went especially well with the extensive cheese service of 30 offerings here. For dessert we had a baba soaked not with rum but with Poire William.
L'Ecusson on Rue Lieutenant Dupuis, is clearly a labor of love of Virginie and Thomas Compagnan, a darling two-room restaurant whose well-set tables, good lighting, comfortable chairs and personalized cuisine makes this a place to come back to again and again in Beaune. The cooking is sensible, never elaborate, the ingredients' quality stressed. One of the meanings of the word l'ecusson is a grafting bud for a vine, and the winelist here is very reflective of Burgundy's breadth of wines. A mild parfait of duck came with sliced pear and a spiced wine reduction. The soup was a cream of mushrooms scented with vanilla, a softboiled egg parfait and little rounds of foie gras -- delicious. Pork, from a black pig, was done in a confit, with Sardinian fregola, and calamari rings, which Compagnan calls "Un Mariage Terre/Mer," or "surf-and turf," and reminded me a little of Portuguese and New England renderings. Omble chevalier, a char lake fish, came with a lovely green watercress mousseline with cauliflower. For dessert we had apples cooked "for ten hours," syrupy and succulent within an Arlette crisp, dashed with cider, and a ganache of chocolate with Brownies (printed that way in English on the menu), a tuile of cocoa and caramel sauce. It was quite a lunch yet fairly light in every way that good modern French cooking now is. L'Ecusson offers a three-course 25€ meal with wines by the glass between 6€ and 9€. A la carte runs 21€ to 26€ for starters and 31€ to 40€ for main courses.
For very traditional Burgundian cooking I went to two places, one, L"essential on Place Madeleine, with menus at 19€, 24€, and 32€ or 36€ tasting menus, but what I had was nothing to rave about, though the place seems popular locally. Much more endearing in a way that all good, traditional bistros are, was Le Gourmandin, which just about everyone in town recommended. It's easy to see why: the façade, with its art nouveau lettering, the tables outside and potted planters, the long slip of the dining room, with another above, have all the earmarks of places that for eons have served French family cooking, from a superb jambon persillé whose jelly simply bound a generous allotment of meat to a hearty boeuf Bourguignonne with egg noodles in a portion scooped from a casserole that could feed two. The owner, Isabelle Billard (her husband Alain, is the chef) who speaks good English, could not be more helpful. Having forgotten to bring something I ordered -- I forget what -- she apologized profusely and brought me dessert on the house -- two big profiteroles lavished in dark chocolate.
Throughout the night, staff members cut huge loaves of crust-heavy bread, and the whole tilt of the place seems headlong but in complete control. The restaurant's location, right on the Place Carnot, puts you in full view of everyone in town and those visiting, strolling, most arm in arm, shopping, nodding at each other, sitting for a glass of wine or crêpe.
There are menus at Le Gourmandin from 20€ to 40€, with main dishes 8€ to 26€, and a three-course lunch at a remarkable 14€. The winelist, with specials posted outside (right), is excellent in all price categories.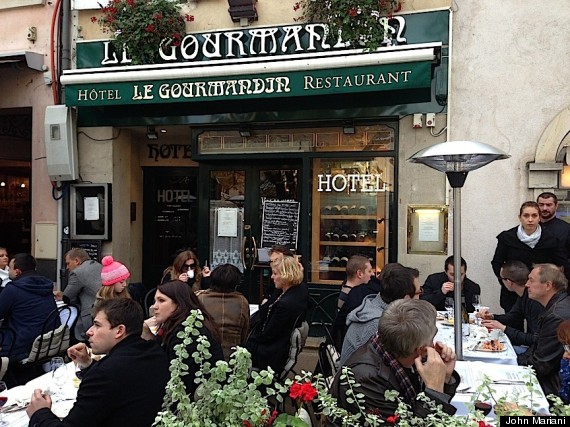 Two places I highly recommend outside of town are the restaurant La Buissonniere in Ladoix-Serrigny, and the gorgeous new restaurant at Chateau de Pommard. The former, five minutes drive from town, is a modern, tall-ceilinged space run by Charlotte Boisseau-Bertelot, who bears a passing resemblance to both Juliette Binoche and Julia Ormond. There are many menu options, from 19.50€ to 36€, all beautifully presented in a room with dark and light accents, sun pouring through a large front window, illuminating rough stone walls in the more intimate side room. We were presented with an amuse of cauliflower puree with a single snail and some bits of smoked pork. I then ordered langoustines with a soy foam (more foam!), which was wonderfully simple, and a filet of pork with grains of artichoke and laced with, beguilingly, a little maple syrup.
At Château de Pommard, one of the most illustrious of Burgundy's wine estates, its courtyard and gallery filled with modern art from Roy Lichtenstein to Keith Haring, Christophe Quéant has opened a very large namesake restaurant, with a gorgeous view of the vineyards and a fine bar and lounge. It's become immediately popular for events and celebrations, and the dining room is large, with widely separated tables and colors and mirrors that reflect the light, done in Empire style throughout, except for the more modern terrace. Both have comfortable chairs in red velvet, and service is impeccable, right down to the carving of dishes at the table. This is Chef Quéant's showcase for a modern cuisine very much based on respect for the local flavors and tastes. (He had previously been chef at Loiseau des Vignes), and the size of the menu itself is ideal for focusing in on every detail, with starters running 24€ to 30€, main courses 42€ to 57€.
Our party of three began with a cream soup of chestnuts and foie gras spiced with cardamon that showed Queant's imaginative global streak. Risotto was dotted with snails and sweetbreads in a reduction of sweet garlic. Scallops, lustrous and pearly, were tenderly cooked, served with gnocchi made with squash and sided with Brussels sprouts and diced truffles. That day, they offered squab, carved tableside, juicy to the bone, served with a rich reduction of Burgundy wine. There was also poached bass with a seaweed butter -- very much a classic --with asparagus and osietra caviar topping it all. Lobster is done here on the griddle with endives, raisins and saffron. Desserts are quite simple (all are 10€) like baba au rhum, and roast bananas that are glazed and served with a sable Breton.
Beaune is a wine lover's city, not a city for days of museum-going or sightseeing. But if you wish to get a sense of the culture of Burgundy, whose people so largely work in the industry with enormous pride that they produce some of the world's greatest wines, then Beaune should be your center for exploring Dijon, the Côte de Beaune and Côte de Nuits, up through Chablis country, and south to Lyon, where the dining scene is richer in more ways than one. Beaune is a little Camelot of a medieval town, well preserved, with fine cuisine, great wines, and traditions that are at the heart and soul of French viniculture.