It's hard to imagine it's been ten years since the opening of BLT Steak (106 East 57th Street) , a restaurant that had more influence on that staid genre than any other up until then. At the time I wrote, "The room here is light and fresh, not burgundy or glitzy; the staff is cordial and well informed rather than brusque and kvetchy...the house sandwich is, appropriately, the BLT -- though this one's made with foie gras, which like everything else here, takes it to the next level."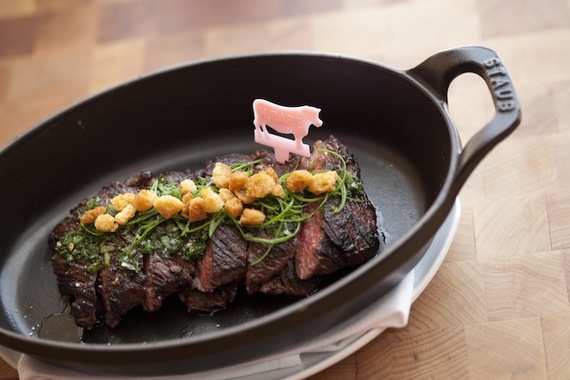 Partnering with ESquared Hospitality, renowned French chef Laurent Tourondel crafted an ebullient steakhouse where women felt very welcome and men enjoyed bringing them. The lighting was good, though the decibel level was terrible. There was a blackboard menu, ebony tables and suede booths. The beef was Certified Black Angus and USDA Prime cuts, the seafood from impeccable sources.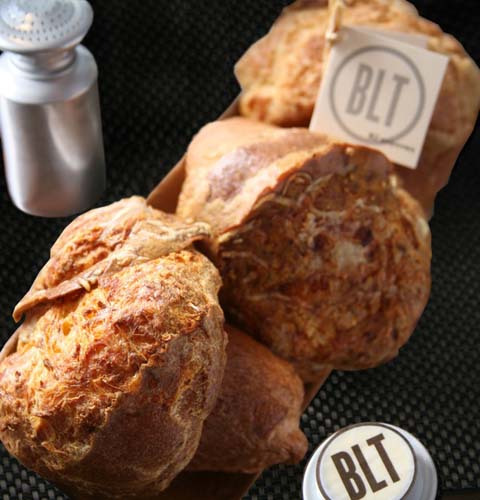 In all these years -- except for Laurent Tourondel leaving the company to which he gave his initials (he now has his own steakhouse called The Arlington Club) --this BLT flagship, now with 16 branches worldwide, has remained very much the same, and on a recent visit it was so good to see some familiar faces among the managers and captains, still greeting customers with professionalism and gusto. Only the prices have risen, but they are commensurate with BLT's myriad N.Y.C. competition.
BLT also pioneered the greatest cheese popover (above) the world has ever seen -- rising five inches in airy splendor, very crisp on the outside, soft, eggy and cheesy inside, and always brought to the table very very hot, with plenty of butter.
The menu, overseen by Chef Braden Reardon, is a reasonable size, enough to satisfy the stalwart carnivore as well as those who'd prefer seafood. The tuna tartare with avocado ($18) made one of its earliest NYC appearances here, and it's still one of the best in town. So, too, was a lobster salad ($23), with plenty of big chunks of seafood in a Cobb-like mince. There is, of course, a seafood platter at $34, $65 or $98, and ask about their fine charcuterie board.
The steaks and chops are impeccably cooked, charred but juicy on the outside, medium-rare, as ordered, inside. My favorite cut is the 28-day aged NY strip weighing in at 16 ounces ($48), along with the bone-in ribeye at 22 ounces ($49). Highly surprising is the fact that BLT serves inferior Australian lamb ($44), when American lamb is so much better.
Knowing I'd be noshing off my friends' steaks, I opted for sautéed Dover sole ($48) with a soy-caper-brown butter sauce I asked to be put on the side, so as to appreciate the full-fatted flavor of the sole, cooked on the bone (below). A sautéed branzino ($30) came with shiitakes, baby carrots, and the scent of basil.There are always blackboard specials posted.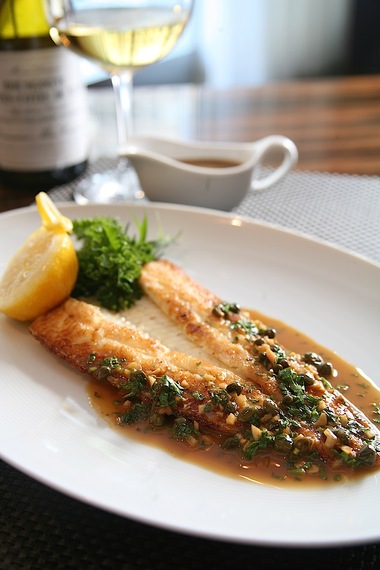 Side dishes like hen of the woods mushrooms, potatoes au gratin, and Brussels sprouts seemed revolutionary on a steakhouse menu back when BLT introduced them; all that's changed is their refinement. Creamed spinach is really creamy, and the truflled mashed potatoes and golden French fries will not last long at any table.
Heidi Kornhorst's desserts (all $10) show a French pastry slant, as in the superb signature crepe soufflé with passion fruit sauce.
Sommelier Alex Berlingeri stocks more than 500 global wines on his list, and he is an ideal person to ask for advice in any price category.
So, Happy Birthday, BLT. Don't ever change what you so distinctively pioneered.
BLT serves lunch Mon.-Fri., and dinner nightly.