Back in 1980 barely 100,000 cases of Chilean wine was exported to the U.S. Today that figure is in excess of 3 million, and, with growth of 9.2 percent annually, by the end of 2014 that should translate to over $700 million in sales. If the Chilean wine industry, now with more than 200 wineries, has its way, that figure should jump to $3 billion by 2020.
Long dominated by Concha y Toro (founded in 1883), Chile's wines began to make fine wines for export only in the 1990s, after post-war decades of heavy taxation and lowered wine consumption. But after changes in government policy made viticulture profitable, old and new wineries began ripping out weak varietals in favor of premium grapes like cabernet sauvignon, carménère, merlot, chardonnay and sauvignon blanc.
Established wine producers from Europe and the U.S. took notice and invested heavily in Chile, including Spain's Miguel Torres and France's Lafite-Rothschild, Mouton-Rothschild, Cos d'Éstournel, G.H. Mumm, and Grand Marnier. In the mid-1990s California wine magnate Robert Mondavi invested $12 million in Chile's Viña Errazuriz vineyards to start up his own Caliterra brand, while Franciscan Estates of Napa Valley socked $10 million into their state-of-the-art Veramonte winery in Chile's Casablanca Valley. There's even a joke among California winemakers that the best place to meet their neighbors is in the lobby of the Hyatt Hotel in Santiago.
Chile's vineyard regions spread up and down the Pacific coast, whose winds cool the white grapevines in the morning and evening, from Casablanca in the north to Bio-Bio in the south, and the new varietals thrive in soil that has always been free from Phylloxera; to this day Chile's strict agriculture laws prevent importation of any foreign plants.
By starting from scratch, the most forward-looking Chilean vintners are using the most modern technologies and, as part of the industry's promotional efforts, are committed to sustainability. One of the most innovative new estates is Viña Pérez Cruz, situated in the Maipo Valley in the Andes foothills east of Santiago. One of the few estates whose vineyards are contiguous, as in Bordeaux, the owners work with a microclimate provided by the Pacific on their west and the Andes on their east, the soil formed by glaciers to have large stones and good drainage, with a Mediterranean-style climate.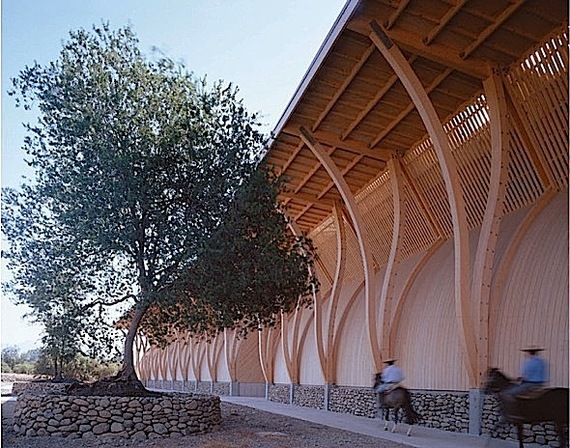 Today the winery (above) has 150 hectares of vineyards, planted with 70 % cabernet sauvignon, 10% carménère, 5% syrah, 5% malbec, 5% merlot (here called cot) and 5% petit verdot, all produced on the Liguai Estate l close Andes, which cools the air at night, and yields are kept deliberately low, for a capacity of 2 million liters. Aging is in oak for different periods depending on the grape.
Over dinner at New York's Telepan, Viña Pérez Cruz's young winemaker, Germán Lyon (below), told me that in the 1990s the Pérez Cruz family, who were entrepreneurs in the gas and electricity industry, owned land for cattle but shifted some of it to grow grapes. They built a state-of-art winery in the Maipo Valley wholly dedicated to sustainability and the use of as few pesticides as possible.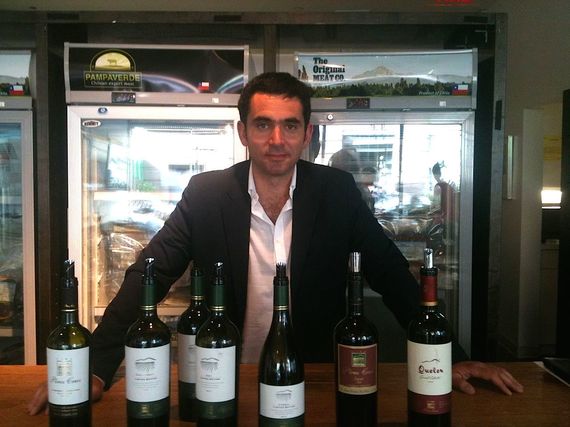 I tasted an array of Pérez Cruz's wines and found them overall to be of high quality and very well priced. The Estate Cabernet Sauvignon 2012 at $14.99 is a great bargain, and the Cabernet Sauvignon Limited Edition 2012, at $25, gains wonderful fruitiness from the addition of 4% syrah and has a fine balance of tannin, with 13.5% alcohol.
Chaski (an Incan word meaning running messenger) is an unusual wine from 92% petit verdot. At $35 it's a little high in price for a modest varietal and I thought its one-dimensional flavor needed bolstering with other grapes.
Liguai 2010 ($40) is a judicious blend of 50% syrah, 30% cabernet sauvignon, and 20% carménère, aged for 16 months and achieving a heady 15% alcohol level. It's a big, bold wine and needs time to mature, but that evening it certainly made good sense with a hearty dish of well-fatted Heritage pork with white beans.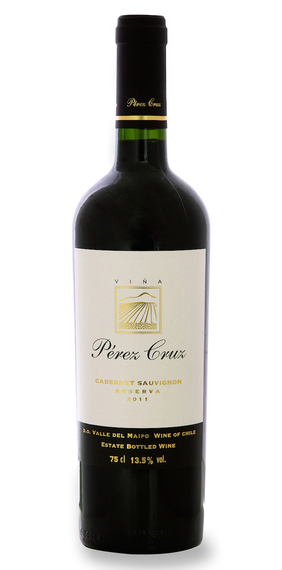 Quelen 2010 ($70) is Perez Cruz's priciest wine and clearly intended to compete with big French and California reds twice that price. (Quelen is an Incan word for a woman fortuneteller.) The wine is a blend of 40% petit verdot, 30% carménère and 30% merlot. It is very lightly filtered so that the wine retains body, and its 14.5% alcohol is ideal for a Bordeaux blend with Chilean character. I was impressed, not least because of the major petit verdot component but also because carménère, a varietal now rarely found in Bordeaux, had such bright, dark fruitiness, which made it a perfect match-up with well-fatted duck breast and confit with rhubarb and rich foie gras. It is the varietal upon which Chile might well stake its reputation.
If Viña Pérez Cruz is really trying to compete with the best red wines out there, then it's going about it all the right way.