Monday night in NYC. Bitter cold: 21 degrees with wind chill factor down to 10. Nobody on the streets. Not a night to go out to dinner. Yet, upon entering the three-month-old Davio's, I found that it seemed everyone who did go out to dinner that night was in the restaurant, which was doing booming business. Which goes to prove that: New Yorkers are a tough bunch; steakhouses make sense anywhere; and Davio's, a small steakhouse chain, has plenty of out-of-town regulars and new fans.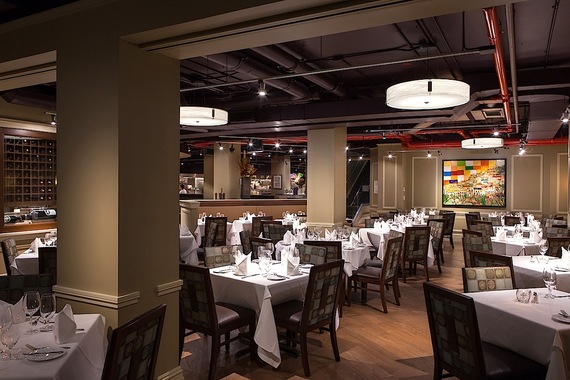 Since opening the original Davio's in Boston, owner Steve DiFillippo has had considerable success capitalizing on the Italian steakhouse theme, with branches in Foxborough and Lynnfield, MA; Philadelphia and Atlanta. When I heard he was opening in NYC, I arched an eyebrow, not because Davio's food could not compete with the city's better steakhouses, but because I wasn't sure New Yorkers would embrace a Boston clone, especially in a neighborhood overrun with steakhouses.
Obviously, I had no need to worry. For, like several of the new steakhouses around town, like NYY Steak, Del Frisco's Grill and Costata, the formerly entrenched attitude problem at the door of older Manhattan steakhouses is nowhere part of the reception or service at Davio's, which is subterranean. People who come down the stairs to the subterranean dining room here are welcomed warmly and treated to a robust hospitality that most patrons come to cherish.
Of course, the addition of the title "Northern Italian Steakhouse" to the Davio's name means that the menu will cast a wider net than most others in the field. Indeed, Davio's menu is somewhat unwieldy, with many more dishes than is necessary. Chef Chad Brown, a native of Seoul, South Korea, has a solid résumé that includes stints at NYC's Del Posto, CATCH and Bond 45, and he's been given some leeway to create his own dishes that you won't find at other Davio's branches.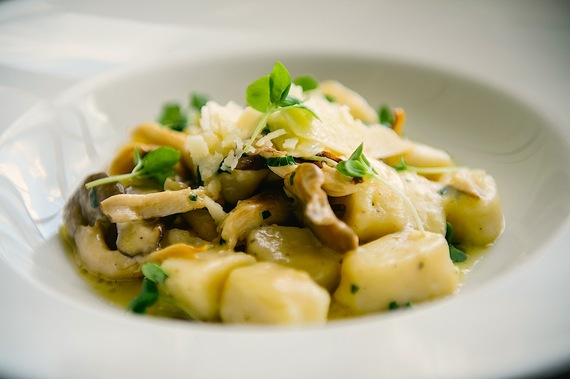 It's a good-looking place, broken into sections, with a bar with its own menu, a semi-open kitchen, well-set and well-separated tables, and good modern artwork, all of it breaking away from the clichés of steakhouses with wood floors, yellowed walls and dark wainscoting.
The best dish of our evening at Davio's was the very first -- crisp chicken livers with a Port balsamic glaze, toasted pine nuts, and crisp spinach ($12), the kind of dish that, once tasted, will change your idea of chicken livers forever. Pan-seared foie gras took beautifully to fig and ricotta-stuffed gnocchi in a lush Vin Santo sauce ($21). American Kobe meatballs with tomato sauce and caciocavallo cheese ($12) were very good, though I'm not sure they were much improved by adding Kobe beef to the mix.
There are six pasta dishes on the menu and every one I tried was first rate, including spaghettini with abundant lobster, tomatoes and basil ($34). Capellacci come with slowly roasted squash, Amaretti cookie crumble and a rich walnut cream sauce ($27), while potato gnocchi (above) with mushrooms, basil and white truffle oil ($28) were fought over at our table.
I have chided the Davio's people for a lack of authenticity in their "bolognese" sauce (below), but their tagliatelle in a braised veal, beef, pork and tomato sauce ($28) would win over anyone by any name whatsoever. It's delicious.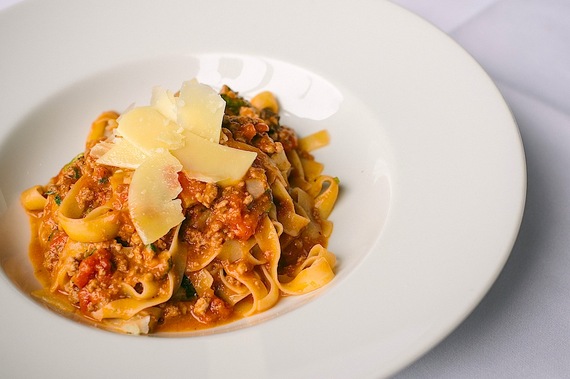 This is a steakhouse, but we enjoyed a pan-seared halibut whose snow white flesh was well accompanied by pancetta bacon, broccoli di rabe and the sparkling addition of tangerine, all in an olive oil and anchovy bagna cauda bath ($38).
The beef dishes come from unassailable sources, including a fine center cut filet ($37) with more flavor than expected of this cut (below), and a finely crusted NY sirloin ($48), cooked perfectly, with a deep rich flavor only meat this good can achieve. Side sauces like blood orange citron, salsa verde, truffle tarragon butter and Davio's steak sauce are available.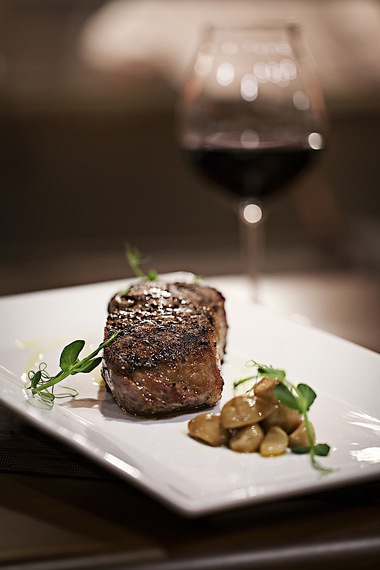 In the face of such quality meats, it was puzzling, then, to find an Australian rack of lamb (with roasted lamb neck, escarole ragu and cannellini beans) at $45 on the menu -- especially since the Atlanta Davio's serves far superior Colorado lamb (which is infinitely better than the New Zealand lamb they serve in Philadelphia for $49). Davio's NY's nearby East Side competitors -- Palm, Smith & Wollensky, Sparks, Michael Jordan, and others -- all serve American lamb for the same reason they serve American beef: superior quality.
Side dishes all ranked with the best around town -- buttermilk mashed potatoes, spinach alla romana, spicy broccoli di rabe, and more, though it's odd they don't offer the usual French fries, hashed browns or onion rings.
Desserts like panna cotta (below) are generously proportioned to share, and the warm chocolate cake is a fine one.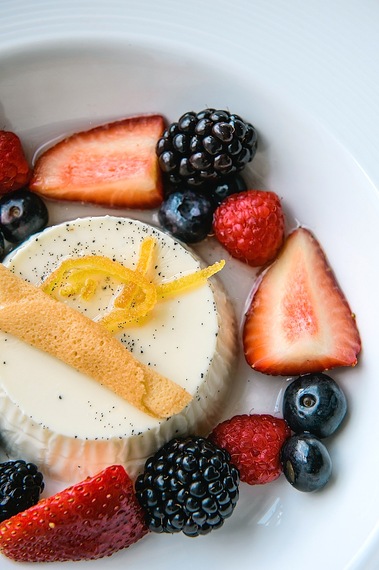 An added attraction is Davio's proximity by one block to Grand Central Terminal, and breakfast is served every day. More important, in a neighborhood already rife with steakhouses, Davio's is trying hard to attract a clientele that can count on true hospitality rather than the kind of favoritism that reigns at its competitors. They do so by offering a two-course $25 lunch and a three-course $38 dinner, bar menu and, exclusive to the NYC branch, wines are half price on Sundays from 5 p.m. to 10 p.m.
Davio's serves breakfast daily, Lunch Mon.-Fri., Dinner nightly.
Davio'S
NORTHERN ITALIAN STEAKHOUSE
451 Lexington Avenue (near 46th Street)
212-661-4810
davios.com/nyc