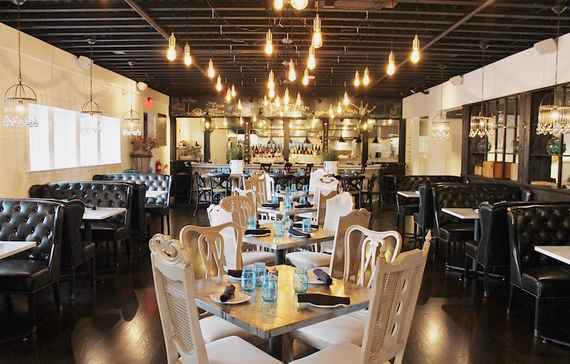 The Blackwall Hitch
400 Sixth Street
410-263-3452
theblackwallhitch.com/annapolis
The odd name comes from a special mariner's knot used to hitch ships quickly and securely upon arriving from London's Blackwall Port at docks in Maryland and Virginia. Thus, there are maritime echoes in the décor of the Annapolis unit (the first, of three unirts, opened two years ago, owned by local James King), along with Colonial-style high-backed chairs, tufted black booths, and hanging Edison lights, with a large, well-lighted bar to the rear of the very comfortable main dining room.
Executive Chef Zachary Pope has a long résumé with the awards to prove his rep as a chef adept in a wide range of cuisines, with stints in Washington restaurants like Vidalia, Vintage Wine Bistro and Red Sage. The menu, therefore, offers fine Chesapeake fare like lump meat crab cakes with sweet-tangy roasted corn salsa, cherry pepper rémoulade and rosemary-scented French fries ($35) and wonderful shrimp and cheddar-laced grits with andouille sausage, tomatoes and a white wine sauce ($27), along with seared ahi tuna dusted with sesame seeds, served with seaweed salad, hot wasabi, Sriracha and avocado cream as an appetizer ($16) and six really exceptional fire-roasted flatbreads ($13-$16) that can be shared at the table.
Then there are a slew of salads--the one with steak and blue cheese is delicious--burgers and sandwiches, and main courses like succulent pork osso buco ($28). Right now the soft-shell crab season is in full swing.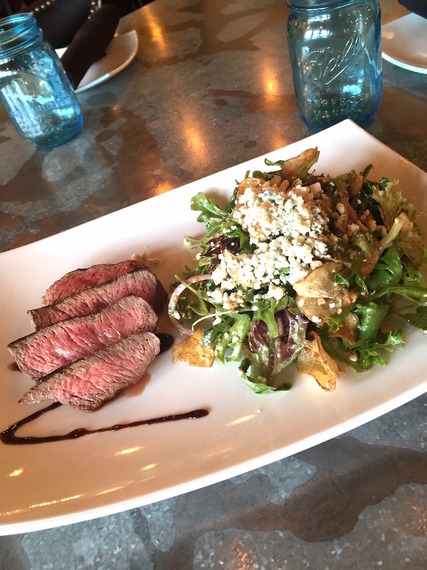 Like many restaurants around town, they serve the dense, mile-high Smith Island chocolate cake ($9), along with Key lime panna cotta with strawberry sauce ($9), and a warm pineapple upside down skillet cake with brown butter and caramel ($9), along with housemade chocolate truffles ($2.50 each).
The wine list is pretty extensive and includes many bottles under $50, though they should have more Maryland and Virginia wines on the list.
The Blackwall Hitch is, as I said, ambitious, but I found the quality of everything I tasted consistent and made from very fine ingredients. That, and a lively bar crowd and music, are what keeps the place packed with people willing to pay good money for very good food.
Open daily for breakfast, lunch and dinner.
IRON ROOSTER
12 Market Space
410-990-1600
ironroosterallday.com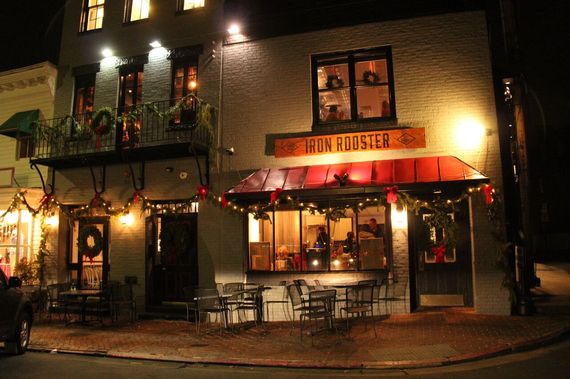 Iron Rooster proudly boast that it serves "Breakfast All Day," and many loyal patrons take advantage of that. I would most certainly join them any time over a big plate of fried chicken breast and waffles with cream gravy and very good stone-ground grits ($9.95), and the omelets make for a hearty meal from 7 a.m. onward. The eggs Benedict are sensationally good--there are five variants--and I, of course, went for the "Benny," with that sweet Maryland blue crab meat, a poached egg, tomatoes and micro greens atop an English muffin (a steal at $17.95). The breakfast taco ($13.95) includes scrambled eggs, fat pork belly, green chili salsa, pico de gallo, queso fresco and home fries ($13.95).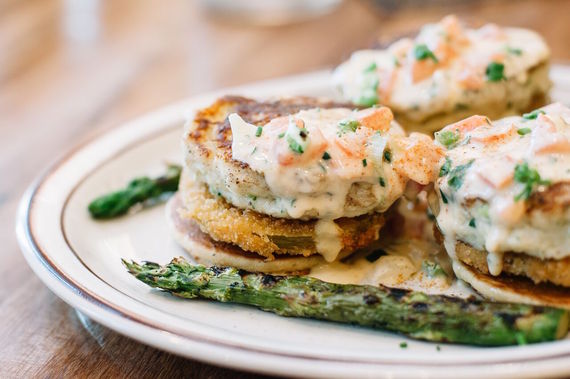 There's a great deal more, all of it made fresh to order, including fine flaky biscuits, and the signature, much-too-sweet pop-tarts ($5.95). For supper you can have the smoked brisket chili ($4.95-$7.95), chicken pot pie ($22.95) that will feed two people, and a meatloaf of daunting proportions, with black pepper pan gravy and poached egg, fried leeks and broccoli ($21.95).
The colorful two-tiered eatery, with a lot of farmhouse décor and Mason jars on the wooden tables, is set right on the City Dock, so it's a swell place to take your time and watch the boats come and go along with the people.
Open Mon.-Sat. 7 a.m.-10 p.m.; Sun. 7 a.m.-8 p.m.
VIN 909
909 Bay Ridge Avenue
410-990-1846
vin909.com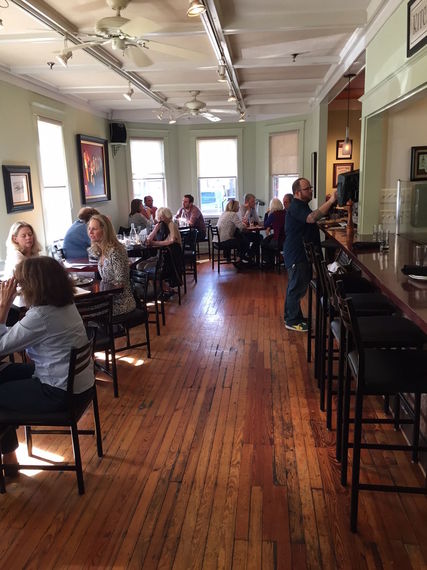 Set in a pillared, clapboard Sears Roebuck house in Annapolis' Eastport residential neighborhood, Vin 909 gives off the feeling that you're dropping in for a nice meal at a friend's home, in this case your new friends, owner Alex Manfredonia and chef Justin Moore, who opened this very popular restaurant five years ago. In cool weather there's a nice fireplace you can warm yourself at; in hot weather, a patio. Meals, as at home, are meant to be shared.
Vin 909 is a very green restaurant--they even recycle their oyster shells--earning the Annapolis Environmental Stewardship Certification and a Certificate from the Environmental Protection Agency's Green Power Partnership Program. Ingredients are as organic and sustainable as possible, and they list their providers on the menu. The seafood just arrived that morning from the local boats. It's just a really nice, nice place, and big-hearted Alex couldn't be more amiable or happy to see you.
We dined out on the patio on a brilliant sea-blue afternoon, and we might have lingered for hours among people who were doing just that, sipping the last of a bottle of rosé wine, splitting a dessert, wondering when they can get back again.
Of course, wine plays a big part of the philosophy and the appeal here, with 90 well-priced labels on the list, and all beers are from either craft or micro breweries.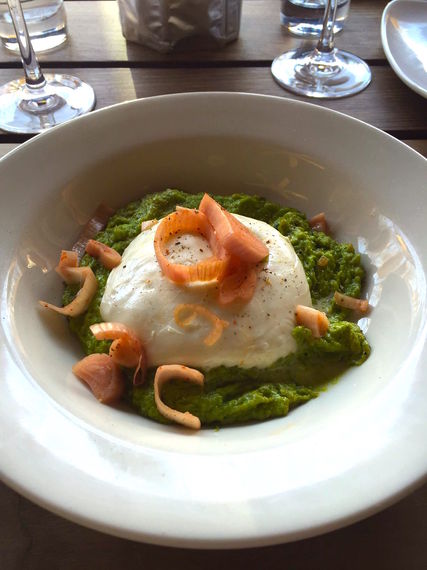 Do not fail to order the lovely, warm, fresh-pulled mozzarella ($14), served in an almond-ricotta pesto with fried basil and "pearl" dots of balsamic vinegar. The pizzas, eight of them, are more like flatbreads and are addictive; we ordered two for three at our table: the simple Margherita ($12) and the "Fun Guy" ($16) with wild mushrooms, ramps, Taleggio cheese, arugula and a sprinkling of freshly picked thyme.
Although it's all too easy to order way too much, the food is light, intensely flavorful, and seems to lead naturally to having a dessert like chocolate pot de crème ($7) or butterscotch pudding ($7). The cooking seems simple, so it has to be perfect to impress guests the way it does.

Open for lunch Wed.-Fri., for dinner Tues.-Sun.