Oscar Wilde once cautioned that one should never criticize society because only those who can't get into it do that. So it is with hotel dining rooms, whose critics have probably not eaten in one in the last twenty years and who are wholly unaware that some of the finest restaurants in every major city are in hotels.
I need only list three or four to prove the point: Jean-Georges at Trump in New York, Georges V at the Four Seasons Georges Cinq, in Paris, Anna Sacher at the Hotel Sacher in Vienna and De Pisis at the Bauer in Venice. But London, more than any other city, seems blessed with an exceptional number of very fine restaurants located in very fine hotels, including Helene Darroze at The Connaught, Quilon at 51 Buckingham Gate, and Nobu at the Metropolitan.
A recent visit to London confirmed my contention after dining at the restaurants in both the Mandarin-Oriental and the Intercontinental hotels. Each has a restaurant that is not only of the highest quality but also had managed to win over both the very twee and usually bitchy London food critics and hungry public that translates to packed houses every night.
The Mandarin-Oriental chain has clearly upped the ante for luxury in the hotel industry, in the case of their London property by taking over a fanciful Victorian building whose 169 rooms overlook Knightsbridge and which is very convenient to the V&A Museum, Harrods, Harvey Nichols and Green Park. The rooms are, in a word, sumptuous. Every surface, chair, bedspread, towel, and carpet is extra thick with luxurious fabrics and the rooms, with miles of white marble, are all very quiet within a city whose noise can often try one's nerves.
There are two outstanding restaurants in the hotel, one Dinner by Heston Blumenthal, which I reviewed last year. The other is an offshoot of New York's Bar Boulud, only larger and more convivial. Instead of one long room as in NYC, the London version begins with a welcome at the commodious zinc-topped bar--they make excellent cocktails--and open kitchen (below); then there is a dining room and a counter where you may feast on charcuterie.
International chef/restaurateur Daniel Boulud has brought in from NYC Chef Dean Yasharian, who maintains a well-established link to French charcuterie master Sylvain Gasdon to produce the quality of artisanal sausages, pâtés and terrines (below) Boulud ate while growing up in Lyon--fromage de tête, joué de porc, compotée de lapin, pâté grand-mère, pâté de campagne aux foies de volaille, saucisson cuit à l'ail, pâté en croûte, saucissons Lyonnais, and much more. You'll find none better in London.
So, ordering a charcuterie platter (₤16-32) is requisite here, accompanied by a sturdy French regional wine from a first-rate list. After finishing off our selection of cured meats, my guest and I ordered a fine sole limane (₤28), roasted on the bone, with a rich brown butter sauce laced with lemon and capers. Also, a rack of lamb with a kofta meatball of ground lamb with rhubarb confit, Israeli couscous and pomegranate jus (₤28); accompanying these main courses were sweet minted peas (₤4) and buttery pommes
lyonnaise (₤4).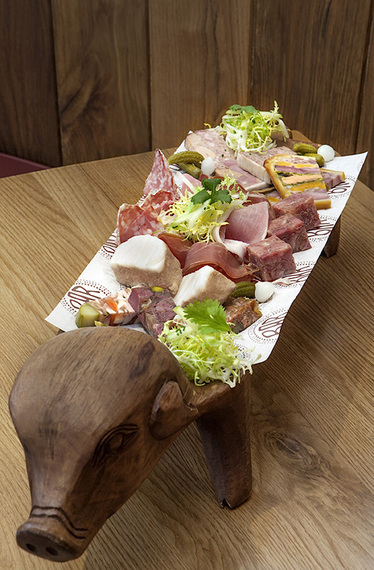 I am always weak in the face of île flottante (₤7), here steamed and served with blood orange and Grand Marnier anglaise. I also enjoyed the rhubarb and green apple tart (₤8) with a ginger tuile and mascarpone-rhubarb ice cream.
In keeping with the hotel's sumptuousness, the food at BB has its own marvelous heft, characteristic of the best French bourgeois cooking, which means no one leaves hungry or unhappy.
In an entirely different style, no hotel in London has a finer view of Hyde Park than the InterContinental on Park Lane, so book a room on that side of the building. Unlike so many of its established competitors, the "IC" has gone very modern, very sleek, very, well, intercontinental. So, if the lobby doesn't reek Olde London, it impresses by spaciousness and efficiency, from the opening of the door to the amiable reception at the front desk and concierge's post. The commodious rooms are in the same mode and, as much as possible, take full advantage of London's light.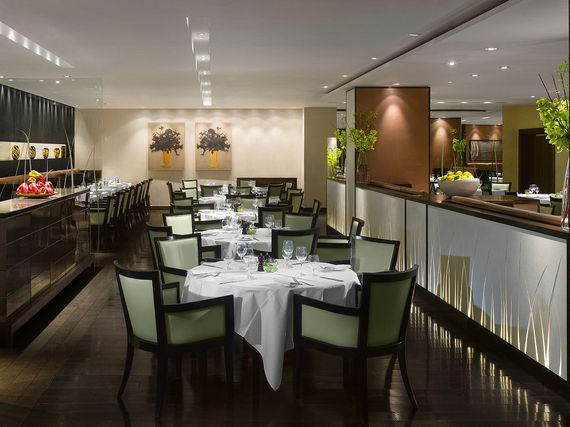 Off the lobby is the handsome and equally modern Theo Randall dining room (above), whose name does not suggest that this is one of London's finest Italian restaurants (which London hasn't as many of as you might expect). The eponymous chef has good breeding: he worked for several years at the beloved River Café on the Thames, then spent a year at Chez Panisse in Berkeley, CA, both totems representing the very best and the very simple. Randall plates his food with a bit more lavish presentations, but essentially he's out after the flavors of the main ingredients, whether in the unstintingly fresh carpaccio of *branzino* (₤16) with a touch of marjoram and chili or pan-fried squid (₤14) with cannellini beans, a whiff of anchovy, and chopped arugula.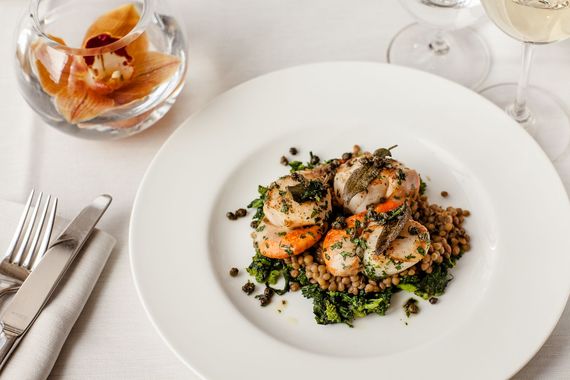 He fries zucchini lightly and crisp, and his focaccia comes puffy and warm to the table. Excellent pan-fried scallops with lentils (₤19) carried too much freight from anchovies, the Italian spring vegetable agretto, capers and sage. Langoustines are seared and succulent (above).
The pasta lessons learned at the River Café have been applied here to delicate ravioli stuffed with Swiss chard, arugula, borage and ricotta glossed with butter and sage (₤13/₤19; half or full portion), and to simple fresh linguine with Dorset blue lobster with violet artichokes (₤23/₤34). Cappelletti are stuffed with slowly braised veal and pancetta for a salty
edge, served with mousserons and porcini (₤14/₤21).
Wood-roasting lends wonderful but subtle flavor to meaty turbot with roasted red peppers and Swiss chard simply glazed with olive oil at the end (₤36). I found the squab on bruschetta with peas, mint and pancetta (₤34) the epitome of good Italian cooking, with nothing to disguise the deep flavors of the ingredients. A bit disappointing--at least to an American palate reared on American beef--was a too lean Aberdeen beef fillet with carrots, Jerusalem artichokes and fennel (₤36).
Desserts are as admirably conceived, including a lemon tart made with lemons from Amalfi (₤8); a warm almond tart with strawberries and crème fraȋche (₤8); and fabulous chocolate and roasted hazelnut ice cream (₤7) that I wish they packaged and sold by the gallon.
Theo Randall shows himself a gentleman chef with an Italian soul, and his namesake restaurant is more civilized than most new entries in London right now.
Quickly gentrifying East London has been getting a few restaurants enticing enough to bring Central Londoners out there, and one of the big draws is the casual but very serious Clove Club in the Shoreditch Town Hall. Seasonally driven, chef-partner Isaac McHale, who began CC as a pop-up eatery atop a parking garage, offers two rooms and two options. In the restaurant and kitchen (below) you are served a tasting menu at ₤55 (with paired wines ₤40); mine was eleven small courses. In the bar the menu is more à la carte. The staff ranges from the extremely attractive and affable to the dreary and overbearing.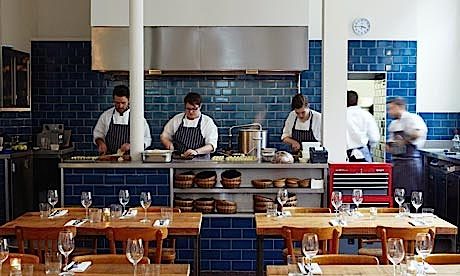 I found most of what I was served exciting and delicious, and when it wasn't, it was the result of an eccentric streak, as evidenced by a combo of lamb with monk's beard and wild seaweed sauce, a marriage made not in heaven but on a whim at the seashore.
But that oddity was a rarity in my meal. Radishes with black sesame and kim chee-like gochuchang was revelatory, and, while messy to eat in one gulp, the "Black-headed Gull's Egg" with buckwheat, celery and lovage seemed sensuously decadent, and there was much to like about Scottish blood pudding with "overripe" pear puree, and a "flamed" sashimi of mackerel with rhubarb, turnip and toasted oats for texture. The only head-scratcher was a morsel of buttermilk-fried chicken with pine salt that was oddly not at all crispy (the way any home cook in Alabama would make it).
Dessert was equally innovative, with black pepper ice cream and Amalfi lemonade.
So, Clove Club is worth the trip, mainly because it is not the kind of food you'll find closer to the city's center. And the price is certainly right. McHale is not likely to tone things down in his cooking, but perhaps he won't go all modernist and molecular on us.
I mentioned that London is not rich in first-rate Italian restaurants, although they keep popping up like daisies. And most try in one way or another to imitate the immensely successful River Café on the Thames in Hammersmith. Opened by Ruth Rogers and the late Rose Gray in 1987 as a kind of canteen for the staff in the design building it occupies, The River Café was immediately recognized as something completely new in London--an Italian restaurant that tried hard to be wholly traditional via a cucina rustica that aimed at simplicity and flavor first and last.
So popular is the Café that its guests are overwhelmingly devoted regulars who all seem to know each other. Whenever I've be fortunate enough to dine there, it's been with one of those regulars who attends lunch every Sunday afternoon as if it were mandatory Mass, year round, and throughout those meals probably half the people in the room are greeting the other half. And they all seem to know the young, amiable staff, calling them by their first names, trusting them as to what's special for the day.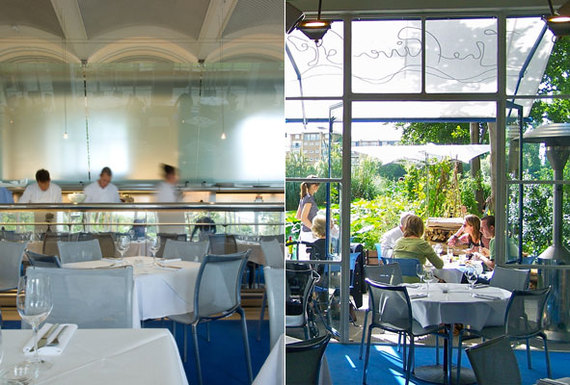 The food is, more or less, northern in style, with a lot of items from Liguria, without neglecting southern regions when the ingredients demand. The menu changes pretty much daily and very much seasonally, so that on my last trip in June, there was Devon crab with grilled, marinated and raw tomatoes, with a light aÏoli and purslane (£20) and plump Scottish langoustines seared with capers and wild oregano and served with bright yellow zucchini flowers.
Pastas are all made in house, delicate and clearly produced only in daily quantities, which make the ravioli exceptionally light, with girolles, creamy ricotta, thyme, butter and parmigano (£19), and tagliarini with sweet small vongole clams, yellow tomatoes, a shot of dried chili and fresh marjoram for summer (£20).
Main courses are just as simple, from turbot tranche wood roasted with salted anchovy, rosemary and red wine vinegar, accompanied by fresh borlotti beans (£39) to a whole wood-roasted Anjou pigeon with girolle mushrooms, thyme and roast potatoes (₤37).
The Café's gelati and sorbetti (two for ₤8) are among the best in London, and the desserts (£10) look like pictures in an English nursery rhyme, including an almond tart with fresh strawberries or a fine English summer pudding.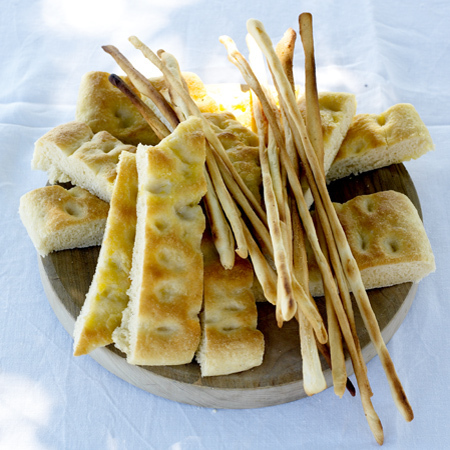 The dining room, despite a fire not too long ago, hasn't changed much in all these years, still the long, bright convivial spot it's always been, still sort of canteen-like, with a wide open kitchen and a window wall overlooking a backyard that at the moment is where everyone wants to sit. Children run on the grass, dogs romp, and the river Thames flows beyond.

It might be too much to say The River Café is the best restaurant in London, but in its unassuming way and for its continued reliance on the most cherished principles of Italian cookery, it is surely the most treasured.
The River Café is open for lunch and dinner daily.