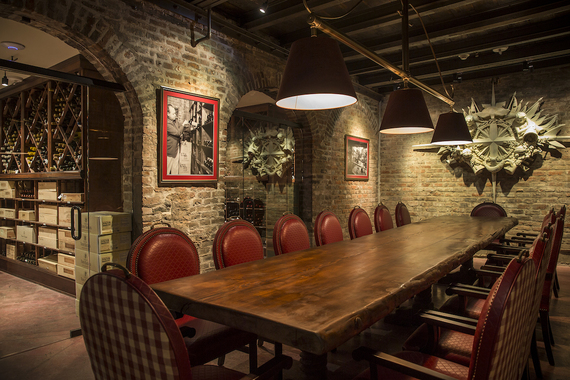 BRENNAN'S
417 Royal Street
504-525-9711
Saving Brennan's from both Katrina's ravages and a massive prior debt was a risky proposition for any restaurateur, for as venerable as the old place was, many thought its time had passed. But, if anyone was going to do it, it would be Ralph Brennan and his partner, Terry White. Brennan, whose success as owner of Ralph's on the Park, The Redfish Grill, Napoleon House and other restaurants around the city showed he had the clout and the will power to bring Brennan's back to life, not by resuscitation but by vast improvements in every detail, from bar to private dining rooms, from staircase to courtyard, from kitchen to provender.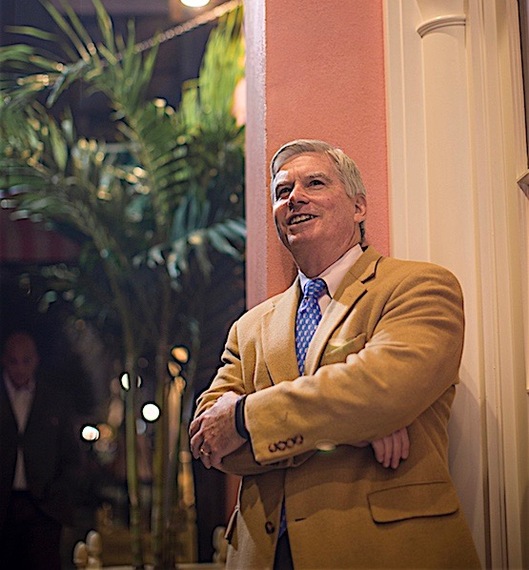 Now, with the opening of Brennan's Wine Cellar dining room (above), Chef Slade Rushing will be doing tableside service and dishes not necessarily on the daily menu in the main dining room. As you can see from the picture, the cellar is one of the city's most elegant new rooms. When Katrina hit, damage was not from water (the French Quarter is above sea level) but from a long power outage that created mold and rot, destroying provisions and the rarest vintages of wines. Brennan's lost 30,000 bottles, some cellared for decades in a 1795 carriage house that is now the new cellar and dining room, seating 16. Under beverage director Joe Billesbach, the cellar strength is back up to 1,700 labels and 13,000 bottles.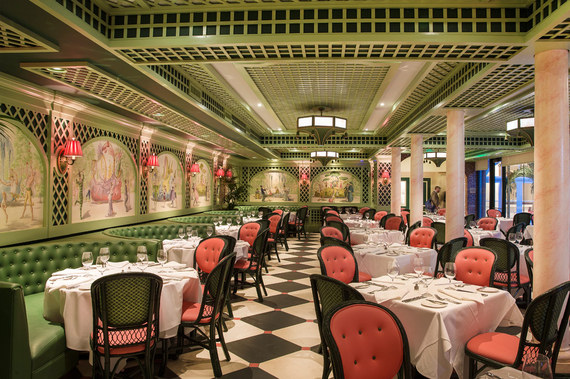 Soon after the opening of the cellar I had a chance to dine there to sample the kinds of dishes Rushing is offering, all matched with wines. We began with a Caesar salad made with duck egg, shaved truffles and Creole-spiced croutons, all tossed tableside. Showing off both classic French and classic Louisiana traditions, Rushing did a clear gumbo consommé with oysters.
The fish course was a carefully poached wahoo from Gulf waters in a Mediterranean style, with Castelvetrano olives, herbs, baby vegetable ratatouille, preserved lemon and chicken jus. Beef Wellington had the requisite crispy pastry crust covering a layer of foie gras and truffles, and served with baby carrots, roasted garlic and a sauce Bordelaise.
Baked Alaska is not nearly as rare in New Orleans as elsewhere, and, although it's a rather childish display, its flaming meringue peaks are always fun.
Open daily for breakfast, lunch and dinner.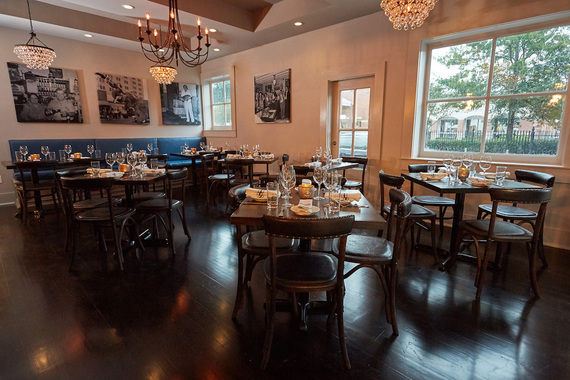 AVO
5908 Magazine Street
504-509-6550

This charming Uptown newcomer adds to the growing number of modern Italian restaurants in a town that used to have almost none even five years ago. Owner-chef Nick Lama is a local boy with roots in Sicily, and Avo means "forefather," so Lama has acquired all the cooking secrets from his mother and grandmother's kitchen as well as an understanding of seafood from his father and grandfather, who ran St. Roch Market. This is honest cooking, generous in spirit and portion, culling the best from Gulf waters.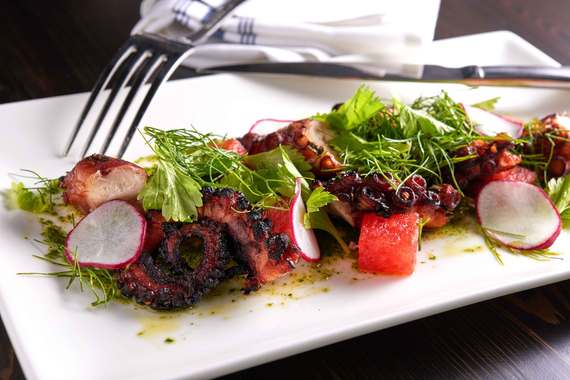 Avo's very tender charred octopus has cool watermelon, mango and radish in tandem with an assertive Calabrian chili glaze ($10), and, although rather salty when I dined there, the ricotta and porcini gnudi pasta are light and nicely sauced with a fontina fonduta ($12). Classic lasagna alla Bolognese with a béchamel sauce and short rib ragù ($21) was as hearty as it was deeply flavorful, and although the rice in the lobster risotto with peas ($19) was a bit overcooked, it was a good dish. Bucatini alla carbonara ($15) veers from traditional preparations by placing a poached egg on top to be mixed with the pancetta and pecorino ($15).
A massive, succulent lamb chop with Parisian gnocchi, onion puree, radicchio, olives and balsamic ($33) absorbed all the flavors on the plate, while a New York strip steak ($32) took well to a lush covering of Gorgonzola, with tomatoes, grilled lemon, arugula and Yukon gold potatoes. Despite unexpected complexity, there's no disputing the enjoyment of veal milanese adorned with cherries, fregula, mint, olives, arugula and charred onions ($31). But my favorite dish of the evening was shrimp and pork cheek, deftly married with eggplant, garlic-raisin agrodolce, pine nuts and mint ($27).
As dessert, s'mores seemed a little out of character but they were good. Avo's cocktails run $10-$12, and the wine list is very well chosen and very fairly priced, with a judicious number of bottles under $50.
Open Mon.-Sat.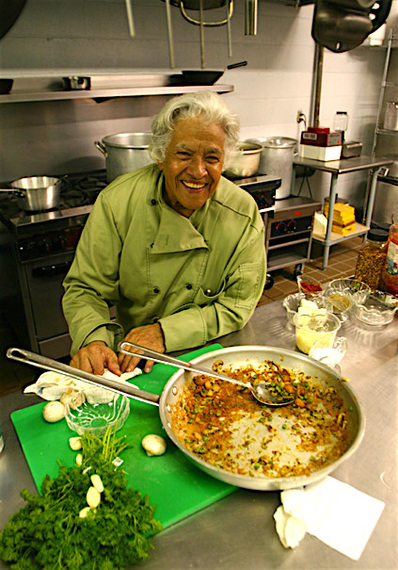 DOOKY CHASE
2301 Orleans Avenue
504-821-0600
In no uncertain terms, Leah Chase, now 93, is a patron saint of New Orleans cuisine, one of 14 children, who in 1945 married musician Edgar "Dooky" Chase II, whose parents owned a sandwich shop, Dooky Chase, that evolved and eventually expanded to take over the entire block. During the 1960s black and white civil rights activists met at the restaurant at a time when New Orleans was still highly segregated. She was also an early patron of African-American artists and serves on the Board of the New Orleans Museum of Fine Arts.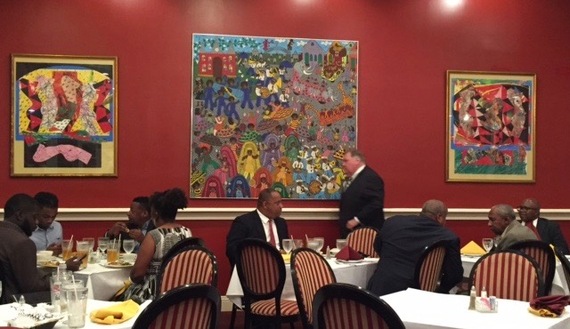 In 2005 Hurricane Katrina shut down her restaurant, but the city's restaurant community vowed to help Chase re-open two years later by holding a benefit that raised $40,000. So I was deliriously happy to return to Dooky Chase and to find Leah still in the kitchen, f eisty, glowing with energy to spare, a unique presence and a giant of American cuisine.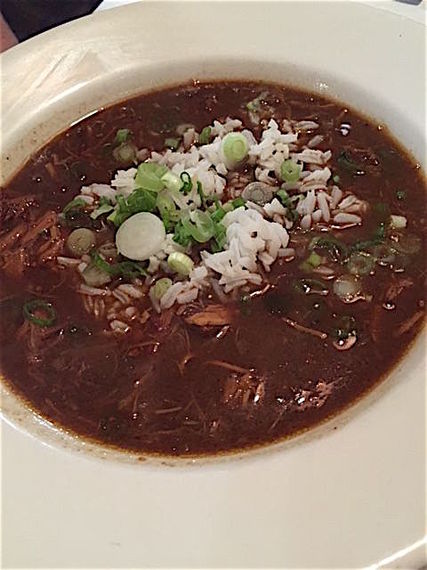 The place was packed as usual with a mix of white and black residents, slickly dressed local pols and ministers, and tourists who came for New Orleans Southern cooking perfected long before the words "soul food" were coined. The buffet lunch is lavish with Creole gumbo, red beans and lima beans (oddly different from the usual red beans), po' boy sandwiches, shrimp Clemençeau, and superb fried chicken. For dessert there's peach cobbler and one of the city's best read puddings.

Open for lunch Tues.-Fri.; dinner Fri.; prices at dinner are $7.95-$12.95 for appetizers, $19.95-$24.95 for entrees.